G-Lock
Transportation > Shock Monitoring
The g-log data logger measures and records shock, vibration and environmental influence
Shocks and impacts acting on the shipped good can lead to damages which, in general, are not detected until installation or startup of the product. The usage of devices for transport monitoring, so-called data loggers, allows a early damage-detection and a reconstruction of the occured events.

The data loggers of the 'g-log STH' series are mounted on the good to observe. The device can be compared to black boxes.
During transport they work completely autonomous and record shock events, together with a time stamp.
Once the good arrived at its destination, the recorded data can be read out and analysed by a computer.
The 'g-log' is a curve recorder, the detailled gradients of all three axes are recorded. A unique feature of the device is its ability to measure not only shock and impacts, but also the current position of the monitored good, which means that even a toppling can be detected. Thanks to the integrated temperature sensor, the temperature during each shock is recorded for transport documentation.
The threshold for event recording can be set by the user. This makes the g-log suitable for the whole range of transport monitoring.
If needed, other environmental conditions like humidity or temperature can be recorded as well, using an external sensor (g-log sthX-series). These parameters are recorded periodically and allow, together with the recorded shock events, a complete documentation of the transport.

With the g-log vibra data logger, accelerations (oscillations, vibrations) and the temperature can be recorded. The progress over time of the accelerations is recorded on all three axes. A measurement can be started manually with the start button or, when the acceleration exceeds a user-defined value (trigger level). The whole measurement is divided into blocks of a user-defined event length which gives a better view of the collected data during later analysis.
The related LogView PC software for programming, graphical and numerical display of the measured values and print-outs enables easy data analysis and logger programming. LogView can be used with all g-log data loggers.

The g-log vibra covers many different applications:

* Product development
* Trouble-shooting machines
* Vibration analysis
* Measurement of packaging systems
* Monitoring of short, extremely critical transport paths
* Passenger comfort measurements
* Quality Assurance for logistic applications

In short, wherever detailed information about mechanical behavior should be measured, the g-log vibra is the correct choice.

g-log sth1 5g / g-log vibra 5g

Many customers requests for a data logger with a lower shock measurement range. The g-log sth1 as well as the g-log vibra is available in a ±5g type.
The main advantage of the ±5g logger over ±35g and ±70g loggers is the much higher resolution and accuracy, as well as allowing a lower trigger level to be set. This means that it is now possible to display small shocks with a high level of detail.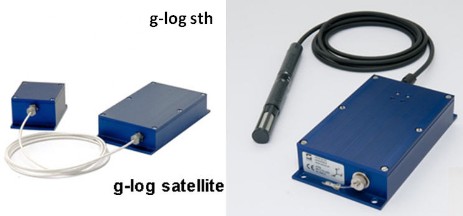 Applications

Shipment monitoring


Package testing


Quality assurance during transportation


Safeguarding hazardous cargo


Monitoring sensitive devices during normal use


Supervising cargo handling equipment


Structural and seismic damage detection


Features

High memory capacity


12 months battery life-span


Simple to mount


Tamper-proof and password protected


Non-volatile memory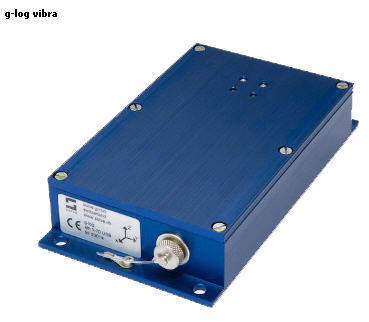 The g-log sth 2 monitors and registers acceleration and climatic values (temperature and relative humidity) during transport. This allows a reconstruction
of all significant events.
The unit's shock measurement function is event-controlled and automatically registers all accelerations which
exceed a defined threshold. The recorded data is saved together with the time.
An intelligent memory management system overwrites less critical events once the available memory is full. This
prevents the loss of important measurements. Up to 3000 shock events with detailed gradients can be recorded
with the unit's extensive memory capacity. And if needed,environmental conditions (humidity and temperature)
can be recorded using an external sensor.
With its ultra-low power consumption,this makes it possible to document long-time transportation and storage.

g-log sth :
* Rugged aluminium case, IP65
* Event triggered acceleration measurement (curve recorder) in three axes.
* Storage of date and time information with every recorded event.
* Easy-to-use analyzation tools: Read out the recorded data via the USB interface of the datalogger and analyse it on your PC.
* Standardbatteries for low operation costs.
* Time of operation (without battery change) > 24 months
* Time triggered measurement of temperature and humidity via external sensor (optional).

g-Log Vibra :
* Continuous acceleration measurement (curve recorder) in three axes.
* Sampling rate of 2kHz
* Rugged aluminium case, IP65
* Easy-to-use analyzation tools: Read out the recorded data via the USB interface of the datalogger and analyse it on your PC with provided Software .
* Standardbatteries for low operation costs.
* Time of operation (without battery change) ca. 200 Vibration measurements for 8 minutes
* internal temperature measurement