Data Transmission
Metrology > Mechanical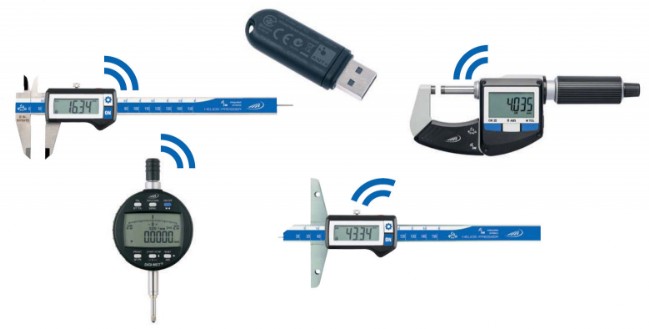 DATA TRANSMISSION WITHOUT CABLE OR RADIO MODULE
Measurement without the nuisance of additional modules:



Unlike conventional wireless solutions, which have a large external transmitter with separate battery, the transmitter in Integrated Wireless is fully integrated.
Highly mobile: Integrated Wireless gives you much more mobility.
There is no cable to get in the way, either at the measuring station or when measuring on or at the machine or at large workpieces
With Integrated Wireless you can transfer your measured values to the PC simply using the i-Stick. As with a data cable, the measured values are accepted via the MarCom software directly into MS Excel© or via a keyboard code into any Windows application
With Integrated Wireless you can be sure that your data will arrive safely. Measuring instruments with Integrated Wireless display messages to confirm whether the transmitted data has been correctly transferred or whether you are within receiving range of the i-Stick receiver
The integrated wireless interface makes the measuring instrument exceptionally energy-efficient. And unlike conventional wireless systems, no additional battery is required
With Integrated Wireless you can connect up to 8 measuring instruments per i-Stick receiver. Expensive interface boxes are no longer necessary. With even one connected measuring instrument you get a wireless connection for the price of a cable

1326i DIGI-MET® Pocket calipers IP67 with integrated wireless
• Measuring system is insensitive to fluid and

cooling agents

• Housing and operating keys

have an excellent chemical

resistance
Functions
• ON / OFF

• Quick-Start

• Quick-Lock (key lock)

• Set to zero at any point

• mm / inch switching

• PRESET-Function

(setting a numerical value)

• Integrated Wireless
Delivery
• Plastic case




1866i Digital micrometers IP65 with integrated wireless

• Reading: 0.001 mm /
.00005 inch
• Protection class IP65
• LCD display: 10 mm
• Rapid drive
• Carbide measuring faces
• Spindle stainless.
hardened and smoothed
• Frame lacquered
• Thermally insulated
• Factory standard
Functions
• Set to zero at any point

• ABS (display can be set

to zero without losing the

Preset value)

• TOL

(tolerance value input)
Delivery
• Plastic case

• From measuring range

25 mm upwards includes

a setting standard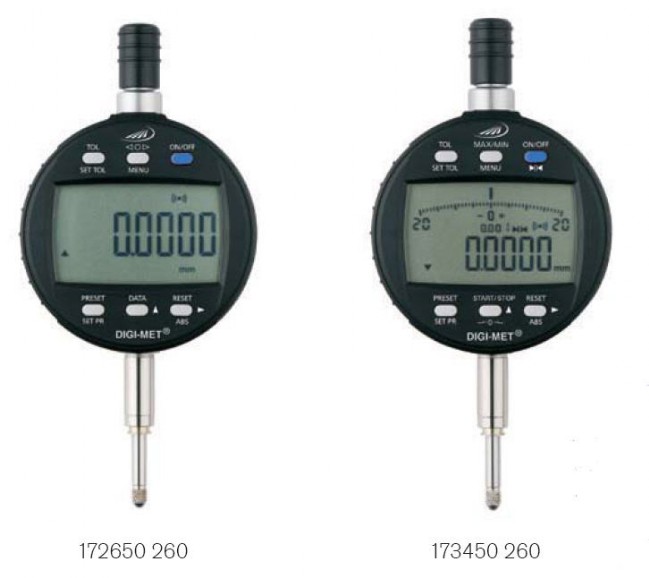 1726i / 1734i DIGI-MET® Indicators with integrated wireless



• Aluminium housing

• Outer ring (Bezel) Ø 60

mm

• Replacement probe tip

M2.5

• Protection class IP42

• Clamping shank Ø 8mm

• Display can be rotated

through 280°

• LCD display with 11 mm

high numerals

• Factory standard



Delivery
• Cardboard box
Functions
• Set to zero at any point

• ABS (display can be set

to zero without losing the

Preset value)

• TOL

(tolerance value input)

• Reversal of counting

direction

• PRESET-Function (setting

a numerical value)

• Variable data output RS

232 + Digimatic + USB