Non-destructive Ultrasonic
Coatings & Industry > Physical properties > Thickness Dry Film
Digital signal processing
Ultrasonic coating thickness gauge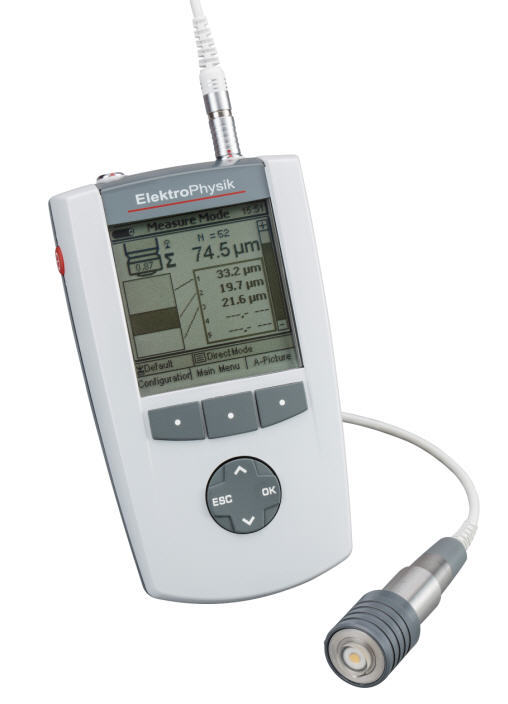 QuintSonic 7
Precision coating thickness gauge based on the ultrasonic pulse run-time method.
The QuintSonic 7 enables measurement of up to 5 coatings in a single operation.

It is possible also to measure polymer coatings like paints, varnishes and synthetic materials as well as glass, ceramic or metallic coatings on virtually any substrate. Varnish on synthetic materials, copper on ceramic, synthetic materials on wood, or glass on metal form the typical coating systems that can be measured by the QuintSonic 7.

As the first equipment of its sort, the QuintSonic 7 makes it possible to measure coatings on fibre-reinforced plastics, e.g. GFRP, CFRP, WPC.

The intelligent evaluation of the ultrasonic signal reading allows rapid recording of measured values of over 40 measurements per minute.

Simple calibration and graphic display of the test results on the A screen of QuintSonic 7 enables quick operability and versatile use.

A challenge in ultrasonic coating thickness measurement are layers exhibiting very similar material properties. Their impedance values do not vary significantly enough in order to provide clear echo signals. The innovative clipping function of QuintSonic 7 offers a solution to this problem so that also very weak echoes can be clearly distinguished. Thus even very difficult settings of task of this kind can be solved with utmost reliability and precision.
Application
Non-destructive measurement of:
Varnish, synthetic materials, glass, enamel and other coatings on wood, synthetic materials, glass, metal and ceramic
Metal coatings on synthetic materials, ceramic and wood
Up to 5 coatings in a single operation.

Also suited for wall thickness measurement.
QuintSonic 7 can also be used for measuring thin substrates through the coating.
QuintSonic 7 offers a wide range of applications in the automotive industry, aircraft manufacturing or any other industrial branch where accuracy is of high importance.
Performance features
Quick evaluation of the measuring signal, high accuracy and repeatability owing to the sensor-integrated digital 32-bit signal processing (SIDSP®)




Over 40 measuring values per minute: start, wait for 1 second, done.




Mere 5 mm measuring area enables gathering measurement on tiny and curved parts




Graphic display showing individual coatings, zoom-enabled A screen and menu-driven user guidance

Particularly innovative is the A-scan image

function that is available on the graphic

display without the need to connect the gauge

to a PC. This enables utmost reliability of

measurement in any situation and makes

QuintSonic 7 the ideal gauge for on-site use,

use in the laboratory or use on the shop floor.

Additional comfort is added by the possibility

to determine the sound velocity by means of

reference samples. Once the sound velocity of

a given material has been determined, it can

be stored in the data base to be available for

further measurements.
Scope of delivery
QuintSonic 7 basic unit



Ultrasonic sensor with 1 m / 40" sensor cable

USB-Adapter cable


Software QSoft Professional Edition on CD

Operating manual German / English on CD

1 bottle glycerine couplant, 100 ml

1 bottle coupling gel by ElektroPhysik, 100 ml

4 batteries AA / LR06

Plastic carrying case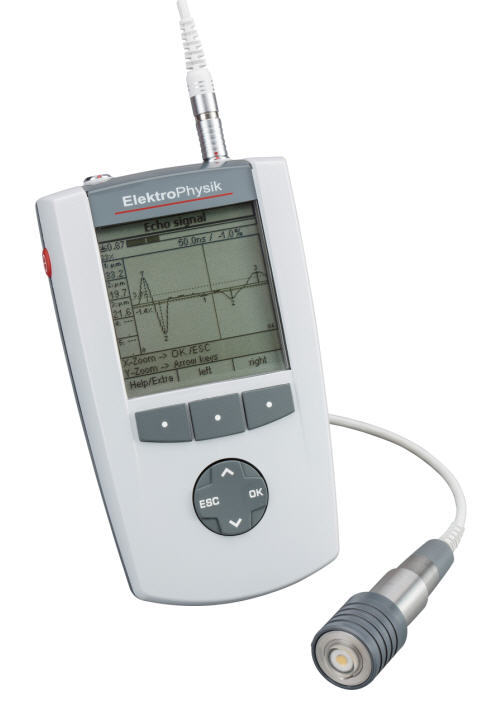 Measuring principle

Ultrasonic pulse run-time method

Measuring range /
Resolution /
Accuracy

No. Measuring range Resolution Accuracy
1: 356 µm 0,25 µm 0,25 µm
2: 890 µm 0,5 µm 0,5 µm
3: 1.900 µm 1 µm 1 µm
4: 3.900 µm 2 µm 2 µm
5: 7.500 µm 4 µm 4 µm
(at 2375 m/s ultrasonic velocity in all layers)

Minimum layer thickness

approx. 10 µm (depending on the ultrasonic
velocity in the layer)

Number of layers

up to 5 layers in one operation

Measurement cycle time

approx. 1 s

Measuring area

5 mm Ø

Calibration

Sound velocity calibration for up to 5 layers

Statistics

N (number of measurment values)
Minimum
Maximum
Average
Standard deviation
Coefficient of variation
Block statistics (user adjustable)
Histogram
Trend diagram

Interface

Infrared (IrDA® 1.0)
USB
optional RS-232 via additional adapter cable

International Standards

DIN EN ISO 2808

Signal processing

Sensor integrated digital 32-bit signal processing (SIDSP®)

Operating temperature

5 °C - 50 °C

Storage temperature

-10 °C - 50 °C

Power Supply


4 x Mignon battery AA / LR06
Power supply (90 - 240V AC / 48 - 62 Hz)

Dimensions

Gauge:153 mm x 89 mm x 32 mm
Sensor:Ø 25 mm x 60 mm

Weight

Gauge:310 g
Sensor:80 g
Cable:30 g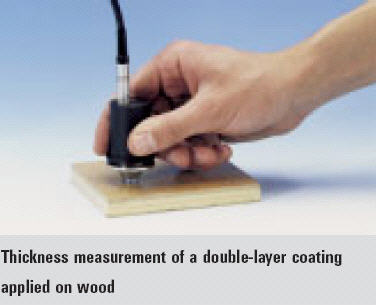 Measuring layer thickness of GRP and CRP components
Up to five polymer layers can be detected and measured in a single operation using the new portable QuintSonic 7 made by ElektroPhysik.
The thickness of paint, lacquer and plastic coatings applied on metals, plastics, wood, glass and ceramics substrates is measured with high precision and shown on a large display.
QuintSonic 7 is the first ultrasonic gauge which allows coating thickness measurement on GRP and CRP components.
The new QuintSonic 7 is the first gauge of its kind to measure coating thickness on light construction components made of GRP precisely.
Up to five polymer coatings on a variety of substrates such as metal, plastics, wood, glass or ceramics are detected at the same time. Its specials skills qualify the handy gauge for sophisticated applications in the automotive industry as well as in aircraft construction.
As an additional feature, the gauge also offers to measure thin substrates through a coating.
The working principle of the QuintSonic 7

which is composed by a basic unit and a fixed sensor is based on the reflection of ultrasonic waves at the boundaries between the single layers.
The intelligent ultrasonic coating thickness sensor combines both functions of sender and receiver for this operation.
The transducer introduces the ultrasonic pulse in the layer system through a couplant.
When the ultrasound beam crosses a boundary between two layers or to the substrate (base material), part of the signal is reflected. These reflections are picked up by the sensor and evaluated in a sophisticated mathematical process.
This process analyzes the runtime of the ultrasound pulses and converts it into coating thickness with a resolution of 0.1 µm.
Being handy (150 mm x 82 mm x 35 mm) and light-weight (150 g), the gauge nonetheless brings along user comfort, high performance and a practically oriented design.
The intuitive menu control, large backlit control keys and the backlit graphics display fulfil all requirements on ergonomics.
The direct illustration of A-scans on the display without the need to transfer the readings to a PC can be considered as particularly innovative.
The QuintSonic 7 gauge is hence highly qualified for portable use in the field.Convenient data management offering individual naming and creation of directory structures based on file management as known through common PCs supplements the gauges functional range.
All parameters required for measurement can easily be set using the PC software QSoft 7 Basic Edition which is part of the delivery scope.
A-scans can hence be illustrated on the PC screen in colour and large size.
The
QSoft professional edition allows to create batches via PC, to evaluate readings transferred to PC and to export to various data formats.
Readings can not only be exported to text and excel format but also shown as complete measurement records in pdf format. Additional text as well as photos of the measuring object can of course also be embedded in these reports. .
QuintSonic 7 can be connected to external peripherals via numerous interfaces such as the portable d

ata printer MiniPrint 7000 also offered by ElektroPhysik or an infrared interface. (IrDA 1.0). A wide range of options allows upgrading the gauge by alarm, audible or switching functions.