Mandrel bend tests
Coatings & Industry > Mechanical properties > Flexibility and toughness
Cylindrical Mandrel Bending Tester Model 266 S
Test instrument to determine the elasticity, adhesion and elongation ability of a dry paint film applied on a flat metal support.

It contains a holder for a mandrel, a bending lever fitted with height adjustable rollers, and sliding tongs for fastening the sample. Mandrels supplied in a case.

Specifications

14 stainless steel mandrels of 2-3-4-5-6-8-10-12-13-16-19-20-25-32 mm diameter

The instrument can be adjusted to the diameter of the mandrel and the thickness of the sample support

Samples

Max. Width: 100 mm

Max. Length: ranging between 80 mm (2 mm mandrel) and 100 mm (32 mm mandrel)

Advantages

Easy to bent samples at a steady speed

The position of the sample clamp can be adjusted for the sample thickness

The gliding rollers are treated to avoid damaging the surface of the sample during bending
It determines the greatest cylinder diameter at which a coating will still show cracking or flaking subsequent to bending.
Specimen thickness: 0.3 or 1 mm (1 mm sheet should only be tested on Ø > 5 mm mandrels)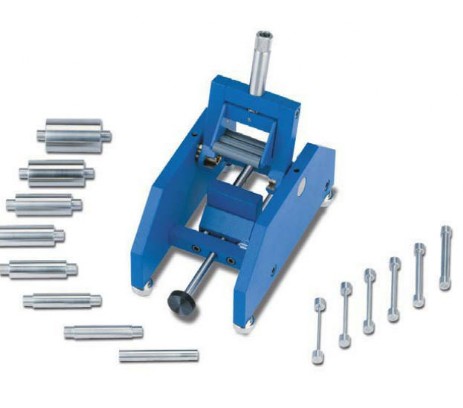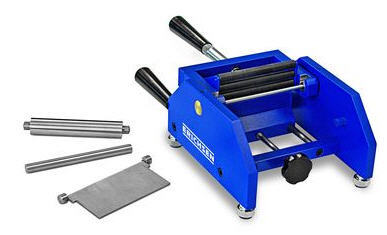 DIN EN ISO NF 1519, Paints and varnishes - Bend test (cylindrical mandrel)

ECCA T7[1996], Resistance to Cracking on Bending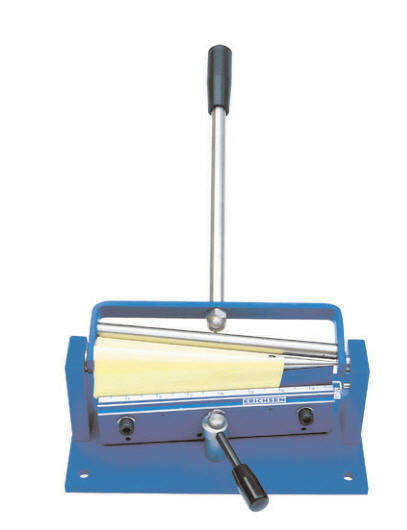 DIN EN ISO NF 6860, Paints and varnishes - Bend test (conical mandrel)

ECCA T7[1996], Resistance to Cracking on Bending.

ASTM D 522, Mandrel Bend Test of Attached Organic Coatings
Conical Mandrel Bending Tester Model 312
This test apparatus consist of a base, a conical mandrel, a rotating arm with roller and a clamping bar.

The mandrel bending test is a commonly used testing method for assessing the flexibility and the adhesion properties of coatings when these are subjected to bending stresses.

It allows you to establish the limiting extension of coating materials on sheet metal specimens by bending around a conical mandrel.

From the diameter of the mandrel at the point where the crack starts, the maximum relative extension of the coating can be calculated.

Test principle

Testing with the conical mandrel bending tester determines the largest diameter of the cone at which the coating shows cracking or flaking after bending.
Advantages

The conical mandrel: diameter ranges from 3.2 to 38.1 mm.

Particularly robust and rigid construction.

One-piece machined in the steel mass mandrel.

Easy fixing of the specimen with rapid clamping device for faster operation.
User's Guide

Make cuts through the coating to the substrate, parallel to the short edge and spaced 20 mm.

Insert the test panel, uncoated side towards the mandrel and the short edge direction small end of the mandrel.

Clamp the panel.

Rotate the draw bar over the mandrel through 180°.
Samples to be used with impact
and conical mandrel tester.
Alu 5754 (AIMg3) sample, 190 x 100 x 0,5 mm
Cold rolled steel sample type DC04
, 190x100x0,5 mm
Zinc fire steel
specimen type
DX51D+Z275
,