Bac Ford-Bath
Coatings & Industry > Corrosion + Ageing > Humidity chamber
Bac Ford-Bath, Model 531

Water Immersion test
Test instrument for the execution of an immersion-test to determine the corrosion resistance of a coating.
The container with lid is made of polypropylen, equipped with a thermostat and a circulating pump.
The container is equipped with a grooved base for setting up of samples.

Bac-Ford-Bath, Model 531
The Bac-Ford-Bath, Model 531, is developed
as well as the Machu-Test-Bath for performing
immersion corrosion tests on coated test
panels.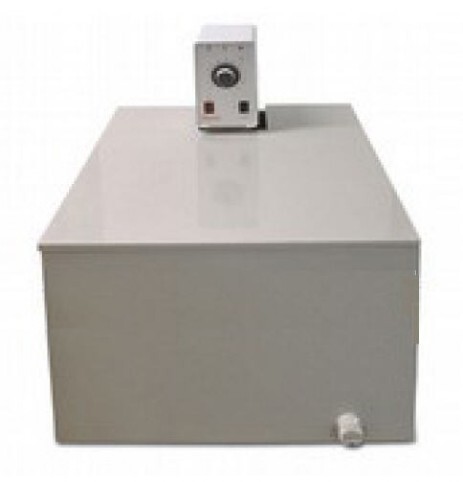 The construction of the Bac-Ford-Bath is similar to the Machu-Test-Bath.
The test panels are placed directly into the bath with no
separate container.
The bottom of the test container is equipped with slots to place the test panels with an angle of 15° or 20°.
The test samples will be immersed in distilled water for some days at a temperature of 40 °C, after the time test samples are removed and the coating is inspected.
Extract from the standard :
Add to the tank (5.1) sufficient water of grade 2 purity, as specified in ISO 3696, such that the test panels, when placed in position on the support (5.3), are immersed for three-quarters of their length. Commence the circulation and aeration of the water (5.2) in the tank, adjust the temperature of the water to (40 ± 1) °C and maintain this temperature throughout the test.
Place the test panels in the tank for the specified period, rearranging them at regular intervals of not more than 3 days. Replace the test water if at any time during the test it becomes turbid or coloured or its conductivity exceeds 2 mS/m."
Technical Data
Dimensions: approx. 600 x 400 x 260 mm
Weight (net): approx. 18 kg
Temperature: 40 °C +/- 1 °C
Power supply: 230 VAC
Ref : 101-
0531.01.51
Bac Ford-Bath, Model 531
Accessories
Ref : 101-0258.01.31
HANDCUTTER Erichsen 428 :
Handle with adapter block for scratch tool fixing,
incl. scratch tool acc. to Clemen
Ref : 101-0539.01.32
Scratch tool for Handutter Erichsen 428 : test tip acc. to van Laar (diam 0.5 mm)
Ref : 101-0094.01.31
Erichsen 426
Scratching Tool acc. to van Laar
Ref : 101-
0814.02.32
Test Panels (150 x 100 x 1 mm) per 100 pcs.
Ford Bath complies with method (ISO 2812-2:2007), Renault RNUR 1327, NFT 30053-2, NFT 30 054, and ECCA T-9.