Pressure Metering
Temperature > Pressure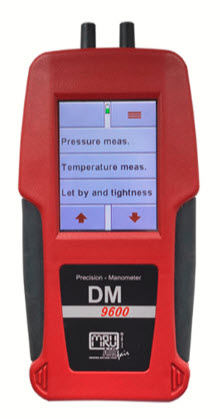 DM9600 – Hand Held Differential Pressure Meter
The DM 9600 is an high accuracy hand held differential pressure meter ( manometer) suitable for most domestic and commercial pressure testing applications.
It features 4 separate pressure testing programme which can be renamed, timed let by/stabilization tightness test.
It also can be used as differential thermometer and as a professional gas sniffer using the external HD400 probe and sensors.
This hand held manometer uses piezo-restive sensor technology which ensure high precision, repeatability and stability over a wide temperature compensated range from 0 to 50ºC
The measurement values are presented on the large 2,8″ touch, color display which make it easy to read even in poor light conditions.
The reinforced fiber glass enclosure, protects the integrity of the manometer in case of accidental drops.
The DM9600 is powered by Li-Ion rechargeable batteries with in excess of 20 hours per charge. You can conveniently charge the manometer in the car thanks to the mini USB charging points
To help with hand free operation, the back of the manometer is fitted with 4 strong magnets
Pressure Ranges:± 75 mbar, ± 150 mbar, ± 350 mbar, ± 1 bar

resolution from 0.001 mbar to 0.01 mbar depending from the range

10 x Pressure Units

Fully programmable Timed Tightness & Let by test

Additional 4 separate pressure testing programme

Differential Thermometer using standard type K Thermocouple

Stand Alone auto log function with programmable duration and sampling interval

Data export to SD car in CSV format

Optional Bluetooth for communication with free mobile app

Optional AUX connection for multi-functional probe
Specifications
Model Range Resolution Accuracy
DM9600-NO-NO-75 ± 75 mbar 0.001 mbar ±0.02 mbar or 0.5 % rdg
DM9600-NO-NO-150 ± 150 mbar 0.01 mbar ±0.03 mbar or 0.5 % rdg
DM9600-NO-NO-350 ± 350 mbar 0.01 mbar ± 0.3 mbar or 0.5 % rdg
DM9600-NO-NO-1K ± 1000 mbar 0.1 mbar ± 1 mbar or 1 % rdg

General specifications
Compensated Temperature range- 0 °C to 50 °C
Pressure Units hPa / mbar / bar / psi / mmHg / inchHG / cmH2O / inchH2ODisplay2.8″ touch TFT
Storage temperature -20 °C to 50 °C
Operating Temperature -0 °C to 50 °C
Pressure Connection 8.0 mm diameter
Dimension 83 x 38 x 180 mm
Power Li-Ion Rechargeable batteries
Supplied with Instrument, USB lead, calibration certificate
Accessories : 400DH – Multifunction Gas Detector Probe
The 400HD is a multifunctional probe for use in conjunction with our RASI700/800 Flue Gas Analyser and DM9600 hand held manometer.
It connects using the AUX port
Use as Professional Gas Leak Detector for Nat Gas, Propane and Hydrogen

Display values in ppm, % LEL, LEL

Sensors for CO, CFC, gases

Sensor for RH% , Temperature, Barometric Pressure and Dewpoint
This innovative probe uses plug and play smart sensors to cover a wide range of measurements with-in the HVAC and Industrial application.
The probe is supplied with an ergonomic and sure grip handle, a 1.95 meter cable and the flexible shaft where the smart sensors connect.
Current available sensors includes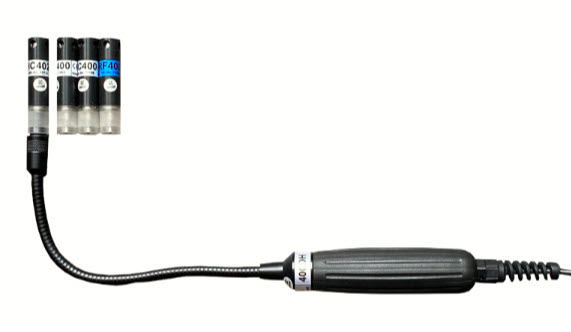 Related products 1
2 x Pipe Clamp On Temperature Probes for use with gas analysers
Pipe Size : Max ∅ 35 mm

Operating Temperature – 40 to 100 °C

Industry standard Thermocouple type K

Spring loaded jaw for secure grip

Supplied as pair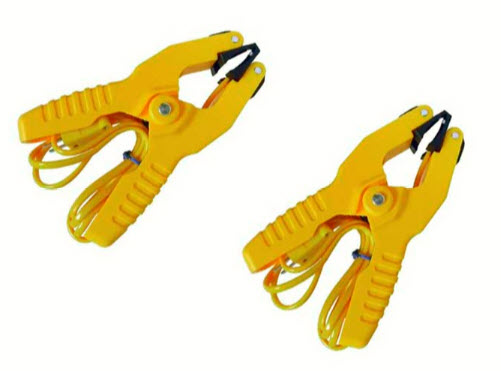 EIUK smoke pump for oil burners
The EIUK smoke pump is compatible with all our range of flue gas analysers to determine the smoke number in oil burners. It is TÜV approved ( TUV by RgG 245). It includes:
Smoke Test Pump

3 ml Silicon Oil

Comparison smoke scale

Filters strips

Valve