Test Panel Spraying Applicator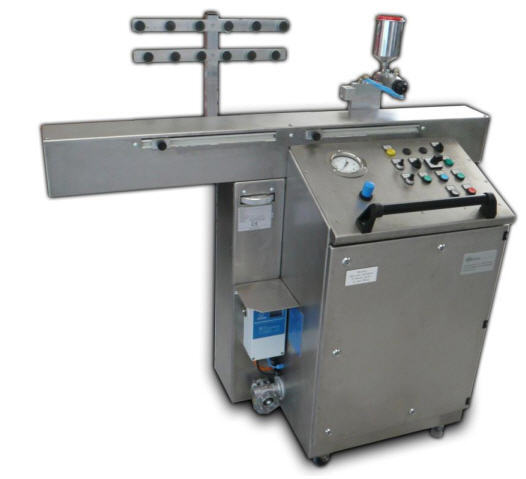 Test Panel Spraying Applicator AUTOSPRAY 481
Purpose and Application
The AUTOSPRAY 481, Type APL 1.2, enables
the even application of coating substances by
means of a flow cup spray gun.
It is recommended that the equipment be set up in
front of an appropriate spray booth with extraction
facility or a similar equipment.
The max. height of
the water trough should not exceed an aboveground
height of 750 mm.
The exact dimensions
of the spray booth and water trough should be
specified when ordering.
The AUTOSPRAY 481 is an easy-to-use, low maintenance
machine. Its compact design and
twin braked castors make it highly suitable for
mobile use and can even pass through doors with
a clearance of up to 800 mm in width.
Optionally the AUTOSPRAY APL 1.2 can be
equipped with quick-change system for one-way
flow cups, which allows a comfortable, clean and
fast color change.
The AUTOSPRAY 481, Type APL 1.2, consists of
a self-contained stainless steel cabinet assembly
which is easy to clean and also provides excellent
resistance to high humidity.
Because both the switch gear cabinet containing
the pneumatic/electric control elements and
electric wiring and the motor compartment have a
pressurized enclosure, the Model 481 spray
applicator for test panels is explosion-proof.
The explosion protection is certified by TÜV
Rheinland (German technical surveillance
association).
The AUTOSPRAY APL 1.2 is therefore suitable
for use in potentially explosive atmospheres. If
required, further components can be easily
integrated into the pressurized switch-cabinet,
without adversely affecting the explosion-proof
properties of the AUTOSPRAY 481.
Since all connections are of the plug-in type,
transportation for maintenance purposes is
simplified and the spray booth can remain in
operation.
The control unit not only allows the use of fixedprogrammed
spraying parameters such as step
sizes, horizontal and vertical stroke speeds,
number of spraying strokes and exhaust air times;
by altering the settings it is possible to adapt to
practically all conceivable requirements of coating
technology (e.g. applying a paint wedge). As a
result, reproducible coating structures can be
generated at any time.
The assymetrical layout of the operating panel
ensures easy access to the test pieces which
have been or are to be been coated, even in
smaller spray stands.
The AUTOSPRAY 481 is pre-fitted to enable the
use of one or two automatic flow cup spray guns
which can be individually pre-selected.
Because
there is no screen involved, a uniform air flow in
the stand can circulate around the sprayers.
Airless guns can also be integrated as an option.
The gun holder is designed in such a way that the
height and angle of the sprayer position can be
readjusted.
The spray gun operates at an angle of
90° to the test panel. The machine can be
supplied complete with spray gun on request.
The adjustable test panel holder makes it possible
to vary the distance between the spray gun and
the testing surface.
Changing the test panel holders is a simple matter
– and the use of either magnetic fixing devices
(secure, rotatable, with flow edge) or suction cups
is possible.
Special Features
The stroke mechanism is driven by integrated
3-phase a.c. motors by way of frequency
converter. This ensures:
a uniform speed during the entire spraying

stroke,

avoidance of the pulsation to be expected

from, e.g. a pneumatic stroke mechanism,

smooth starting and stopping ramp due to

adjustable frequency converter. As a result, the

components are subjected to a minimum of

wear,

minimum noise level,
high production rate with minimum time and

effort for maintenance,

speed of spraying frame adjustable 0.2 up to

1.0 m/s,

vertical and horizontal spraying range

adjustment.
Supply of compressed air for control air and spray gun air:
Large-dimension air supply connection (3/4")

for the spray gun with additional upstream

controller which filters out fluctuations in the

main feed line. The result is a uniform supply of

compressed air and an optimal specific output.

Short distances: The air hoses inside the

machine are as short as possible to avoid

pressure losses.

Large-diameter supply hoses (8 mm ID) to the

spray guns.
Additional structural advantages:
The AUTOSPRAY 481 is equipped with 4

braked castors. It is therefore fully mobile and

can fit through standard doors with a width of

800 mm.

It can be set up opposite a spray booth with

extraction facilities and a water trough of up to

750 mm over-floor height.

The arm with the test panel mounting is located

inside the spray booth ensuring direct

extraction of the paint mist and avoiding mist

development in the laboratory.

Complete housing in stainless steel.
Small build (easy operation).
Almost infinitely variable adjustment of the gun

speed by means of a button potentiometer.
The automatic spray applicator is ready for use and trial-run upon delivery. No additional installation work is necessary.
As a result of individual TÜV inspections in

compliance with ATEX, no further on-site

acceptance tests are necessary.
Test panel holder with suction cups for smooth,

compact surfaces.

Fittings for adding a second spray gun.

Separate nozzle and horn air control (only with

appropriate pistols).

Airless gun and associated pump.

Quick-purge cleaning system for flow cups.

Modified width or gun stroke possible on

request (if very narrow cab or wide workpieces)

Further options on request
Coating methods:
Surface application in cycle
Wedge application
Preselectable parameters:
Variable gun speed

Number of spraying strokes: 1 - 4

Selection spray guns 1 or 2 (option)

4 adjustable grid increments (vertical

workpiece down movement)



Horizontal spraying range

Spray gun air pressure

Exhauster times adjustable from 0 - 3600 s





Technical Data

Dimensions (excl. spray gun):

approx. 1300 x 1490 x 700 (H x W x D)

Size of test panels:

max. 600 x 420 mm

Test panel material:

steel

Test panel mounting: magnets, 10 pieces

Spraying stroke, horizontal max. 800 mm

Spraying stroke, vertical:

max. 660 mm

Spray gun stroke speed:

0.2 – 1.0 m/s,

steplessly variable

and reproducible

Workpiece feed rate:

min. 20 mm grid

(freely adjustable)

Spray gun / test panel distance: 200 - 400 mm

(mechanically adjustable)

Operating voltage:

230 V AC, 50 Hz

Electr. connected load:

0.35 kW

Compressed air supply:

6 - 10 bar

Compressed air consumption

during operation,

excl. air for spray gun:

approx. 1.8 m³/h

Compressed air consumption

cabinet purging

approx. 18 m³/h

Purging time:

approx.15 min

Air quality:

DTP <3 °C

filtered

oil-free




Explosion Protection Standards

DIN EN 50016 / VDE 0170/ 0171, Part 3

ATEX

II 2G T4 / ATEX

II 3G T4
Order Information
Order No. Product Description
101-04810251 Test Panel Spraying
Applicator AUTOSPRAY 481,
APL 1.2
(excl. spray gun)
101-04810351 Test Panel Spraying
Applicator AUTOSPRAY 481,
APL 1.2
(excl. spray gun)
but with simplified ignition
protection for ATEX-Zone 2
Necessary Accessories
Order No.
Product Description
101-
04811352
L
aboratory spray gun - model
"Oerter", based SATAjet 3000 ROB
B RP
101-04811552 Paint spray gun - model 'DeVilbiss
Cobra 1'
101-04810352
Laboratory spray gun - Type SATA
LP 90 MSB
Accessories
Order No. Product Description
101-
04810552
Extension for operation with 2 flow
cup spray guns
101-
04811752
Extension for operation with one
automatic flow cup spray gun
101-
04811852
Extension for operation with two
automatic flow cup spray guns
101-
04810852 Test panel support