Drying Oven for Solvents
Laboratory Product > Heating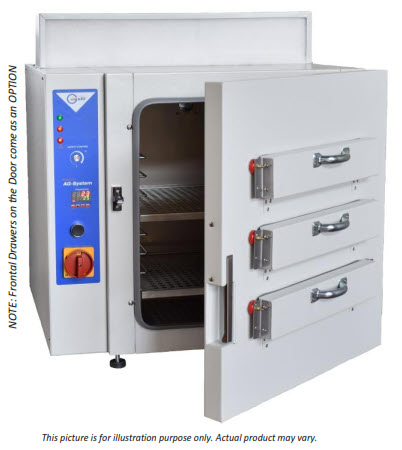 21SL
Drying Oven for Solvents
Oven for Safe Drying of Solvents
in compliance with EN 1539 standard
The Ovens for Safe Drying of Solvents mod. 21SL
are
indispensable for all those applications where an accurate,
reliable, and high-performance device is needed.
Ovens mod. 21SL
, in compliance with
EN 1539
standard, are
ideal for tests on painted specimens, glues, adhesives, organic
solvents and safety tests and are used in a wide range of fields,
including the chemical, paint and research industries.
Control System AdvancedGalliSystem PRO
Microprocessor with Digital Double Display

Set Point and Inner Temperature Visualization

PROGRAM Function with ramps, soaks, and repetitions

Optimized Control Algorithm with PID Actions

Autotuning Function

High Temperature MgO Armored Probe


"Zero Crossing" Solid State Relays



Temperature Range from A.T. +10°C to +160°C
External Structure
:
varnished, solvent-free
Internal Chamber
:
in Stainless Steel AISI 304 with rounded corners
Efficient Insulation
:
eco-friendly
Insulated Door with compression closure
and High-Temperature Silicone Gaskets
Forced Air Ventilation System :
Height-adjustable Feet
Safety Devices :
Fuses for complete system protection




Green Main Switch




Integrated Alarms Management System




Door Microswitch




Air Flow Constant Control



Standard Equipment :

2 Extractable and Adjustable Shelves




1 Filter for Fresh Air Inlet




1 Instruction Manual




1 CE Certificate




1 FGW Warranty Certificate




1 Calibration Certificate