GL SPECTROLUX
Graphic & Printing Industry > Light measurement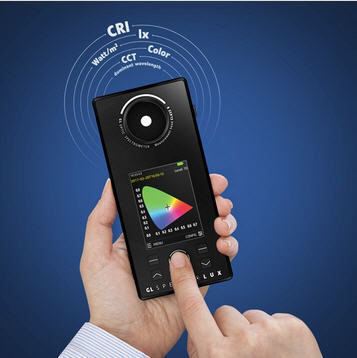 An affordable solution to the majority of measuring requirements in lighting industry. Based on the heritage of succesfull GL Spectis series, spares little compromise on quality, while still economy friendly. Measurement head of class B available as standard puts this handy spectrometer in a class of it's own. If you need to easly and quickly evaluate light qualities such as: lux, CRI, CCT, color and much more, our SPECTROLUX is your best choice.
Unmatched by any mass produced spectrometer

Class B measurement head
Completely portable device

Color LCD screen

Intuitive button operation

USB connectivity

Android based operating system

Internal storage of more than 20.000 measurements


Approx. 6 hours on battery



GL SPECTROLUX
Robust Design. Exceptional Performance. Budget-friendly.
The GL Spectrolux handheld spectral lux meter sets new price standards.
Based on our popular Spectis 1.0 Touch, it evaluates light quantities such as lux, CRI, CCT, color and more in a compact handheld package.
The GL Spectrolux includes a laboratory Class B measurement head for superior accuracy and repeatability.
Each device is individually calibrated and traceable to international reference standards.
The SpectroLux matches the aesthetics of the GL Spectis 1 touch in a more economical way, but you won't be able to add any other measuring optics.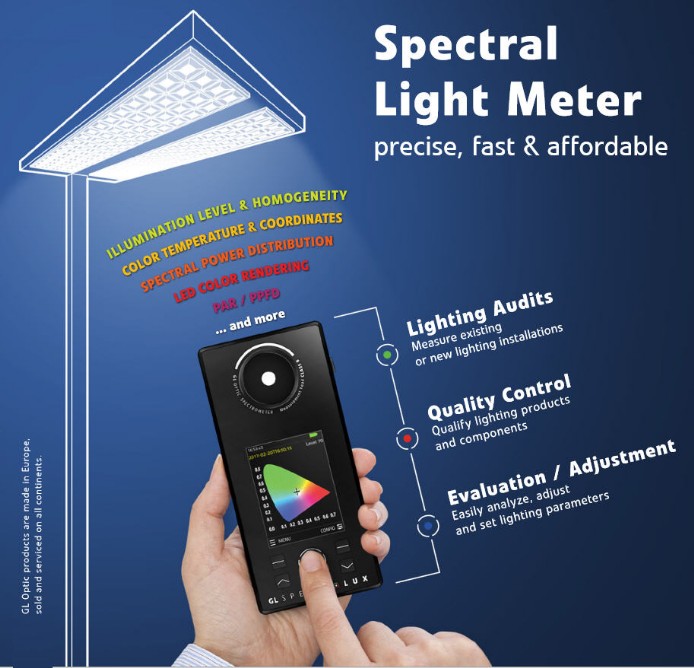 Unique features
Illuminance measuring head, DIN quality class B



GL Optic spectrometers are predominantly designed and preconfigured for light measurement. Therefore they always include a cosine corrected measurement head – the standard diffusor. The B class cosine corrected measurement head is a standard accessory allowing for the proper measurement of light from the 180° (2 Pi) hemisphere above the sensor, according to Lambert's Cosine Law.
Measurement in visual range




Internal storage for > 20,000 measurements




Chargeable via USB




USB connection with PC




Battery life: 4-6h




Small and solid housing



Now using GL Spectrolux you can measure following:
LUX - Illumination level lux [lx]




foot candles [fcd]




SPD - Spectral Power Distribution from 380 -780nm




CRI - Color rendering index according to CIE – and IES TM30




CCT - Correlated Color Temperature [K]




COLOR - Color coordinates according to CIE 1931




PAR/ PPFD - Calculations of photon flux density and photosynthetically active radiation [µmol]



Spectral range : 340-780nm
Detector : CMOS image sensor
Numer of pixels : 256
Physical resolution : ~ 1.7nm
Wavelength reproducibility : 0.5nm
Integration time : 5ms to 10s
A/D conversion : 16 bits
Signal to noise ratio 1000:1
Stray light : 2*10E-3
Spectroradiometric accuracy* : 4%
Measurement uncertainty of color coordinates (x.y) : 0.0015
*Absolute measurement uncertainty after calibration. The expected uncertainty corresponds to a coverage probability of 95% and the coverage factor k=2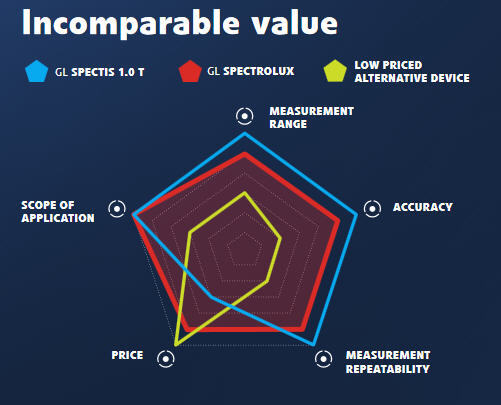 COMPLETE SOFTWARE SUITE ANALYZE, INTERPRET AND PRESENT YOUR RESULTS
GL SPECTROSOFT software adds power, speed
and effciency to your GL Spectrolux. Whether
analyzing field measurements, comparing
lighting scenarios, or supporting production
quality control, this versatile, modular, upgrad
able software platform provides quick access
to useful information. Advanced features include
configurable pass/fail criteria and structured
reporting formats to simplify presentation and
sharing of results. Basic version included, other
modules optional.