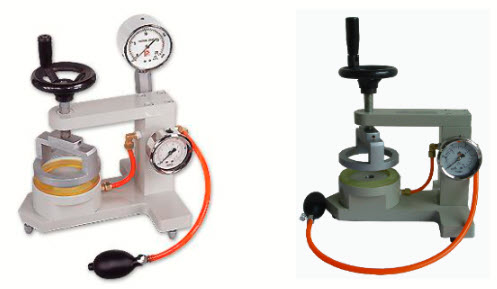 QC-317M/N
Description
Portable design and without electricity that can proceed with test. No time and space limitations, mainly used on the spot measurement, inspect textile water-resistance ability.

The test method is divided into two kinds:

1. Pressurized ball by hand, to do the pressure → release → pressure → release, the continuous action to gradually increase the pressure within the pressurized base, and please keep pressurizing in the speed of about 1. kg / cm ²/min, please immediately stop pressurize, as specimens have three spots leaking. Record the readings on the pressure gauge, the readings are water-resistance value of this specimen.

2. Another observation method is pressurizing to specific pressure, observe after a fixed time and without any leakage that means pass.
This tester is a compact and easy-operating instrument that allows the customer to conduct the test quickly.
The difference between 317M and 317N is the number of gauge; M has two gauges while N only one.
Compared with the one-gauge QC-317N, the advantage of the two-gauge model QC-317M is the more precise presentation of water pressure resolution.
The 2000mm H2O gauge displays low water pressure clearly, whereas the 10000mm H2O gauge is suitable for pressuring reading in normal range.
Pressure range : Switchable :
0-2000 mmH20 (0,2 kg/cm2)




0-10000 mmH20 (1,0 kg/cm2)
Dimension : 35x20x32 cm (WxDxH)
QC-317N has one gauge.
The 10000mm H2O gauge is suitable for pressuring reading in normal range.
Specifications :
Sample Size : 12x12 cm
Test Area : 9,4 cm
Gripping method : Manual
Pressure range : 0-10000 mmH20 (1,0 kg/cm2)
Dimension : 35x20x32 cm (WxDxH)
Weight : 5,9 kg