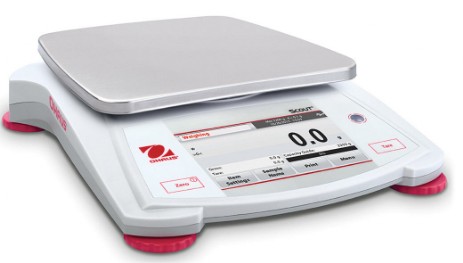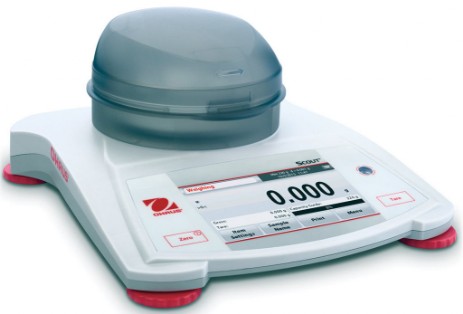 Portable Balances Scout® STX
Setting New Standards in Laboratory & Industrial Weighing - The Next Generation of Scout Balances
Ideal for laboratory & industrial applications, the OHAUS Scout features an easy to navigate color touchscreen display & a slim design which allows stackable storage.
Geared for superior performance with fast stabilization time and high resolution weighing results, these portable balances set a new standard for a broad range of weighing applications.
Features also include superior overload protection and expanded connectivity options.
Applications
Weighing, Parts Counting, Percent Weighing, Check Weighing, Animal/Dynamic Weighing, Totalization, Density Determination, Display Hold, Mole Weighing
Display
4.3" (109mm) full-color VGA graphic touchscreen display with user-controlled brightness
Operation
AC Adapter (Included) or 4 AA Batteries (Not included)
Communication
RS232, USB Host, USB Device, Ethernet or Bluetooth® (available as an accessory)
Construction
ABS housing, stainless steel pan, ABS draftshield (1mg models only), weigh below hook, transportation lock, manual calibration lock switch, security slot, adjustable leveling feet, illuminated up-front level indicator
Design Features
Stability indicator, stackable design with included storage cover (excluding 1mg models), mechanical and software overload/underload protection, low battery indicator, auto shut-off, auto tare, span calibration mass included on models up to 620g capacity
Large, resilient color touchscreen allows for effortless operation of the Scout through its informative icon driven menu structure, guiding the user through every step of the weighing application.
Stabilization time as fast
as 1 sec
means increased productivity in your facility.
Equipped with advanced weighing technology, the Scout also ensures repeatable and reliable weighing results.
Integrated superior overload protection system rated at 10 times the capacity protects the balance in rugged and demanding environments.
The space-saving, slim design allows for stackable storage.
Expanded Connectivity Options for Versatile Data
Collection and Transfer
Scout offers 9 application modes which address even the most complex of
weighing applications.
Users also have the option of operating the balance in their own language.
9 language options are available—English, Spanish, German, Italian,
French, Polish, Hungarian, Czech and Turkish.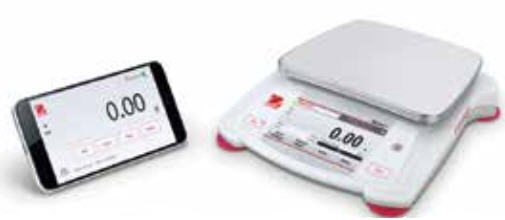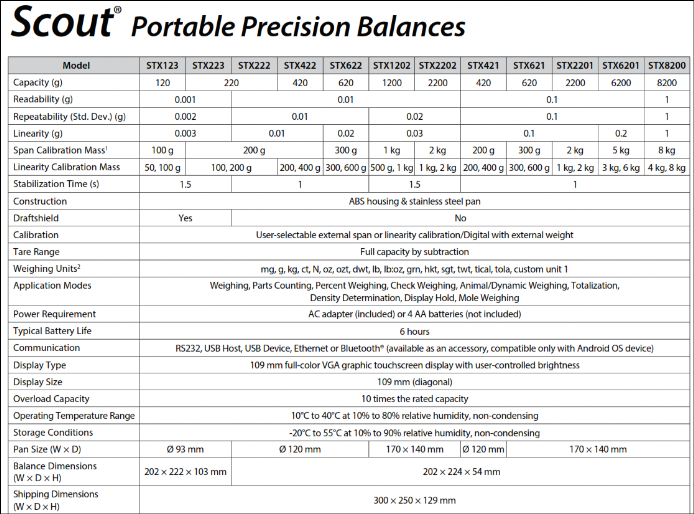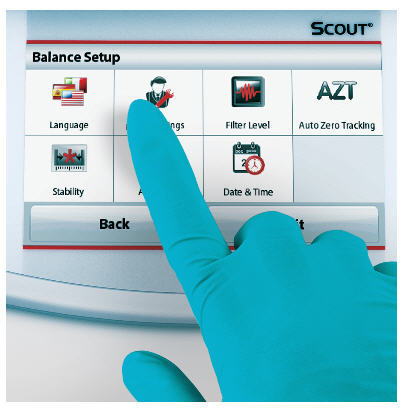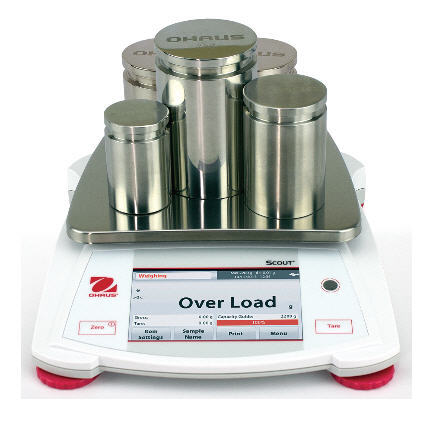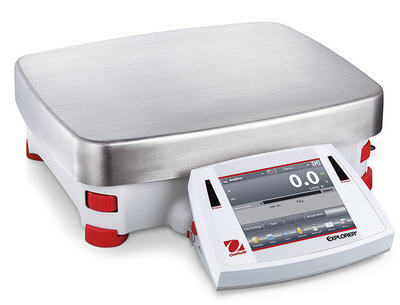 Precision Balances
Explorer® Precision High Capacity
Intelligent Performance No Matter How Difficult the Task!
OHAUS Explorer High Capacity balances provide unmatched functionality in a line of high-performance, high-capacity balances unlike any other on the market!
This smart and intuitive balance simplifies even the most complex high-capacity laboratory measurements.

Applications
Weighing, Parts Counting, Percent Weighing, Checkweighing, Animal/Dynamic Weighing, Filling, Totalization/Statistics, Formulation, Differential Weighing, Density Determination, Peak Hold, Ingredient Costing, SQC, Statistics
Display
5.7" (145 mm) Full-color VGA graphic touchscreen display with user-controlled brightness
Operation
AC Adapter (included) or rechargeable battery (accessory sold separately)
Communication
RS232 and USB (included) or second RS232/Ethernet (accessories sold separately) . GLP/GMP data output with real-time clock.
Compliance
• Metrology: EC, OIML, NTEP, Measurement Canada (Class I, 320000e; Class II, 42000e)
• Product Safety: IEC/EN 61010-1:2001; CAN/CSA-C22.2 No. 61010-1-04; UL Std. No. 61010-1 (2nd Edition)
• Electromagnetic Compatibility: EN61326-1:2006 (Class B); C-Tick; FCC, Part 15, Class A ; ICES-003
• Environment: RoHS; WEEE
Construction
Modular design, IP54 metal base, Die-cast top housing, stainless steel pan, up-front level indicator, integral weigh below hook, calibration lock, two touchless sensors, full housing in-use cover
Design
Selectable environmental filters, auto tare, user selectable span calibration points, software lockout and reset menu, user selectable communication settings and data print options, user definable project and user IDs, auto standby, up to 14 operating lan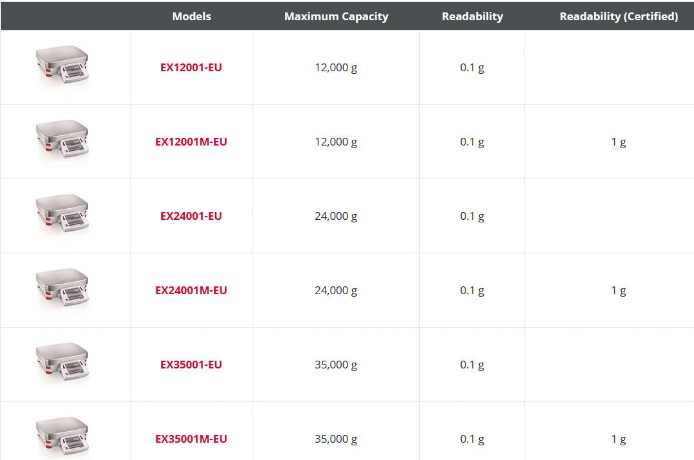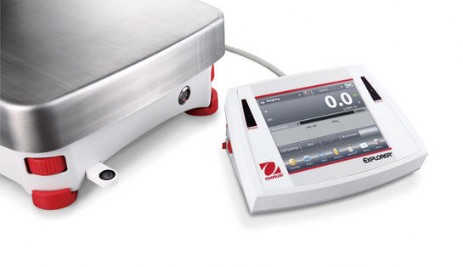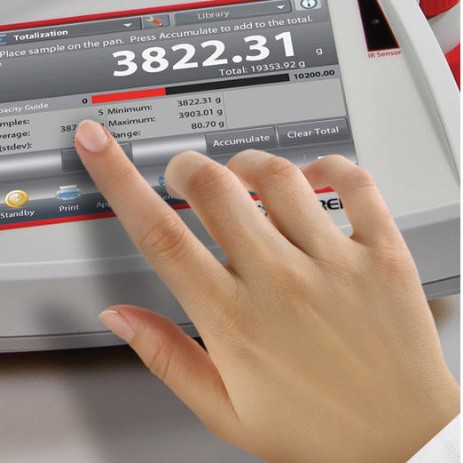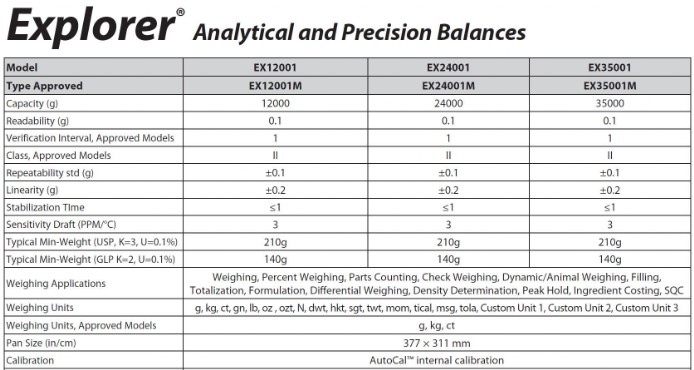 Foot Switch Kit : ref 83021086
RS232 Cable, PC 25 Pin : ref 80500524
RS232 Cable, PC 9 Pin : ref 12106964
SF40A Impact Printer : ref 30064202
RS232 Cable SF40A Impact Printer : ref 12122603
STP103-EU Thermal Printer : ref 80251993
SF40A Paper roll (57,5mm 2pcs) : ref 12120799
SF40A Ink ribbon cassette : ref 12120798
Adjustable Rolling Feet : ref 30041470
OHAUS DAS Software : ref 80253300
Extension Cable 9m : ref 30078078
Accessories
Tower Kit : ref 30078082
Display Extension Cable : ref 83021083
Density Determination Kit : ref 80253384
Security Device (Cable & Lock) : ref 80850000
Security Device (Laptop Lock) : ref 80850043
Interface Cable, USB (Type A to B) : ref 83021085
Second RS232 Kit : ref 83021081
RS232 Cable and Adapter
to 80251992 Printer
: ref
80252581
Ethernet Kit : ref 83021082
External Rechargeable Battery Pack : ref 30041295