0/45
Coatings & Industry > Color > Portable
RAL COLORCATCH NANO
Colorimeter with automatic calibration.
Compatible with
Apple and
Android products
Pupose and Application
The RAL COLORCATCH NANO developed and manufactured in Switzerland, is a Colorimeter with new technology, which is filming up to five colors simultaneously, regardless of the size and nature of the surface as well as the material, and finds the corresponding RAL color.
RAL is the global language of color. With its RAL CLASSIC and RAL EFFECT color collections as well as the RAL DESIGN system, RAL provides color users a multifaceted selection of precise color samples. The RAL COLOURS palette contains a total of 2,328 colors. The RAL COLOURS product range includes color fan decks, standards for plastics and software as well as color design and trend books.
The colorimeter in pocket size, round and in ergonomic design has an integrated calibration system (automatic calibration by pressing a button).
It reads (films) and measures about 50,000 pixels individually.
During the color measurement all non-dominant color tones, shading effects or dirt particles are eliminated automatically.
The COLORCATCH NANO measures surfaces from 0.36 mm to 8.0 mm and selects automatically up to five dominant colors.
The surface is illuminated by 9 x D65 LEDs (day light) and captured by the camera (224 x 224 pixels - 6-fold magnifaction / geometry:
45 ° / 0 °
).
COLORCATCH NANO
recognizes and consideres details humans eye never do.
The
RAL COLORCATCH NANO
works exclusively with the RAL App iCOLOURS.
Using this connection, the nearest RAL color or a color from another pre-selected color collection, is displayed.
The selected color can be transferred directly to a photographed object and sent by mail.
This digital color application enables users such as architects, painters, designers and the manufacturing industry to work in the future even more professional, time-saving and customer-oriented.
RAL COLORCATCH NANO is compatible with
Apple and Android products
.
The corresponding Apps can be bought separately from Apple App Store or Google Play.
COLORCATCH NANO works with a smartphone, a tablet (iOS or Android) or a PC and is supplied with 4 connector cables (Lightning, Apple 30-pin, USB, USB type micro B).
Technical Data
Dimensions : 51 x 51 mm (Ø x H)
Image : Camera CCD 224 x 224 Pixel, integrated, 6-fold magnification
shows up to 5 dominant colors and the nearest color shades in RAL, respectively other color charts activated in the app, display of LVR, L*a*b*, sRGB, CMYK and Delta E values
Measuring speed : 0,5 sec. – measurement of 50,000 pixel
Battery : 3,7 V (400 mAH) incl., rechargeable
Data storage : up to 400,000 color references depending on storage capacity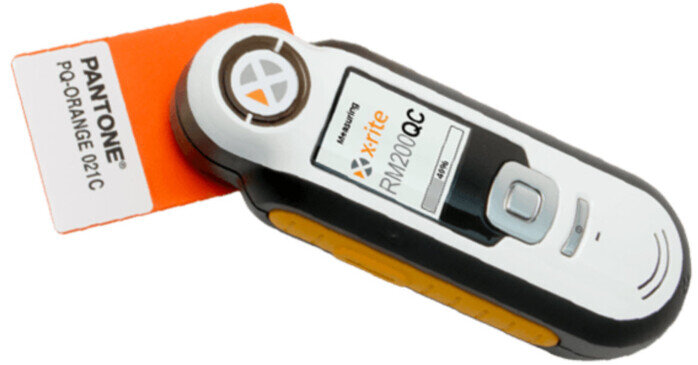 X Rite CAPSURE™
RM200QC Portable Spectrophotometer
Overview
The X-Rite RM200QC Imaging Spectrocolorimeter is a handheld unit that simplifies color
measurement from incoming material to outgoing product shipments.
It is designed to provide
stable color comparisons for materials and products wherever color control is important.
It is
an elegant, portable instrument that fits comfortably in your hand or pocket to take with you
wherever you go – from the quality control lab to the manufacturing floor to supplier inspections
in the field.
Key Benefits
The X
-Rite
RM200QC,
is an handheld spectrocolorimeter that provides an
inexpensive yet powerful way to record and communicate color difference to speed introduction of
new products and reduce instances of scr
ap.
It simplifies
how textiles, coatings, plastic molding and other industries can compare color parts in
production with set standards, and then create reports.
When color requirements are stringent, relying solely on visual evaluation and comparison to
physical color swatches can be problematic, as they can be damaged or deteriorate over time.
In addition, since everyone sees color differently, and color perception is affected by lighting
and other conditions, using a color measurement instrument, such as the affordable RM200QC,
removes uncertainty and boosts color quality.
The RM200QC was specifically designed with
quality control professionals and production managers in mind.
•
Simply upload Pantone, Munsell or any other standards, set tolerances, and quickly
see pass/fail indicators when measurements are taken, taking the emotion out of color
evaluation and speeding customer approvals.
•
Create and store up to 30 standards using the averaging function for highest accuracy. An
easy-to-understand color plot shows the difference between the standard and the sample
being measured.
•
Eliminate issues related to staff experience; everyone uses the same convenient, reliable
device with an easy pass/fail indication based on approved standards.
•
Use the RM200QC to control variations between lab formulation production and final
goods, including control of batch-to-batch variations during the manufacturing process,
reducing waste and rework.
Technical Specifications

Measurement time:
1.8
seconds
Operating Temp:
0° to 40°C
Storage temp:
-
20° to 60°C
Humidity Range:
20 -
80% RH (non
-condensing)
Transient Overvoltage:
Category II
Measure button
:
Two stage button;
press lightly to start preview and

firmly to measure.




Lightly p

ressing this button always returns you to the Color QC

screen

.
N
avigation control
: Navigates the on screen
menus and function bar
in four directions
USB connection
: For charging the battery and interface to the software.
Speaker
and
Microphone:
For recording and playback of voice tags.
White Reference slider:
Positions the calibration tile for measurement or
calibration/storage.
Two
measurement areas are available:
Small

(4 mm aperture)




Large (8 mm aperture

)



1. Place the instrument flat against a sample with the center of the sample positioned under the measurement optics.
2. Lightly press the Measure button to enable an on screen preview of the sample for fine positioning.
3. Hold the instrument steady and press the
Measure
button firmly
and release
. An audible
"camera-
click" sound indicates the start of the measurement. A progre
ss bar appears at the
bottom of the display to indicate the measurement status.
4. It is important that the instrument is held steady for the duration of the measurement.
Sample information appears in the display after the progress bar reaches 100% .
Horizontal, vertical, and angled orientations are acceptable as long as the instrument
makes
good contact with the sample.
When the m easurement is complete, sample data appears in the display.
Depending on the Display options selected , additional sample view s can be displayed and
selected using the Navigation control
.
The RM200QC can store a
maximum of 20 standards with L*a*b* data
When a standard is measured, the instrument automatically assigned it a generic color name that can be changed.
More than one standard can be set active (star icon) to allow the instrument to automatically
selected the closest standard during a Color QC measurement. The tolerance assigned
in the
Setting
s menu applies to all stored standards.
The
tolerance option is used to set the global tolerance for all standards and samples
.
Up to
350 sample measurements
can be saved with optional voice and text tags assigned to each.
The Quick Check menu contains functions which allow you to make quick comparison measurements that are not stored to the instrument.
The following functions can be selected from the menu.
- Color Compare is a quick function to measure a standard and then a sample and display
result
s.
- Opacity Check displays the percent opacity of a drawn down sample on an opacity card
The Color QC menu is used for
sample measurement comparisons against the selected
standard(s
).
Each measured sample can have a text or voice tag applied. Refer to Saving a Tag with a Measurement for the procedure.
The following display methods can be used to view measurement data.
- PASS/FAIL indication based on tolerance setting
- Standard/Sample L*a*b* C*h° absolute and difference values
- Color swatches with verbal description indication
- Gray Scale comparison of standard V sample and Strength calculation using tristimulus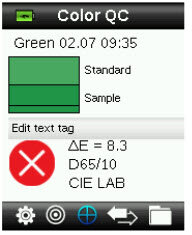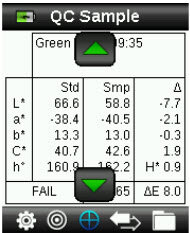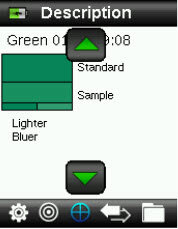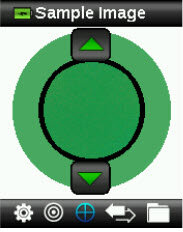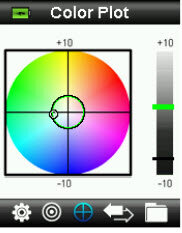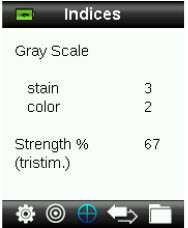 USB Report Mode
The USB report mode option is used to set the device USB mode for output of reports to
computer. When the device is in this mode, it will work with your computer with similar
function to a USB memory stick.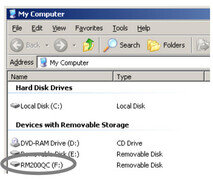 Two report options are provided:
•
QCREPORT.PDF: This provides a multipage formatted report
ready for you to use directly for
your quality records

T
his provides data for the measured standards and samples that is easily
manipulated in Excel to a format of your preference, or for more advanced data collection
and analysis.
---

Unplug the USB cable from the device to exit from the USB Report Mode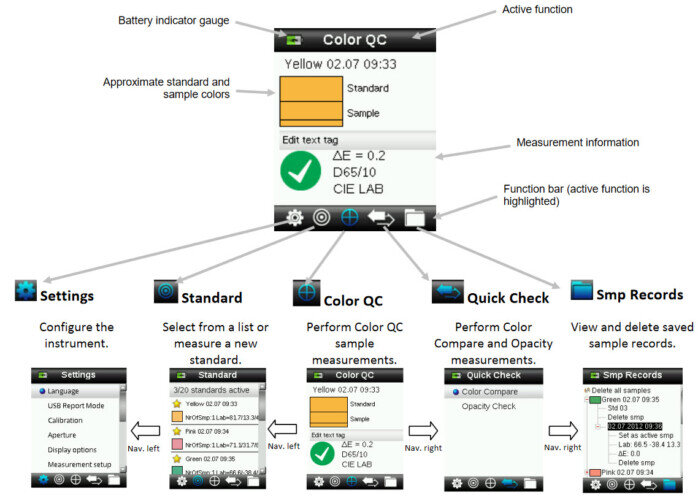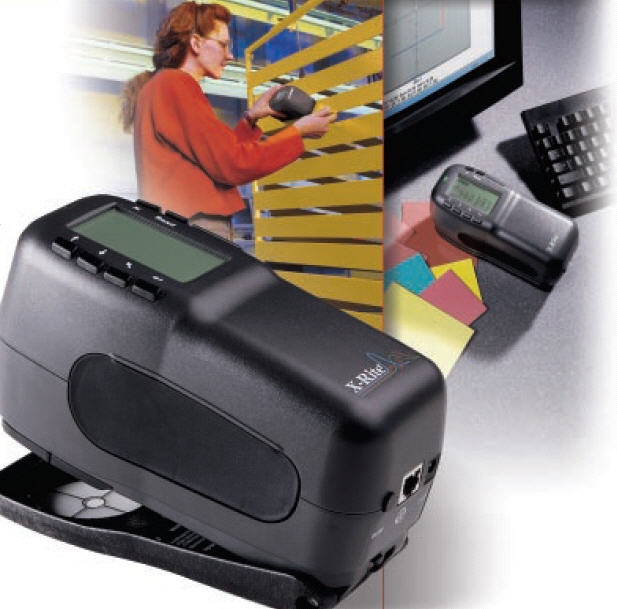 962 & 964 0°/45° Portable Spectrophotometer

The 962-964 Portable 0/45 Spectrophotometer allows you to obtain absolute and difference measurements in the lab, plant, or field for a wide range of colorimetric systems.

Accurate Color On the Go
The 962 portable handheld 0/45 spectrophotometer is a convenient color measurement instrument that allows you to obtain absolute and differential measurements in the lab, plant or field for a wide range of colorimetric systems. It is ideal for distributed workgroups whose members have varying requirements and skill levels but who must deliver color consistency across the supply chain.
The X-Rite 962 features an easy-to-read graphical LCD display and a pass/fail mode that measures against up to 1,024 standards with tolerances that can be stored for easy pass/fail measurement. Its unique Project Mode enables the collection of multiple color standards under an identified project as part of a corporate color standards program. The 962 is available in three models, distinguished by their measurement area: 962 (7mm), 962S (4mm), 962L (15mm).
Benefits:
The 962 is easy to read an

d easy to use, regardless of the skill level of the operator. Its Pass/Fail mode is a fast way for users to evaluate color accuracy against an established standard.

The 962 captures color data that helps identify variation in incoming materials, production batches and more, reducing the color approval cycle and speeding time to market.

Its wide colorimetric range meets a number of CIE certifications and includes CIE XYZ, CIE Yxy, CIE LAB, Hunter LAB, CIE LCH, CME, CIE94, Whiteness and Yellow.

When paired with Color iQC or Color iMatch software, the 962 offers increased control over QC and color formulation activities.

When used with X-Rite NetProfiler, a cloud-based blend of software and color standards for verifying and optimizing performance of color measurement devices, variance among instruments used in various parts of the color workflow is reduced.



Features :
0/45 optical geometry




0.15 delta Eab inter-instrument agreement




JOBS and PROJECT operation modes




Opacity and color strength measurement




Reflectance curve graphics display




Flip-back target shoe for flexible use




Rugged construction




Rechargeable battery for remote use
Specifications 1
Short Term Repeatability - White :
0.10 ΔE*ab on white ceramic
(Standard deviation)
Measurement Geometry :
0/45°
Inter-Instrument Agreement :
0.20 ΔE*ab avg.
Illumination Spot Size :
21.5mm or 9mm or 6.5mm
Lamp Life :
Approx. 500,000 measurements
Light Source :
Gas-filled tungsten lamp
Measurement Cycle Time :
≈ 2 seconds
Measurement Spot :
15mm or 7mm or 4mm
Measurement Time :
≈ 2 seconds
Photometric Range :
0 to 200%
Photometric Resolution :
0.01%
Spectral Analyzer :
Blue-enhanced silicon photodiodes
Spectral Range :
400nm-700nm
Spectral Reporting :
10nm
Color Spaces :
CIE XYZ, CIE Yxy, CIE LAB, Hunter LAB, CIE LCH,
Illuminants :
A, C, D50, D65, D75, F2, F7, F11 & F12
Reflectance Aperture(s) :
1
Specifications 2
Humidity :
5% to 85%, non-condensing
Operating Temperature Range :
50° to 104°F (10° to 40°C)
Storage Temperature Range :
'-4° to 122°F (-20° to 50°C)
Dimensions (length, width, height) :
19.6 cm, 8.4cm, 10.9cm
Package Dimensions (length, width, height) :
36cm, 30cm, 20cm
Communication Interface :
RS-232
Instrument Display :
Graphic LCD
Languages Supported :
English, German, French, Spanish, Italian, Portuguese
Software Development Kit :
XDS4
Voltage :
100-240VAC 50/60Hz,
12VDC @ 2.5A
Sample/Measurement :
1024
Calibration :
White, Zero, UV
NetProfiler Support :
Tethered
Sample Preview :
Targeting window
Erichsen Color and Gloss Unit SPEKTROMASTER 565-45

for simultaneous measurement of color (geometry 45/0, aperture 11 mm) and gloss (geometry 60°, aperture 5 x 10 mm) in accordance with DIN, ISO and ASTM.
Purpose and Application
The overall appearance of a product is influenced by color and gloss. A sample of the same color but higher gloss level is visually perceived darker and
more saturated than a low gloss sample. In order to
get a uniform appearance, both attributes need to be
controlled.
With the new SPEKTROMASTER you can measure any color: dark - brilliant - steep reflectance curves.
The 10 nm spectral resolution not only ensures highly precise color results, but also an excellent agreement with competitive color instruments - even
bench-top units.
The Spectrometers of the very most other
suppliers are only able to measure the color
value.
In comparison with this, the SPEKTROMASTER 565 is able to
measure color and
gloss both simultaneously!
Thus, the cause of a
mismatch can be clearly defined in any situation.
Color and 60° gloss are

displayed at the same time




In compliance with international specifications




Tolerances for color and gloss allow quick pass/fail decisions in production



45°/0° For measurements due to the allusion to a visually valued impression.
Also for a lot of Automotive relevant applications as well as oftentimes for measurements within the final inspection.
Color
Spectral Range:
400-700 nm, 10 nm
resolution
Repeatability: 0,01 ΔE*, 1 σ
(10 consecutive measurements
on white)
Reproducibility: 0.2 ΔE*, 1 σ (average on
12 BCRA II tiles)
Color Systems: CIELab/Ch; Lab(h);
XYZ; Yxy
Color Differences: YIE313; YID1925; WIE313;
CIE; Berger; Color strength;
Opacity; Metamerism
Illuminants: A; C; D50; D55; D65; D75;
F2; F6; F7; F8; F10;
F11; UL30
Specifications 2
Memory: 1500 Standards;
999 Samples
color : geometry 45/0 : aperture 11
mm
gloss : geometry 60°,
aperture 5 x 10 mm
Languages: English; German; French;
Italian;Spanish; Japanese;
Chinese
Power Supply: 4 AA alkaline; NiCd or
MH batteries
Operating Temperature: 10 °C - 42 °C
Humidity: < 85% relative humidity,
non-condensing /
(35 °C)
Dimensions: 9.5 x 8 x 18 cm
Weight: (complete
scope of supply)
approx. 2.5 kg
True circumferential illumination for best repeatability on textured samples.
The key criterion for a 45/0 instrument is a circum
ferential illumination. The SPEKTROMASTER
565/45 is using a unique, patented measurement
principle to achieve a 100 % circumferential
illumination. A white coated hemisphere acts as a
mixing chamber and guarantees completely uniform
illumination. Thus, any influence of measurement
direction is eliminated and excellent repea ta bility
even on highly textured surfaces is guaranteed.
Standards
ASTM E 308

ASTM E 1164

ASTM D 2457

ASTM D 523

ASTM D 2244

DIN 5033

DIN 67530

DIN 5036

DIN 6174

ISO 2813

ISO 7668

ISO 7724
Order number: 101-0287.01.31
The scope of supply includes:
black calibration standard,

white calibration standard with certificate,

green checking reference, high-gloss standard,

sample area locator,

software easy-link,

interface cable,

AA batteries (4 pcs.),

hand strap,

carrying case

and operating instructions.
No matter whether you want to compare a batch to a
defined standard or monitor process changes over
time, easy-link, included with SPEKTROMASTER
565, offers all of the necessary tools (Hardware
Requirements: Operating system Windows® 95 or
higher Microsoft Excel® 97 or higher, including VBA -
Visual Basic for Applications; Free Serial Interface).
Direct data transfer from the instrument into
predefined QC templates make you ready for routine
color control.