Grindometer acc. to Hegman Model 232
ISO 1524
EN 21 524
DIN 53 203
ASTM D 1210
The GRINDOMETER, Model 232, was developed to
establish the fineness of grind of coating materials. The
instrument is used to produce a liquid wedge-shaped
specimen of the test substance. It can be easily
ascertained by visual examination where the grain size is
larger than the local dimensions of the wedge channel. A
reading of the appropriate channel depth is taken at the
boundary between the uneven and the smooth surface
areas of the sample. This value determines the fineness of grind.

Design and function
The GRINDOMETER 232 consists of a block of hardened
steel which has been specially treated to ensure
dimensional stability. Two precisely defined, wedge-shaped
channels are cut into the block. The depth of each channel
can be read off on a μm scale engraved into one of the
longitudinal sides (length 125 mm) of the block. The
corresponding Hegman scale (HS) is shown on the
opposite side. Special scales are also available on request.
The relationship between the most commonly used
GRINDOMETER scales is evident from the nomogram.
The standard version of the GRINDOMETER 232 is suitable for measuring ranges 15 / 25 / 50 and 100 μm.
A straightedge
scraper for applying the test material is included in the
scope of delivery.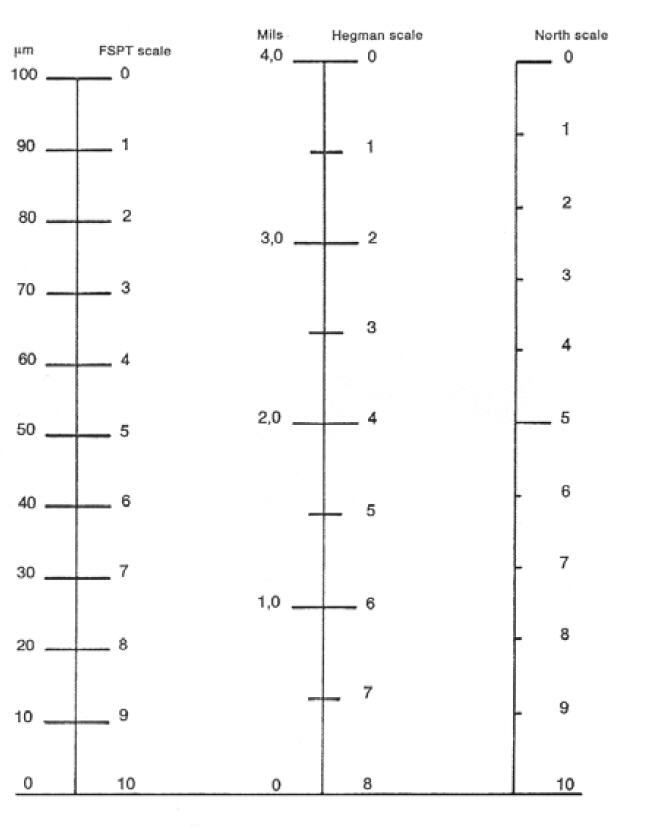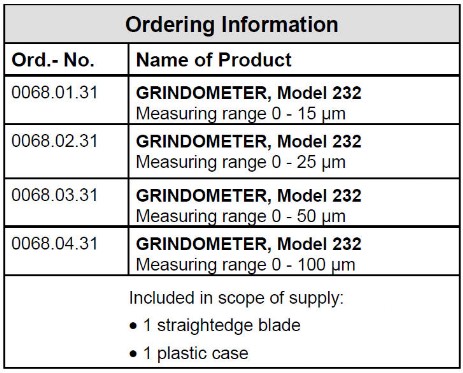 Reference Class:
The Model 232 is supplied with a Manufacturer's Certificate M
in accordance with DIN 55 350-18 that includes among
others the following information:
Actual and setting comparison of groove depth, product

identification, test equipments used with calibration status,

date, name of inspector.




By means of a digital dial gauge the depth of the grooves is

measured in each groove at 5 measuring points evenly

spread over the groove. The deviation from the setting

value should not exceed 2.5 μm.