Krebs Viscosimeter
Coatings & Industry > Physical properties > Viscosity & Consistency
B-One Touch

Touch the viscosity of your products with your fingers
The B-One TOUCH has a 7" touch screen and comes with a stylus.
This easy-to-use screen lets you see all measurement parameters at the same time.
The B-One Touch can be used with the

KREBBS MK-KU 1-10

Geometrie.
MS KREBS:
Krebs type measuring spindles compatible with ASTM D562 standard (316L stainless steel).
These systems are ideal for viscosity measurement in Krebs units in control of all types of products.
They can be used for direct measurement in user containers in 600 or 150ml beakers
B-ONE TOUCH
DIGITAL KREBS VISCOMETER
ASTM D 562, 856, 1131
This is a modern version of the traditional Krebs-Stormer viscometer used in the coatings industry.
This motorised instrument operates at a speed of 200 rpm without weights or pulley,
and directly displays viscosity from 40 to 140 KU (Krebs Units).
The Krebs Stormer apparatus mesures a dynamic viscosity of a liquid.
The Stormer viscometer is used to measure viscosity of paints and other materials.
The viscometer uses the Krebs Unit (KU).
Spindle KU 1-10: viscosity range 20 - 5000 mPa·s (40 – 140 KU)
The KREBBS MK-KU1-10 rotational speed comply with ASTM method D 562.
Repeatability: +/- 0,2 %
Container of paint : 500 mL (standardized) ; with the KU 1- 10 you can measure with 250 Ml
Display : Krebs Unit (KU), grams and mPa.s (cP)
Measurement time : Astm D 562 require to wait 5 s for the display reading to stabilize.
Two results, each the mean of two measurements on the same material by the same operator at different times are necessary.
Annual Calibration is recommended.

Option: control oil fluids: 64-79-84-95 or 106 KU (25°C).

This test procedure provides an immediate calculation of the viscosity value.
Easy to use – no weights attachment
Switch selectable LED digital display of Krebs units or grams or centipoise
Allows for rapid and easy measurement of samples
User-friendly
Reliable design and longevity
High precision and accuracy
Constant speed motor
Large LCD display
Instrument base fits standard pint, 1/2 pint and quart cans
Traceable to NIST
Applications
Paints & Coatings

Adhesives

Inks


Pastes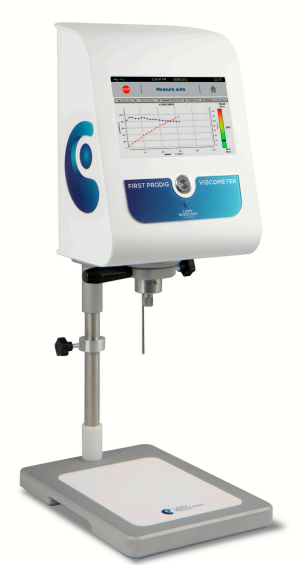 VISCOMETER FIRST PRODIG
The viscometer with a 7 '' touch screen allows you to create and save your measurement methods, display results or curves, analyse your data, print reports, manage users and protect data.
+Speed or shear rate control.
+Programming and recording method.
+Constant, step by step or ramp methods.
+Direct curve on display.
+Direct analysis with regression.
+Direct report editing.
+Direct measure with time to stop.
+Data recording and USB transfer.
+Integrated temperature probe.
+Printer connection.
+Display of viscosity limits according to mobile and speed.
Rotating springless viscometer with 7'' Touch screen

Unlimited number of speeds between 0.3 and 250 rpm

Standard Version: 0.05 to 13 mNm LR version: 0.005 to 0.8 mNm

Equipped with a PT100 sensor which indicates temperatures between -50°C to +300°C

+/- 1 % of the full scale

Viscosity (KREBS UNITS/cP/Poises or mPa.s / Pa.s)-Speed – Shear rate – Torque – %- Shear stress - Time –Temperature
SECURITY AND CONFIDENTIALITY :

An «operator» function allows you to enter a username for your instrument. This user must then be identified using a 4-digit code.
There is also a protected mode that locks your measurement conditions.

French/English/Turkish/German/Russian

COMPATIBLE MEASURING SYSTEMS :

MS RV/LV, MS BV, MS VANES, MS KREBS, MS SV, MS ULV, MS DIN

COMPATIBLE TEMPERATURE CONTROL :

EVA LR-BV PLUS, EVA MS-DIN PLUS, RT- 1 PLUS

Head: D160 x H270 x W200 mm
Alluminium stand: L280 x W200 x H30 mm
Stainless steel rod: Length 500 mm
Weight: 6.7 kg
What's included
1 Krebs Spindle.
1 Integrated temperature probe.
1 Standard stand or rack stand.
1 Touch screen stylus.
1 User manual.
1 Calibration and checking certificate.
1 Microfiber cloth.