NTC
Laboratory Product > Electric Thermometer
Checktemp® 1 Digital Thermometer - HI98509
The HI98509 Checktemp®1 is a high-accuracy thermometer with a 1 m flexible, silicone cable connecting the meter and the stainless steel probe.
The sharp-tip penetration probe easily lances semi-solid products such as fruits, vegetables, and cheeses.
This probe can also handle liquid, air and measurements in frozen materials.
The probe incorporates an NTC thermistor sensor to measure the temperature.

Features at-a-glance:
±0.2°C (±0.5°F) - Accuracy




Most accurate temperature tester in the world




CAL Check™ - Automatically verifies calibration at startup




Silicone probe cable - 3.3' silicone cable maintains flexibility and performance




°C/°F Status – User selectable




Large display with wide environmental temperature range and viewing angle.




IP 65 water resistant protection




HACCP Compatible - Use as a tool for control in HACCP analysis




AISI 316 stainless steel penetration Probe




Auto-Off (select from 8 min., 60 min., or turn the feature off)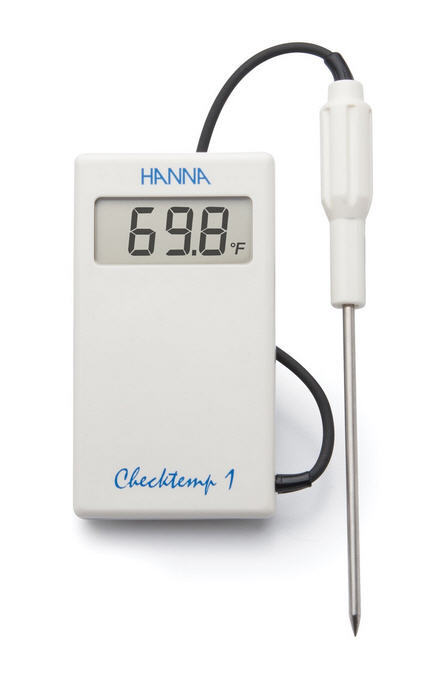 Specifications
Range (°C) : -50.0 to 150.0°C
Resolution (°C) : 0.1°C
Accuracy (°C) : ±0.2 ºC (-30.0 to 120.0 ºC);
±0.3 ºC (outside: -50.0 to -30.0 ºC and 120.0 to 150.0 ºC)
Probe :
stainless steel probe with 1 m, silicone cable; 97.3 x dia 3.5 mm
Power Supply : 3 x 1.5V AAA Batteries
Battery Life : Approximately 3 years of use
Auto-off :
auto-off after 8 minutes of non-use
Environment : -20 to 50°C ; RH max 95%
Dimensions : 107 x 59 x 16.5 mm
Weight : 130 g
Recommended Use :
education,




food (storage, transportation, manufacturing, cooking),




laboratory



Ordering Information :
107-HI 98509 Checktemp®1 is supplied with penetration probe, 1 m silicone cable, batteries and instructions.
107-HI76405
Electrode Holder with Steel Base

107-HI76405
Electrode Holder with Steel Base