Centrifugal Film Applicator
Coatings & Industry > Physical properties > Film Applicators & Filmographs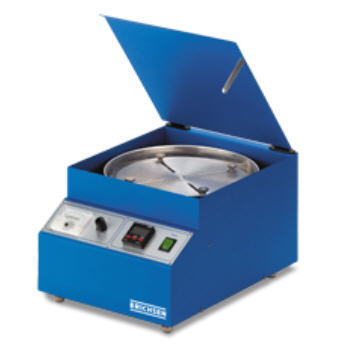 Centrifugal Film Applicator Model 334
Purpose and Application
The Centrifugal Film
Applicator, Model 334 applies
coatings of even thickness on
specimen panels with a length of
side from 80 to 200 mm, for test
purposes.
The advantages of
this method of application are
economical (saving in time) and
in the unequalled accuracy and
reproducibility.
The equipment is
particularly of interest where a
high level of consistency in film
thickness or extremely thin
coating layers are required.
Design and Function

The Centrifugal Film
Applicator, Model 334 is a
bench mounted instrument,
consisting of a sheet metal
housing, operator's control
panel, specimen holder with
collecting trough and protective
hood.
The speed and the application
time are continuously variable
between 100 - 2,000 min
-1
and
5 - 300 s.
The selected speed is
shown on a display instrument.
At the end of the preset
centrifugation time the applicator
switches off automatically and
the specimen can be taken out
of the holder.
For reasons of safety, the
protective hood cannot be lifted
to remove the specimen until the
rotating specimen holder has
come to a complete standstill.
The specimen holder and the
collecting trough are removable
for easy cleaning.
Application Method
The specimen panel to be
coated is centred and positioned
with 4 locating screws.
With fragile specimens, e.g. of
thin glass, it is advisable to use
the glass plate attachment,
which is available as an
accessory.
This is also generally suitable for
specimen thicknesses between
1 mm and 3 mm. Thanks to the
fixed centring feature which is
set to the specimen format it is
particularly time-saving when
applying series coatings.
An adequate quantity of coating
material (5 - 10 g) is poured onto
the centre of the specimen,
which is then made to rotate at a
preset speed, and for a selected
period of time.
Optimum application conditions
depend on the viscosity, or more
accurately on the flow
properties, density and solid
content of the coating material.
Approximate values are shown
in the chart.
The centrifugal force acting on
the coating material causes this
to be spread evenly across the
specimen panel. Surplus coating
material is thrown off the edge
and collected in the surrounding
trough. The coating applied in
this way does not vary with
distance from the centre of
rotation, i.e. it is even over the
entire area.
Only in the case of thixotrope
paints is there a possibility that
the film thickness will vary,
tapering to greater thickness
towards the middle.
Technical Data
Dimensions:
Width 320 mm

Depth 430 mm

Height 220 mm

Net weight:
approx. 18 kg
Power supply: 230 VAC/50-60Hz
Number of
revolutions:
100 - 2,000 min
-1
Period of applications: 5 - 300 s
Length of side:
Material thickness:
Metal plates max. 1.25 mm

Glass plates max. 3.00 mm

Wooden plates max. 4.00 mm

Order Information

Product Name :
Centrifugal Film
Applicator,
Model 334
Order No. : 101-
0092.02.31
Including:
• Connecting cable

• Operating instruction
Accessories :
Product Name :
Glass plate attachment
Order No. : 101-
0684.01.32