Wireless Alert TP
Temperature > ALERT SYSTEM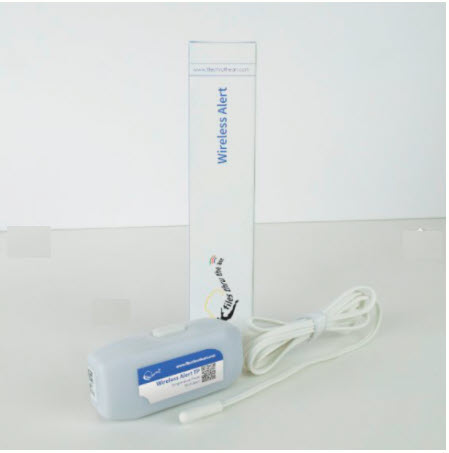 Wireless Alert TP Temperature Alert System
Wireless Alert TP is a battery-powered temperature sensor that sends a warning email if a user-set level is reached.
Simply select your temperature limits, add an email address and connect to any Wi-Fi network using the Wireless Alert mobile app.
-40°C to 125°C temperature probe with 1.5m cable

User-configurable high and low temperature limits

Sends email alerts and scheduled status reports

Flashing alert indicator

Wi-Fi connected

Simple to set up using the free mobile app

Two years' battery life (dependent upon usage scenario)

Batteries included

No ongoing subscription fees

Includes sticky pad for wall mounting



To control in a very economical way your fridges, freezers, warehouses, stores, offices, labs, buildings ...
Product Details
Wireless Alert TP measures temperature between -40°C (-40°F) and 125°C (257°F).
It will notify you via email whenever temperature breaches your pre-set limits, and when the temperature returns to within those limits.
Setup couldn't be easier. Simply follow the step-by-step guide in the free FilesThruTheAir mobile app (available on Google Play and on the App Store).
During setup, you can enter a contact email address and configure high and/or low temperature limits.
Whenever the device detects temperature outside of those pre-set limits, an email alert will be sent to the configured address, and an LED indicator will flash on the device, visually notifying any persons on hand.
The outcome: fast, corrective action can be taken to rectify the temperature issue, preventing damage to temperature-sensitive materials, or ensuring building occupant comfort.
The device can also send out daily/weekly/monthly (user-selectable) scheduled summary reports, detailing minimum, maximum and average temperatures, as well as battery level, the number of notifications sent, and the total time spent in alert mode.
The Wireless Alert TP can be set up to monitor temperature limits in a variety of applications.
High and low temperature limits are user-configurable between -40 and 125 °C.
The device will trigger a notification email, sent to a user-selected address, if the temperature limits are breached and when the temperature returns to normal. I
In addition to this, the device can send a scheduled summary email detailing minimum, maximum and average temperature, as well as battery level, number of alerts, and total time spent in alert.



Temperature & Humidity




Door Contact




Leak Detection (monitors a surface for liquid)




Pipe Temperature Sensor




Contact Monitor