Humidity Datalogger
Temperature > Sterilisation
RHTemp1000 Data Logger
Rugged, Stand-Alone, Humidity and Temperature Data Logger with a Stainless Steel enclosure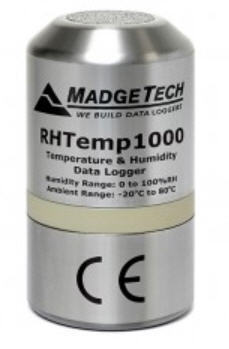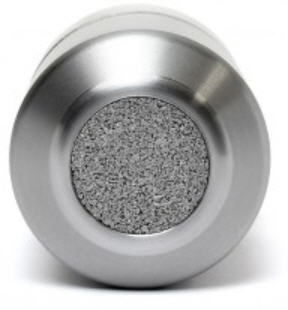 The
RHTemp1000 humidity and temperature data logger
is a rugged, battery powered, stand-alone device which can be used to automatically record humidity and temperature.
This all in one compact, portable, easy to use device is able to measure and record data for up to 21,845 humidity and temperature measurements.
The RHTemp1000 is ideal for use in harsh environments.
Its real time clock ensures that all the data is time and date stamped.
The storage medium is non-volatile solid state memory, providing maximum data security even if the battery becomes discharged.
The device can be started and stopped directly from your computer and its small size allows it to fit almost anywhere.
The RHTemp1000 makes data retrieval quick and easy.
Simply plug the device into an empty COM or USB port and our user-friendly software does the rest.
TEMPERATURE
Temperature Sensor : Resistance Temperature Detector (RTD)
Temperature Range : -20 °C to +80 °C
Temperature Resolution : 0.01 °C
Temperature Calibrated Accuracy : ±0.5 °C (+5 °C to +55 °C)
HUMIDITY
Humidity Sensor : Capacitive Polymer
Humidity Range 0 %RH to 100 %RH (non-condensing)
Humidity Resolution 0.1 %RH
Humidity Calibrated Accuracy ±3 %RH maximum (+5 °C to +55 °C)
GENERAL
Memory : 16,350 readings per channel
Reading Rate : 1 reading every second up to 1 reading every 24 hours
Battery Life : 2 years typical at 25 °C, 15 minute reading intervals
Material : 316 Stainless Steel
Dimensions : 42 mm x 24.6 mm x 24.6 mm
Operating Environment : -20 °C to +80 °C, 0 %RH to 100 %RH (non-condensing)
Required Interface Package : IFC400 or IFC406
Approvals : CE
Accesories
IFC400 Data Logger Interface
Interface Cable Package for the HiTemp140 and PR140 Data Loggers. USB Connection with Docking Station Cradle.
RHTemp1000-O-Ring
RHTemp1000-O-Ring
One set of replacement o-rings for RHTemp1000, RHTemp1000SS (not available for Intrinsically Safe products)
MadgeTech 4 Secure Validation Software Package
MadgeTech 4 Secure Validation Software Package
IQ/OQ/PQ Secure Software Validation Workbook and Software Package.
MagMount-1

Magnetic Holder for use with the PR140, HiTemp140 Series and 1000 Series Data Loggers.
TL-2150/S Lithium Battery
3.6V Lithium Battery, 1/2 AA, Pressure Contact, -40 °C to +80 °C.
Key Ring End Cap
This is an optional "Key Ring" end cap for use with the PR140, RHTemp1000 or HiTemp140 series data loggers.
IFC406 Multiplexer Data Logger Interface
IFC406 Multiplexer Data Logger Interface
IFC406 Multiplexer Data Logger Interface, allowing for multiple data loggers to be connected into one interface.
Data Analysis
Graphs, Statistics & Tabular Data
The MadgeTech Software provides powerful data analysis and reporting tools to aid in sterilization validation and compliance.
Simple, Easy-to-use, Windows-based Software

The MadgeTech 4 Data Logger Software is designed to streamline the process of downloading data and reviewing it in a user-friendly, time efficient manner. The software offers many customizable features and options, including the ability to change engineering units (dependent upon specific data logger models), conforming to the needs of the user.
All MadgeTech data loggers operate in a similar fashion and are simple and easy to use. Each class of logger has a unique device type and is automatically identified within the MadgeTech Software on the host computer.
MadgeTech 4 Data Logger Software comes standard with any MadgeTech Data Logger and free updates are available to download from the MadgeTech website.
Technical Requirements
The MadgeTech Data Logger software requires an IBM or compatible PC with the following:
PC-compatible Pentium(R)-class system

Windows XP, Vista, Windows 7 (32 and 64 bit), Windows 8* and Windows 10

Color SVGA monitor (1024 x 768 resolution)

1GB RAM

At least 30MB free hard disk space (for installation)

Available 9 pin male serial (COM) port (for serial logger interface cable)

Available USB port (for USB logger interface cable)