Lab oven
Laboratory Product > Heating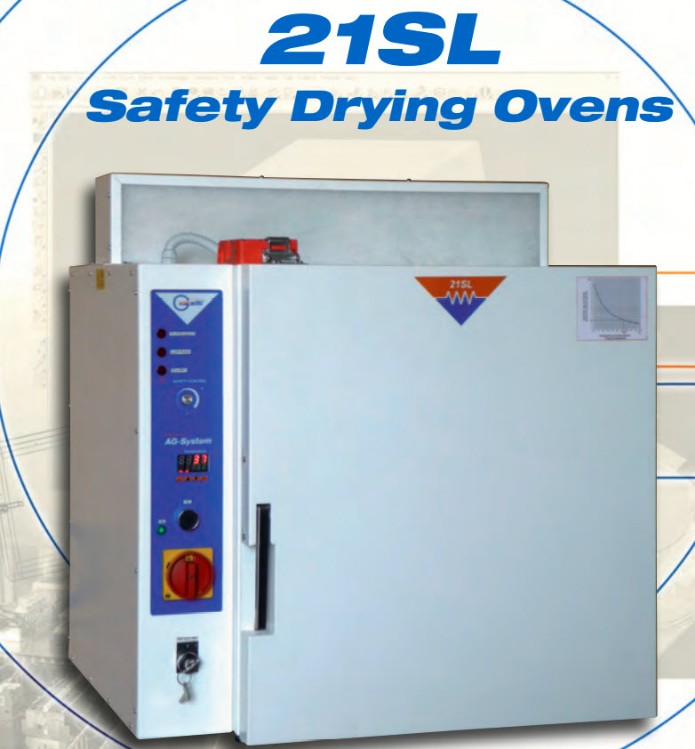 21SL Safety Drying Ovens Galli's Original Equipments
21SL Safety-Paint Drying Ovens by Galli
for chemical industry and research.
Suitable for coil coating test procedures, glues, adhesives, organic solvents and safety tests.
PLUS
• AG-System Control: PID Digital Microprocessor, careful and sensitive. Version: DAILY, PRO, TALENT

• Range Temperature: from +10,0°C above ambient up to+250°C

• Safety Device, Class 3.1

• Suitable for dry samples containing solvents

• According to EN 1539

• Reproducibility of the tests: in applications where avoiding the formation of explosive mixture inside the chamber, for example in the use of paints, varnishes, adhesives, binders, coils impregnated

• Dynamic and homogeneous

Forced Air Circulation System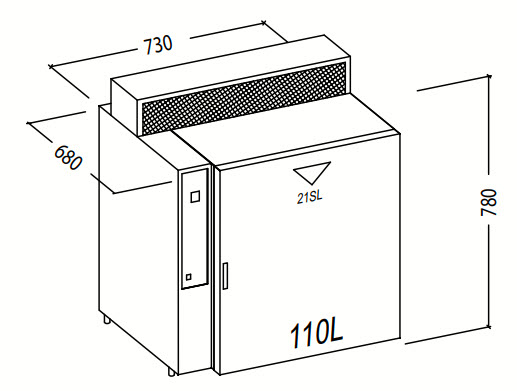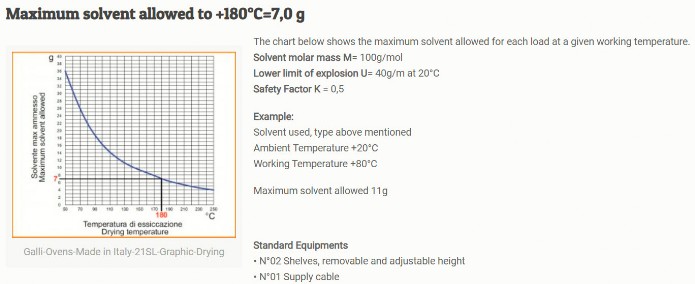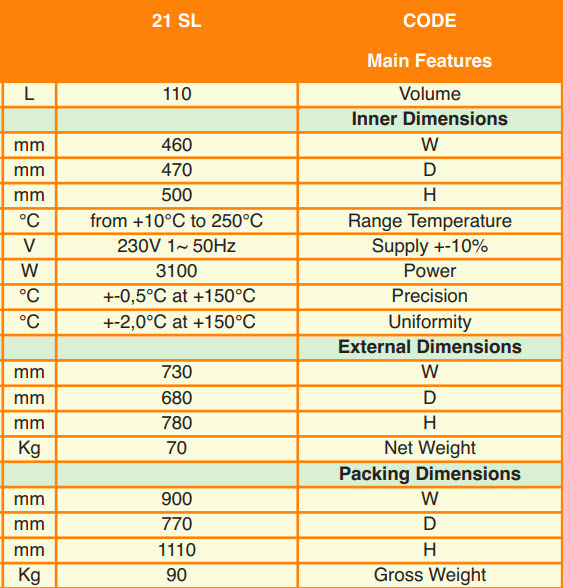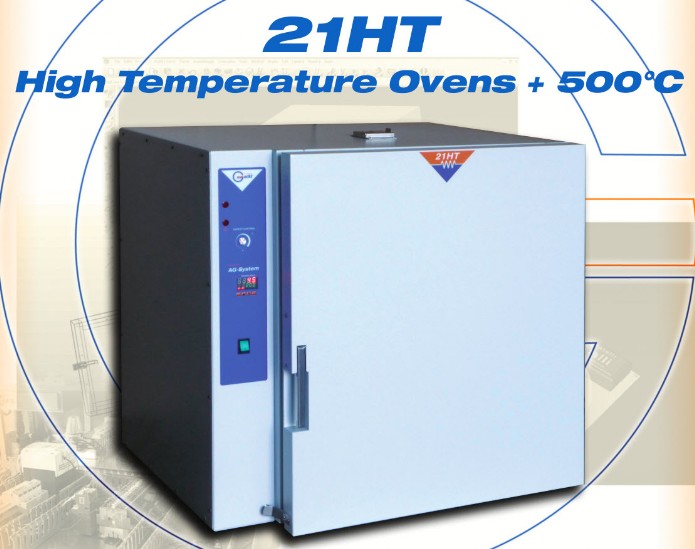 21HT High Temperature Ovens + 500°C
21HT Thermostatic Ovens by Galli
suitable for your applications: precise thermostating, heating, drying, polimerization, expansion, cooking, stabilization, tempering, fixing, bonding, heat treatment, accelerated aging, sterilizing, burn-in, inert atmosphere treatments.
PLUS
• AG-System Control: PID Digital Microprocessor, careful and sensitive. Version DAILY, PRO, TALENT
• Range Temperature: from +50°C to 500°C, on request max + 700°C
• Double Digital Display visualize simultaneously the set point and the inner Temperature
• Safety Device, Class 3.1
• Accessories, custom versions, temperatures available on request
• Dynamic and homogeneous Forced Air Circulation System
• 3 sizes, bench top model: 40, 100, 216 Litres
• Made in Italy
• External structure in stainless steel, powder coated, solvent free, RAL 7035

• Structure in triple wall far containing the heat

• lnner chamber in stainless steel AISI 304 + second casing made in stainless steel AISI 304

• Triple Ceramic + Mineral Wool insulation asbestos free + air cushion

• Heating obtained by the use of armored heaters for high temperature

• A special motor with long shaft blower and a steel fan ensures high air circulation in the working chamber

• A baffle system for conveying the air in all the chamber
• 2 shelves, removable and adjustable height no tip

• 1 CE Conformity Certificate




For your applications: precise thermostating, heating, drying, polimerization, expansion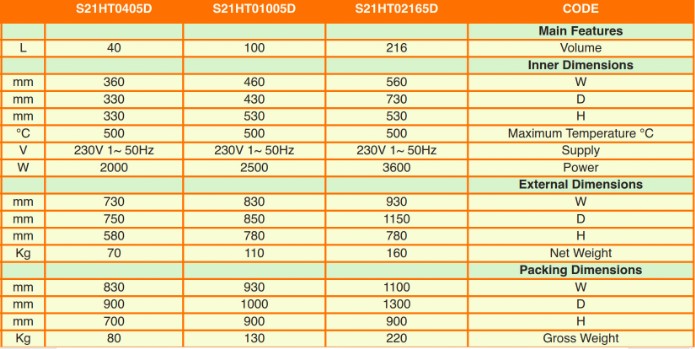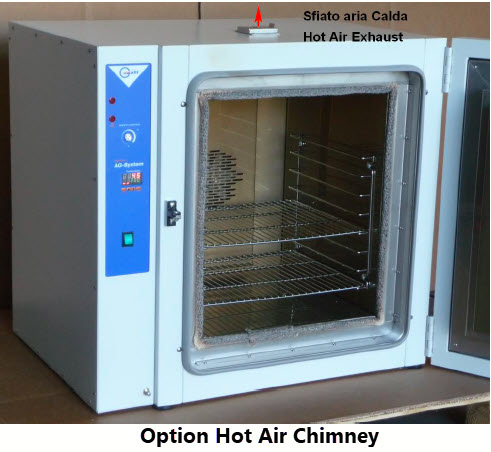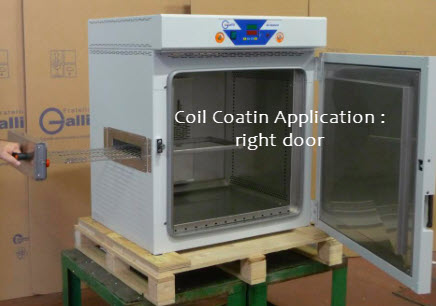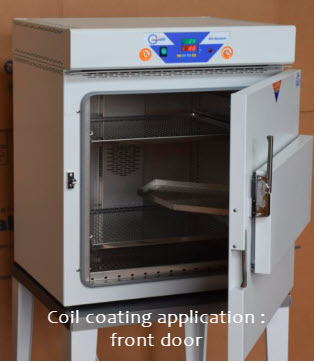 suitable for your applications: precise thermostating, heating, drying, polimerization, expansion, cooking, stabilization,
Ghibli Thermostatic Ovens GREEN
+ 300°C
: 50, 80 & 100 L natural or forced air system
(Through hole for inspection robes)
GTHERM Thermostatic Oven
+ 260°C
: 15, 35,75, 115 &205 L
(for applications: precise thermostating, heating, drying, polimerization, expansion, cooking, stabilization, tempering, fixing, bonding)
2100 High Performance Oven
+300°C
: 27, 64,96,180,240,512 L bench top & 250, 432 , 720, 1040 L with wheels
( for applications: precise thermostating, heating, drying, polimerization, expansion, cooking, stabilization, tempering, fixing)
Gibry Hybr

idization

Oven
s
:
+5°C to +99,9°C
Adjustable rotisserie up to 20rpm
(
oven application
:southern (DNA), northern (RNA) and western hybridizations, custom focused genotyping, linkage analysis, sequencing-based methylation analysis, FFPE sample analysis, whole-genome gene expression analysis, comparitive genome hybridization, genome tiling, gene expression, micro RNA analysis, pathogen typing, re-sequencing and SNP detection, stripping of microarrays. Hybridization Ovens for molecular biology, cytogenetic analysis, biotechnology sector, biomedical, pharmaceutical industry and research)
21 GV High performance Vacuum Oven
: 20, 50, 110 &220 L
( for chemical, pharmaceutical, food, optical, semiconductor industry, research, and biotechnology. Suitable)
21 HT High Temperature Oven + 800°C
: 30, 100, 120, 200 L
(for your applications: precise thermostating, heating, drying, polimerization, expansion, cooking, stabilization, tempering, fixing)
21SL Safety Drying Oven

+250°C
: 110 L
(
Suitable for coil coating test procedures, glues, adhesives
) (
Maximum solvent allowed to +180°C=7,0 g)
21 CB Precision Prove e Test IEC +300°C
: 27, 64, 96, 180 L
( for applications: test cables and aging plastics, precise thermostating, heating, drying, polimerization, expansion, cooking, stabilization, tempering, fixing, bonding, heat treatment, accelerated aging, sterilizing, burn-in, inert atmosphere treatments
GOVEN Precision Thermostatic Oven +260°C + 350°C
: 300 L Horizontal Forced Air System
(
suitable for your applications: precise thermostating, heating, drying, polymerization, expansion, cooking, bonding, hardening)
GOVEN ASTM12 Precision Thermostatic Oven
Amb. +10,0°C to +350°C
: Special Oven 300L
(suitable for applications: precise thermostating, heating, drying, polimerization, expansion, cooking, stabilization)
GOVEN 0220 HP Fast Precision thermostatic Oven +450°C
( for Fast Temperature Test,
precise thermostating, heating, drying, polymerization, expansion, cooking, bonding, hardening, failure analysis, polyamide curing, accelerated aging, sterilizing, burn-in, inert atmosphere treatment, long-term storage.)
5100 Horizontal Flow Oven +120°C, +260°C +350°C
: 306, 504, 840, 1008, 1520, 2080 L
(for applications: precise thermostating, heating, drying, polimerization, expansion, cooking, stabilization, […])
5150 Horizontal Flow Oven +120°C, +260°C, +350°C
: 730, 1200, 2160, 2850, 2900 L
(
for applications: precise thermostating, heating, drying, polimerization, expansion, cooking, stabilization)
GLadyBug Small & Compact Laboratory Ovens +200°C
: 13 & 30 L
( ideal for your applications: precise thermostating, heating, drying, polimerization, expansion)
HIGH TEMPERATURE OVEN :
Muffle Furnaces High temperature : +1100°C, +1200°C, +1400°C
Muffle Tubular furnaces from +600°C to 1400°C