PoroTest 7
Coatings & Industry > Physical properties > Porosity & Permeability

High voltage Pinhole Detector PoroTest 7
Transportable high voltage Holiday Detector to locate pores, cracks and other faults in insulating materials (e.g. varnish, synthetic material, rubber, bitumen) on conductive substrates (e.g. steel, aluminium, earth-moist concrete constructions) as per DIN 55670.
The Holiday Detector, PoroTest 7, is specially designed to test functionally critical insulating layers, e.g. inner and outer linings of tanks and pipelines in the field of petrochemicals, anti-corrosion coatings in shipbuilding, protective coatings of sewage tanks etc.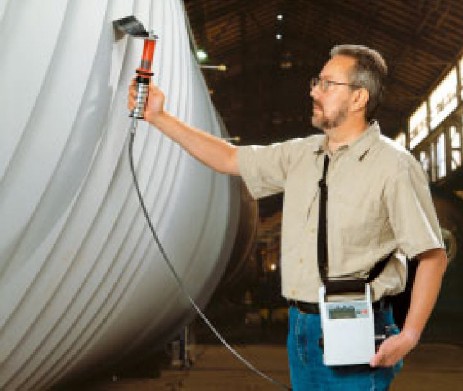 The electronically controlled high voltage source unfailingly prevents the test voltage from exceeding and dropping below limit, a feature not provided in low-cost devices. Exceeding the limit can cause damage to the coating to be tested; dropping below the limit prevents detection of pores.
A wide range of special electrodes are available; we can also fabricate customised inner, outer and plate electrodes as per application requirement of the client.
Test principle
When scanning the high voltage
search electrode smoothly over the
surface, flaws are detected through
spark discharge to the conductive
substrate.
Test voltage can be adjusted from
500 Volt to 35.000 Volt.
The instrument
has been designed for testing
insulating
materials from approx.
30
microns to 11.3 mm
thickness.
High voltage probe P 7 or P 35
Due to the characteristic dielectric
strengths of different materials, they
require different ranges of test
voltages.
To meet the requirements
of such different applications,
ElektroPhysik offers two high voltage
probe models:
P 7 : for thin coatings starting

from 30 microns (1 mils) such as

condenser or packaging films,

paints, enamels



P 35 : for thick coatings ranging

from 1.4 mm (55 mils) thickness

and more such as protective

linings in pipelines



Porosity detection and corrosion control
Flaws in protective coatings such as
pores, cracks and fissures, if undetected,
may impair the corrosion
resistance
of a product.
The PoroTest 7 by
ElektroPhysik has been specifically
designed for non-destructive
porosity
testing of such coatings,
based
on automatic
test voltage
control
specific to the thickness of
material
to be tested and vice
versa.
The major fields of application
of the PoroTest
7 range from
vendor inspection to quality assur-
ance in corrosion protection.
Test principle and field of application
Designed for detecting flaws and
pores, the PoroTest 7 can be used for
testing all insulating coatings on
conductive substrates such as steel,
Aluminium, etc.
The test instrument consists of a high
voltage probe with an integrated
high voltage generator and a test
electrode, which is simply connected
to the probe.
The control unit features
a digital display and control
pad.
The control unit housing is fully
portable and made of rugged ABS
plastic with an integrated handle.
The high voltage probe and control
unit are connected via a rugged
cable.
To detect porosity, the appro
priate test voltage specific to the
material thickness is set on the control
unit which applies, when activated,
a spark discharge at the
moment
a material flaw is detected.
In
addition to the spark discharge,
flaws
are indicated by a visible and
audible
signal and counted.
Typical applications:
Testing linings
and coatings applied on ducts, pipes,
hulls, oil and storage tanks, enamel,
paint, rubber and bitumen linings,
vessels and tanks, GFK and other
plastics materials.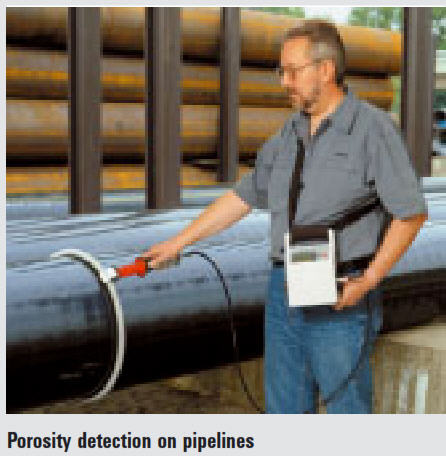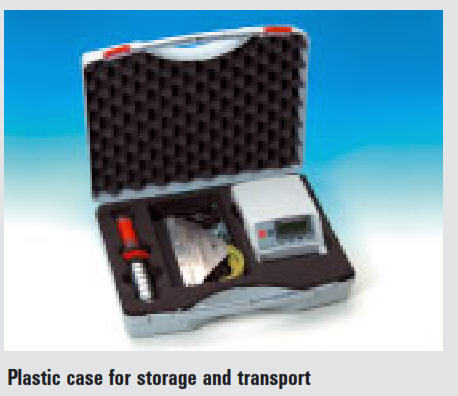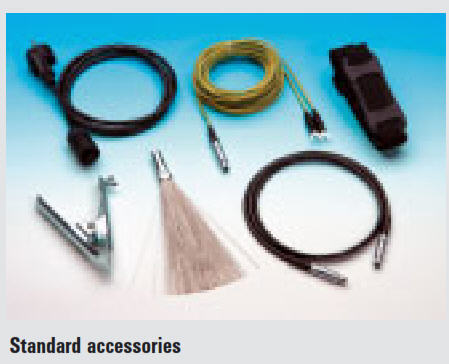 Application
Non-destructive detection of pores, cracks and other faults in insulating coatings on conductive substrates.
Testing of insulating coatings in a thickness range of 30 µm to 11.3 mm

Electronically stabilized high voltage for reliable/safe detection of faults

Wide range of application-specific testing electrodes

Testing voltage 0.5 – 35 kV

User guidance in 4 languages (German, English, French, Spanish)

Audio and visual alarm

Compact design enables use even on the scaffolding

Electrical safety as per VDE 0411, Part 1

Power supply either by batteries or mains connection
Scope of Delivery
Holiday Detector, PoroTest 7, with integrated battery

Connecting cable Holiday Detector - high voltage probe

Metallic sweeper electrode

Equipotential cable 5 m

Power cable

Shoulder belt

Operating instructions

Plastic carrying case
Operating range :
P7: 0.5 kV - 7 kV
P35: 6 kV - 35 kV
Coating thickness : P7: 0.03 mm - 1.7 mm
P35: 1.4 mm - 11.3 mm
Voltage : DC
Test voltage indication : LC-Display, 3-digit
Accuracy of voltage setting : ± 0.1 kV - + 3 %of reading
Dimensions and weight : High voltage probe: 274 mm x 63 mm (l x dia)/550 g
Control unit: 225 mm x 150 mm x 85 mm (L x W x H)/1400 g
Alarm signal : 90 dB, 0.1 s/Pore, continuous tone in case of short-circuit
Signal output : potential free, Umax.: 100 V, Imax.: 0.4 A
Storage battery : 4 C-cells, IEC LR 14, 3.5 Ah, NiMH, replaceable
Storage battery life at maximum voltage : P7: ~ 20 h
P35: ~ 10
Storage battery charging time : 4 hour quick charge
Mains Voltage : 110 V - 230 V 50 Hz - 60 Hz automatic switch
Operating temperature : 0 °C - 50 °C
Humidity : avoid dew on the surface (refer to DIN 55 670)
Standards : DIN 55 670, DIN 50191 (VDE 0104), DIN EN 61010/Part 1 (VDE 0411/Part 1)