Food Industry Label Printing
Scales > For Food Industry
OHAUS RU Series
Advanced Ticket and Label Printing Retail Scale
Multifunctional, customisable, versatile - the ultimate solution to your retail needs
The rugged RU is the ultimate solution to all of your retail requirements, offering both ticket and label printing capability coupled with multiple functions, including: prepacking with data printing to meet all EU regulations; ECR cash management to provide your customer with flexible payment options and to help you monitor your cash; and networking and floating vendor capability for simple and efficient customer service. What's more, with both upper and lower keyboard versions available in capacities from 6kg to 30kg, the RU can fit perfectly with your existing counter design.
Standard Features Include:
• Multiple functions – With standard ticket printing plus optional label printing, prepacking, cash management and training functions the RU is the ultimate all-rounder
• Rugged construction – Heavy-duty aluminium baseplate, stainless steel pan with rounded edges, high-grade polymer surfaces and sealed components provide superior protection and hygiene
• Simple networking and communication – The RU features a high-speed processor, Ethernet connection, RS232 and an RJ11 interface for connection of external devices such as a cash drawer
• Large memory – Storage of up to 4000 PLU
• Outstanding printing performance – Print speed of 110mm/sec thanks to two independent printer motors, plus customizable label and ticket design
USB STICK Configuration
USB DATA Import
Software appliCation RU05 "COUNTER SERVICE / Cash Register / PP1 with Direct Texts"
User SCALE CONFIGURATION
OPTIONS :
cash drawer
net for 4 or 10 balances
label printing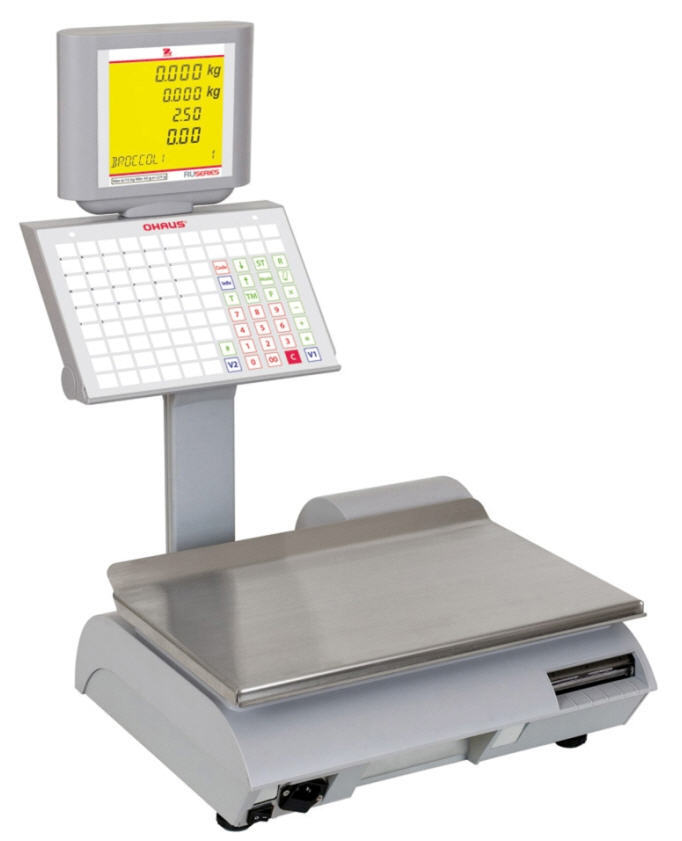 Customisable to your working methods and environment
The RU offers a host of optional functions to match your requirements whether you have a butchers, a cheese shop or a delicatessen.
Meet Product Labelling Regulations
The RU is the perfect partner for prepacking tasks. Not only does it weigh accurately, with the prepacking option you can also set the scale to print essential information such as sell-by and use-by dates, ingredients and place of origin, ensuring you meet traceability requirements and EU regulations.
Manage Payments and Control Cash
By combining the RU and optional ECR cash management function with a cash drawer, you have an all-in-one weighing, labeling and flexible payment tool.
Moreover the ECR functionality helps you to manage your cash, simply enter the float at the beginning of the day, enter the values whenever large notes are removed for security during the day and then when cashing up, the scale will calculate the balance and any deviation and print a full report.
Streamline Your Customer Service
The RU's networking capability enables up to 10 scales to be linked together and the floating vendor function permits 30 floating vendors. This enables you to streamline your customer service, for example if you run a delicatessen, your vendor could serve a selection of cheeses using one RU, then move to the cold meat section and serve some ham on another and finally serve a portion of olives on a third RU. Each package can have its own label containing essential information such as use-by-date and finally all can be placed in a larger package with a label showing the total contents and cost. The customer can then make one payment on the final scale using the ECR cash management function in combination with a cash drawer.
Customise Your Label Design
Not only can you print all essential product information on the label, you can also customize it with vendor name, greeting, your logo or any promotional messages you wish to communicate. What's more the RU contains two independent printer motors for fast printing of up to 110mm/sec.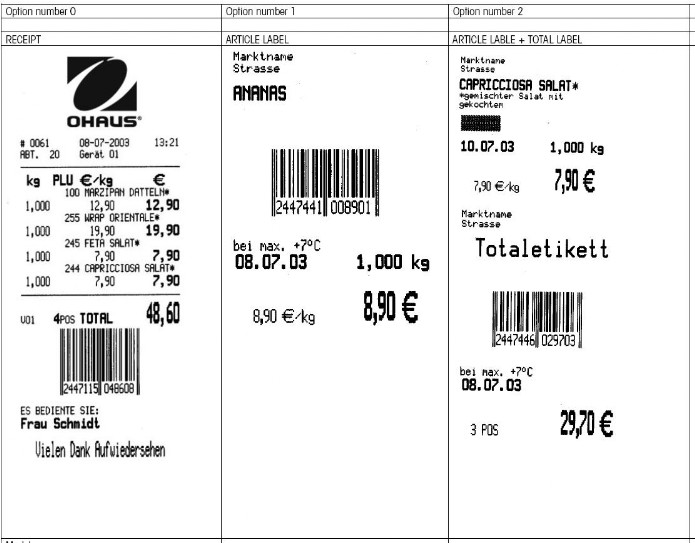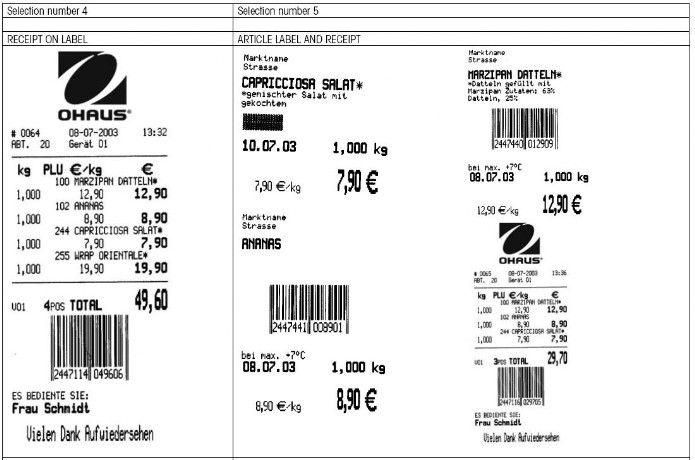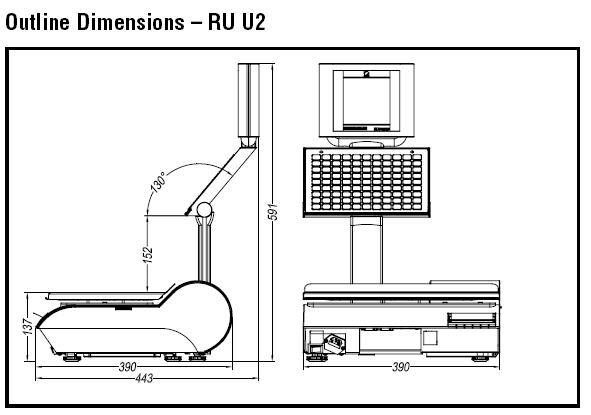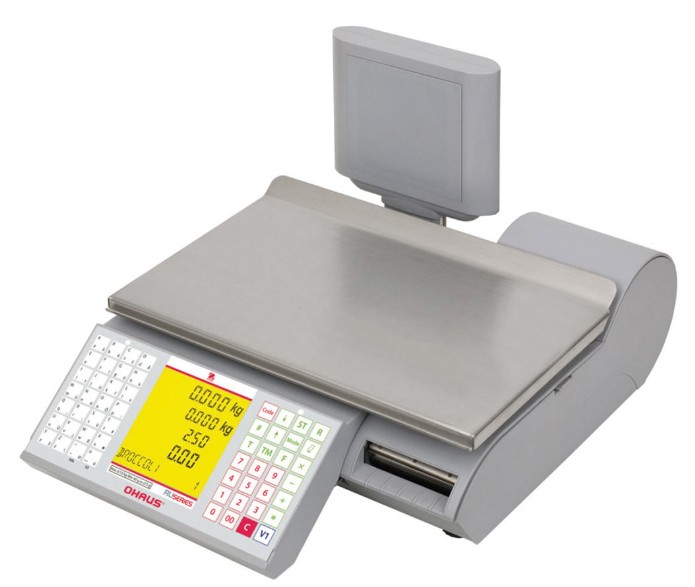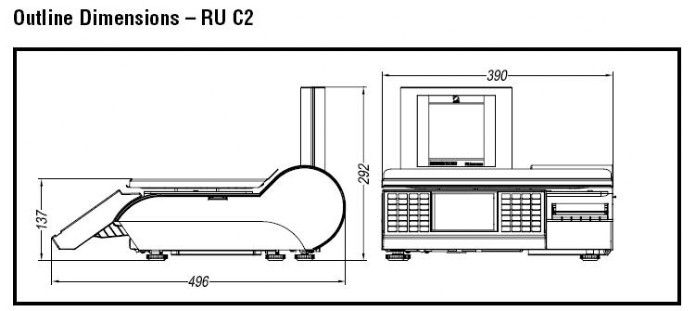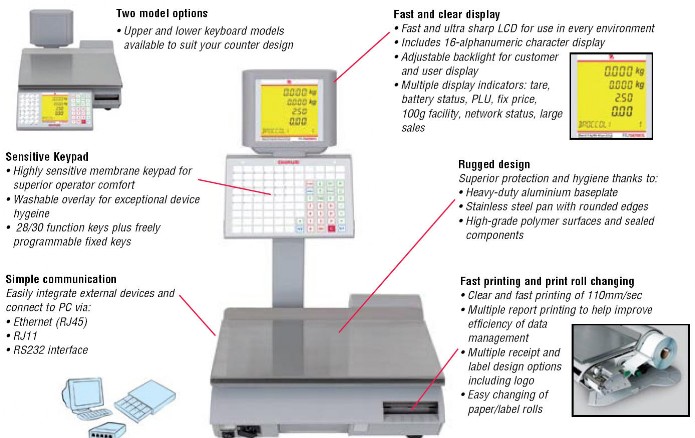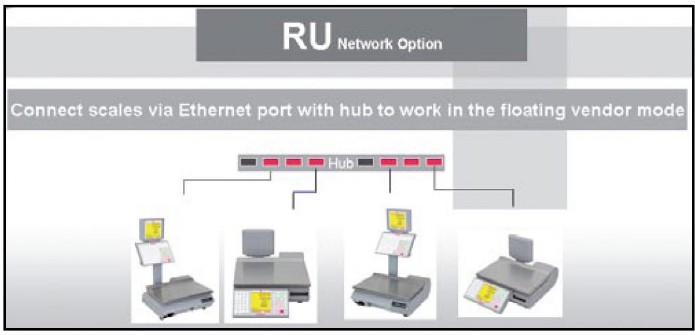 RU – Features and Functions
Characteristics Details
Data Entry Direct manual price entry or simple PLU recall
Data Management All data can be managed via the dedicated service software,
including label layouts,
backup, PLU definition etc
Preset Keys Up to 30 function keys (28 on lower keyboard model), 4000
PLU memory, up to
200 product groups, customizable PLU card
Multiple Reports Print customisable daily reports, electronic sales journal,
reports by vendor,
department, category, article, price
changes (incl. date & time) and
for
specifically defined time periods.
Easy Operation
• Multi-payment transactions: Allow up to 30 vendors to work only on one scale
• Automatic or manual tares
• 100g price setup for friendly pricing of high-cost items

• Easy discounting in % by a simple click of a key

• Large sales function to enter bigger values than the max. scale capacity
Display
High contrast backlit user and customer LCD displays, additional alphanumeric line with local language
Networking and Communication
Ethernet connection as standard, RS232 and an RJ11 interface for connection of external devices such as a cash drawer
Ticket and Label Printing
Ticket printing on standard or adhesive paper plus labelling with customisable layout