Model 134
Metal Testing > Sheet Metal Testing > Model 134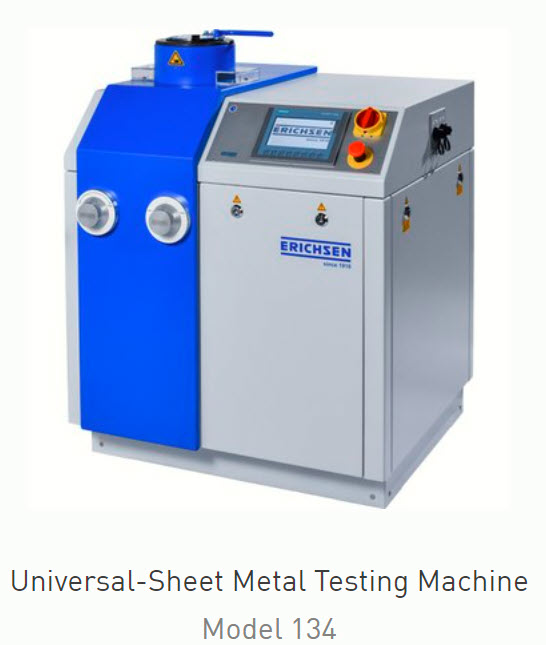 Model 134
Universal-Sheet Metal Testing Machine
The Sheet Metal Testing Machine, Model 134, with electro-hydraulic drive, max. drawing force 120 kN and adjustment for pre-setting the blank holder pressure max. 45 kN, blanking head (max. blanking force of 200 kN), automatic test sequence and facility for automatic stop at specimen failure.
The machine is operated via a resistive touch panel (automatic menu navigation).
Order number: 101-01780331
This Sheet Metal Testing Machine is not only ideal for the effortless, quick and accurately all important and known-deep drawing tests for ferrous and non-ferrous metals, it is also designed for a large number of additional technological investigations.
ERICHSEN Cupping Test

In addition, the Olsen Test as used in the USA can be performed, if appropriate tools are set up.
There are important reasons for using Sheet Metal Testing Machine, Model 134, for quality assurance and research:
Lowering of manufacturing costs by making spot checks on the drawing quality of cold rolled sheet during production or in the process department.

Sorting out of material of lower quality arriving at the Goods Inwards Department. Without special test preparations it is immediately possible to establish if the material supplied has the prescribed drawing quality.

Determining the most appropriate sheet thickness for a particular drawn workpiece to optimise the ratio of price to suitability for the manufacturing process

.
ISO 8490

EN 14-58

EN 14-67

EN ISO 20482

JIS Z-2247

DIN EN 1669

ISO 11 531

JIS Z 2249

GB/T 15825
Technical Data
Drawing force max. 120 kN
Drawing speed max. 770 mm/min
Blank holder force max. 45 kN
Drawing punch stroke approx. 60 mm
Blankholder stroke approx. 35 mm
Blanking force max. 200 kN
Sheet metal insert max. width 110 mm
Mains supply 230/400 V AC 50/60 Hz 2.2 kW
Dimensions Width approx. 900 mm
Height approx.1100 mm
Depth approx. 800 mm
Weight, net approx. 470 kg