K Control
Coatings & Industry > Physical properties > Film Applicators & Filmographs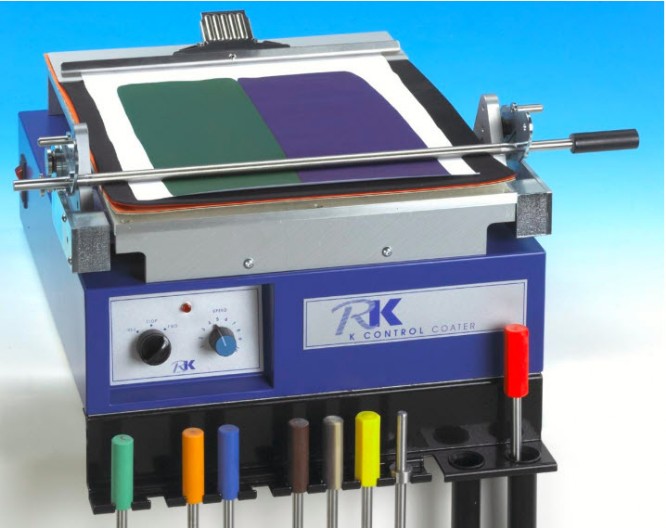 The K C
ontrol Coater is widely used for the application of paints, varnishes, adhesives, liquid printing inks and many other surface coatings to produce quick, accurate and repeatable samples. These may then be used for quality control and presentation purposes, R&D, computer colour matching data etc.
Controlled speed and pressure ensures repeatable results.
Coating by wire wound bars or gap applicators.
Two models offer coating areas of up to 170 x 250mm or 325 x 250mm.
Multiple coatings in one operation for comparison purposes.
Standard coating speeds infinitely variable between 2 and 15m/m in.
Recommended for database and sampling use for computer colour matching, spectrophotometer readings, or other instruments.
Used for the application of paints to produce highly accurate and repeatable coatings in an instant. The machine uses gap applicators to coat onto paint test charts, steel panels and many other substrates. This may then be used for many applications including quality control – weather testing, opacity and other standard tests such as colour matching and customer presentation samples.
MAIN FEATURES
A custom version of the K101 created especially for paints etc.

May be used with most standard gap applicators including Bird, Cube, 4-Sided etc.


ASTM D823 – 95(2001) – producing films of uniform thickness.




Other coatings such as plastisols and adhesives may also be applied.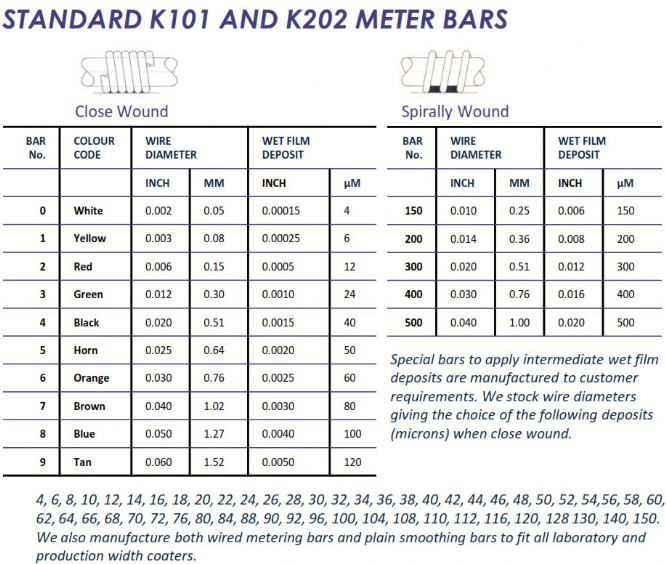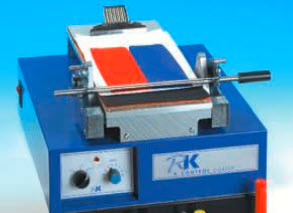 Meter bars provide the simplest method of applying accurate, repeatable surface coatings on to most substrates.
A meter bar is manufactured by winding precision drawn stainless steel wire on to a stainless steel rod, resulting in a pattern of identically shaped grooves.
These grooves then precisely control the wet film thickness.
Close wound bars produce a coating thickness from 4 to 120μm. Higher coating weights up to 500μm can be obtained using spirally wound bars.
A three-part melinex/foam/rubber coating bed is supplied as standard. Vacuum, magnetic, heated and glass beds are also available.