Coil Coatings Oven
Laboratory Product > Heating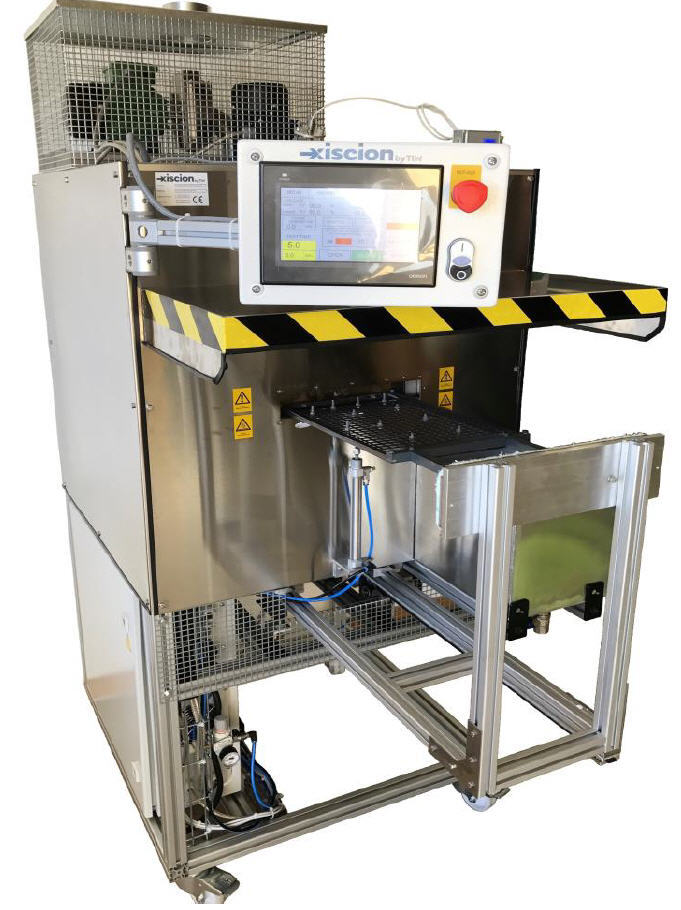 Coil Coating Laboratory Oven M13-500
Improved model !

- Only 12 kW heat effect instead of 18 kW and with better test results. Energy efficient in comparison.

- More accurate sample results

- Ergonomic and servicefriendly construction
Auto Load System
The oven gives total control of the full heatings process of the sample:

- Repetetive process to change samples

- Safe and fast handling for the operator

- One-year warranty for fabrication disorder at application
Accu Fast System
Applicating the heat to the sample:
- Frequency converter for control of the air-flow

- Upper and lower heat is focused on the sample

- Efficient ventilation of fumes from the sample
Ultra Heat System

The oven is fast - with high heat capacity: 500º C max temp

- Extra insulation with high quality refractory material

- Efficient sealing system
Ventilation, testsheet-cooling and service door
To control the ventilation and get rid of gases there is a frequency controlled exhaust fan.

A service door is placed on the back of the oven.
The key benefits:
- Fast and keeps a steady temperature, within a range of +/- 1º C

- Quick and safe change of sample

To improve the performance we focused on:
- The design of the air flow

- Reduction of the heat leakage
- Easy maintenance

- Superior ergonomics

- Strong support and service setup
Separate frequency converters to control the air-flow for upper heat, lower heat and ventilation.
Thermocouples to measure upper heat, lower heat and for overheat protection.
The temperature regulator is controlled by the PLC.
Pict. 2:
The Control Panel
The oven is PLC-operated with a detailed control panel.
Easy to operate with touch-buttons.
Main menu, showing:
- Fan speed (upper, lower & vent)
- Time set & countdown
- Temp set & upper-lower temp
- Heat on/off
- Used heat-effect
- IR-temp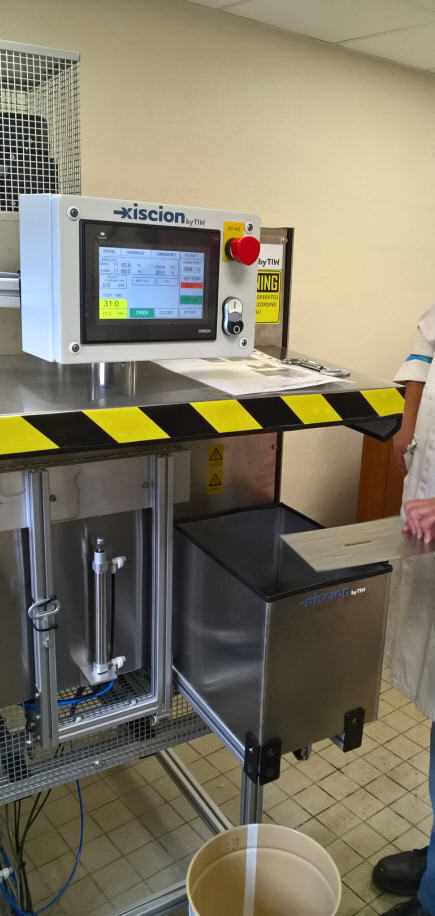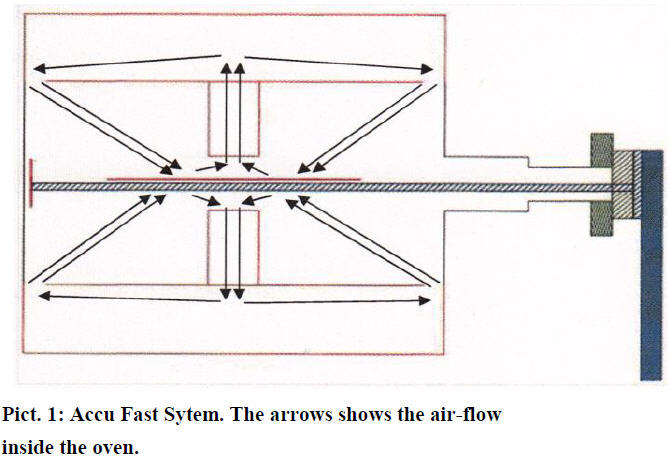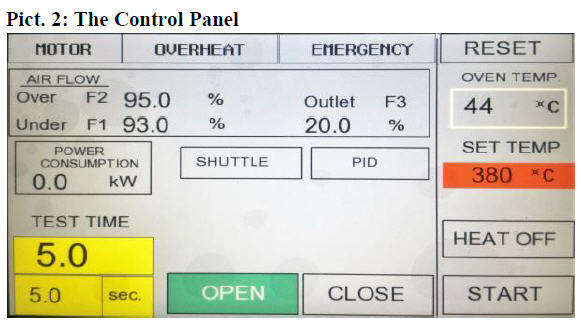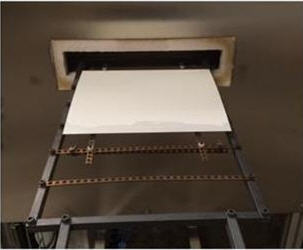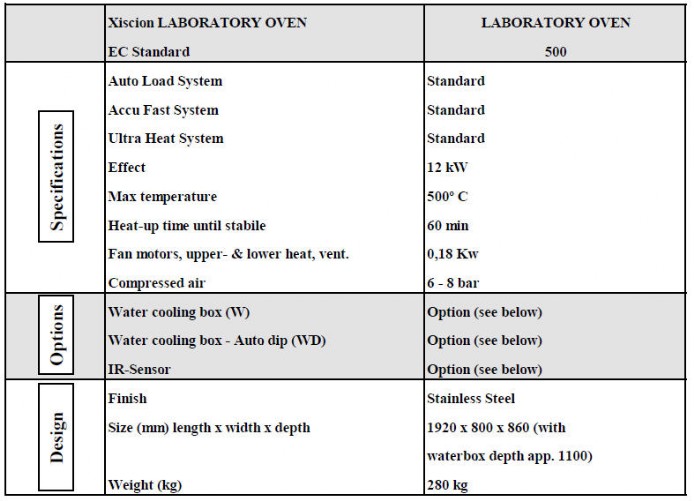 Options : three models available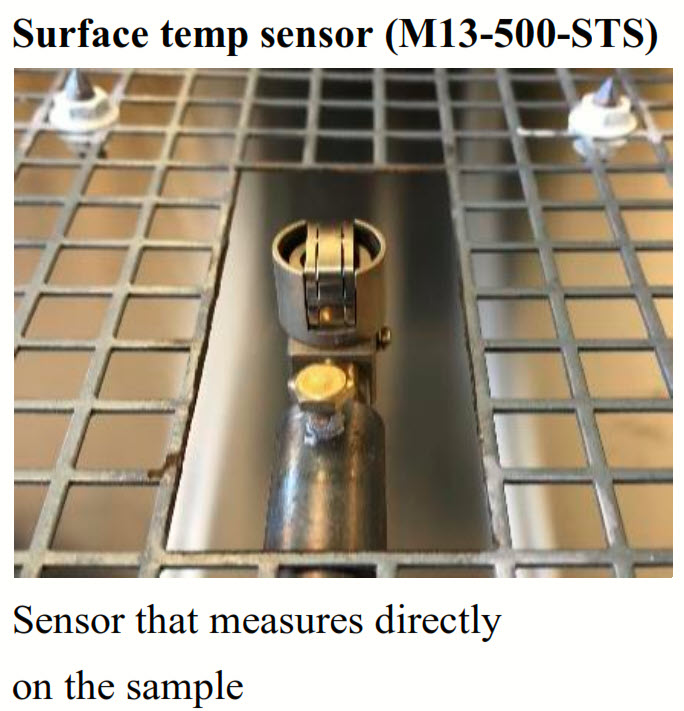 Temperature sensor technical data
Temp. range : -50°C to 500°C
Tolerance ; -50°C ... 333 °C : +/- 2,5 °C
333°C...500°C : +/- (0.0075 x measured t°)°C
Response time : 1,5 sec
Durability : more than 75.000 contacts
Cable type and length : Type K: SG-K 1 m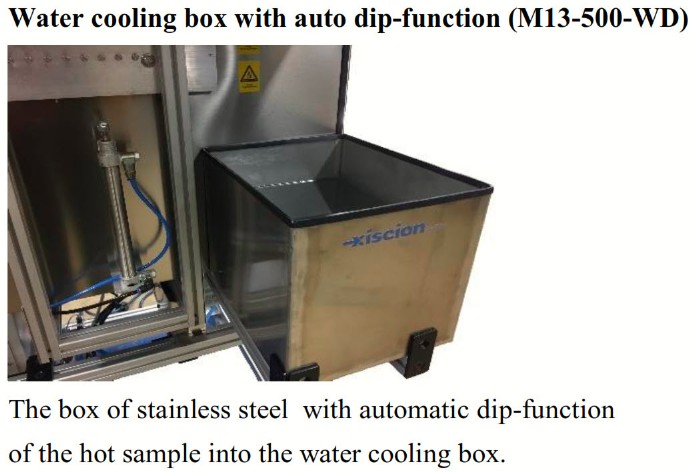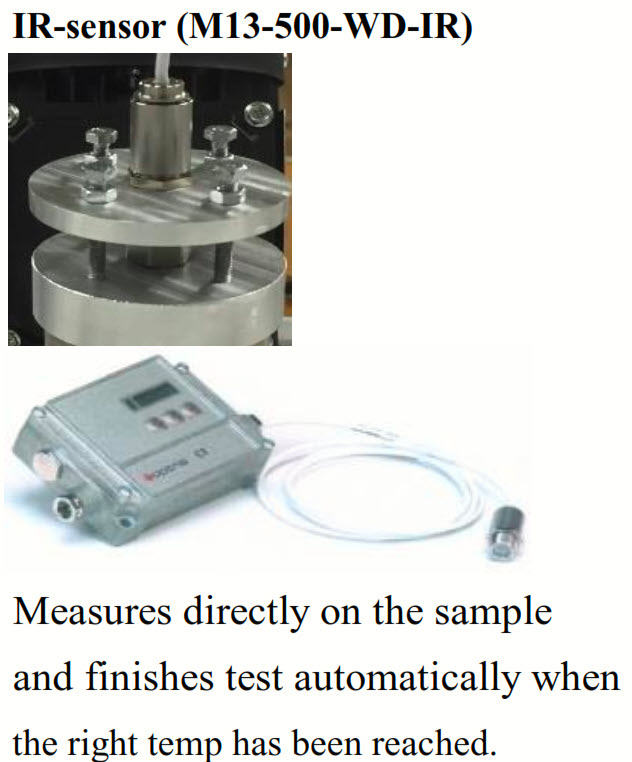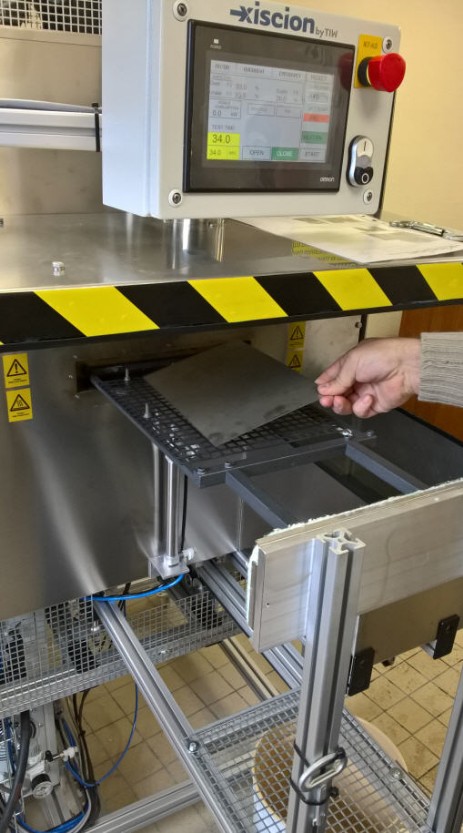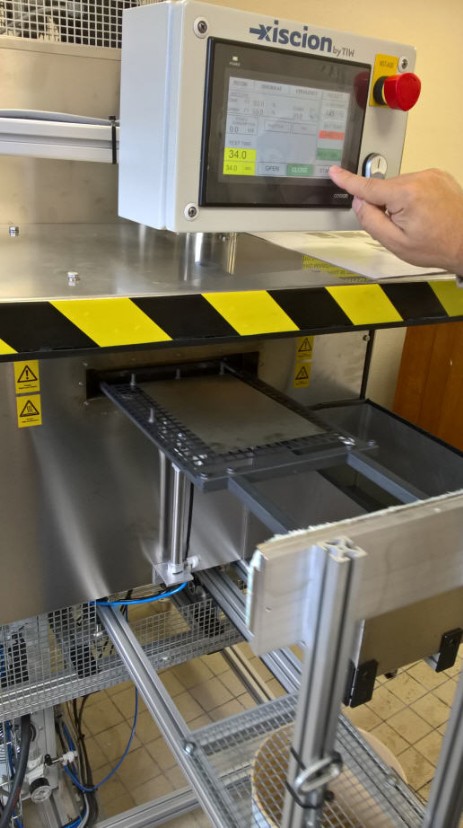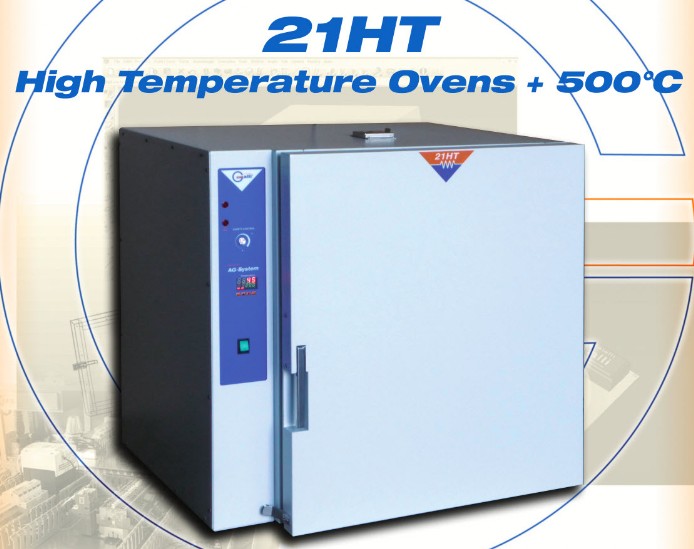 21HT High Temperature Ovens + 500°C
21HT Thermostatic Ovens by Galli
suitable for your applications: precise thermostating, heating, drying, polimerization, expansion, cooking, stabilization, tempering, fixing, bonding, heat treatment, accelerated aging, sterilizing, burn-in, inert atmosphere treatments.
PLUS
• AG-System Control: PID Digital Microprocessor, careful and sensitive. Version DAILY, PRO, TALENT
• Range Temperature: from +50°C to 500°C, on request max + 700°C
• Double Digital Display visualize simultaneously the set point and the inner Temperature
• Safety Device, Class 3.1
• Accessories, custom versions, temperatures available on request
• Dynamic and homogeneous Forced Air Circulation System
• 3 sizes, bench top model: 40, 100, 216 Litres
• Made in Italy
• External structure in stainless steel, powder coated, solvent free, RAL 7035

• Structure in triple wall far containing the heat

• lnner chamber in stainless steel AISI 304 + second casing made in stainless steel AISI 304

• Triple Ceramic + Mineral Wool insulation asbestos free + air cushion

• Heating obtained by the use of armored heaters for high temperature

• A special motor with long shaft blower and a steel fan ensures high air circulation in the working chamber

• A baffle system for conveying the air in all the chamber
• 2 shelves, removable and adjustable height no tip

• 1 CE Conformity Certificate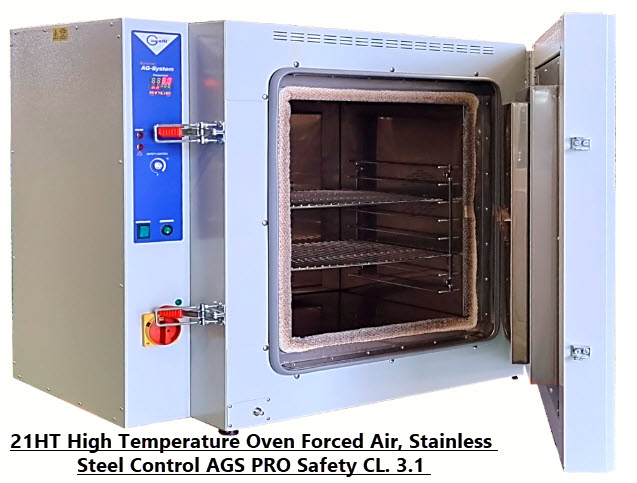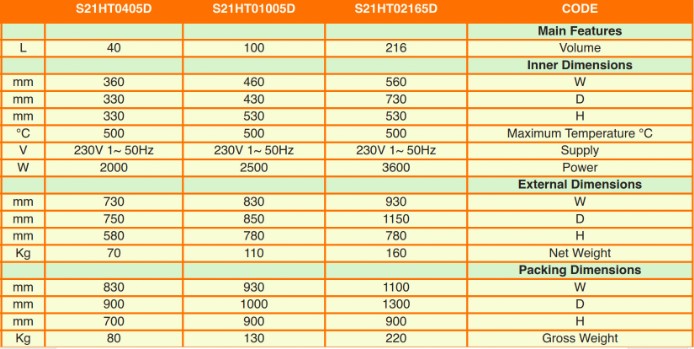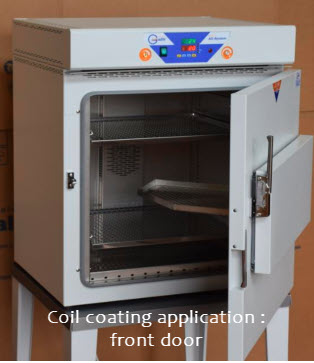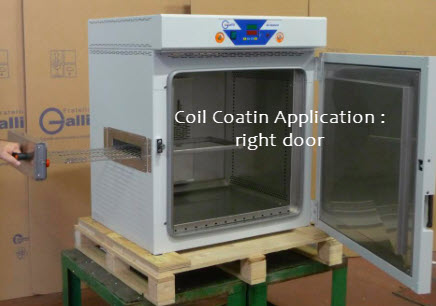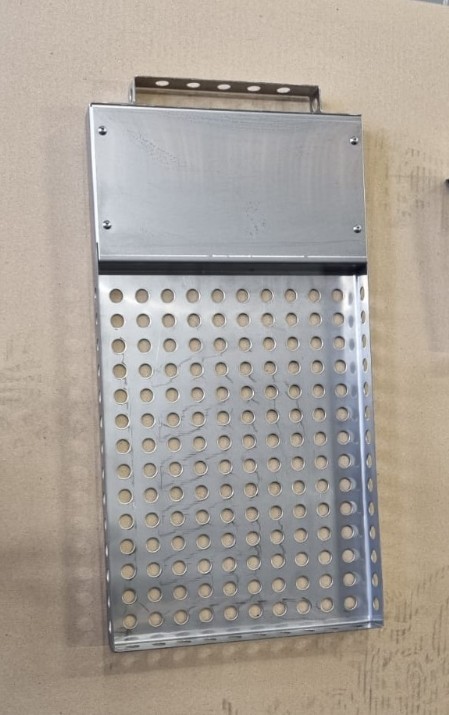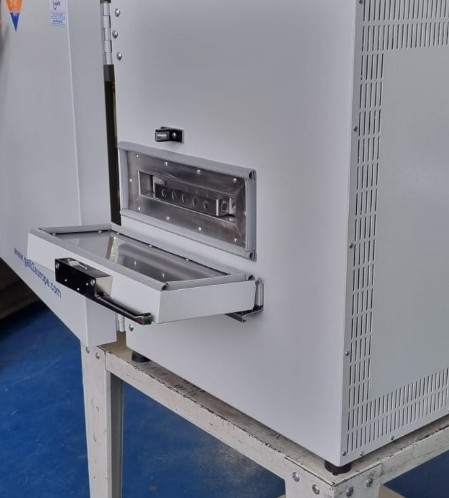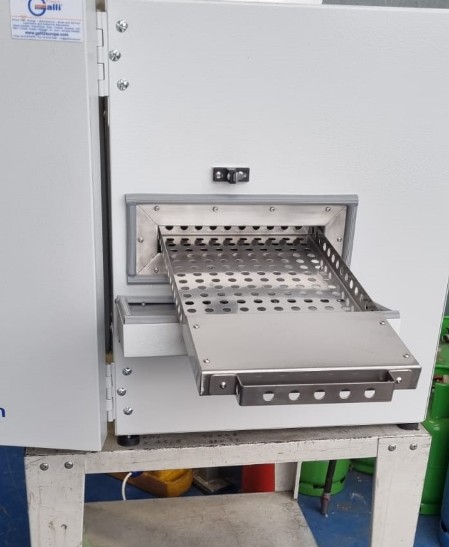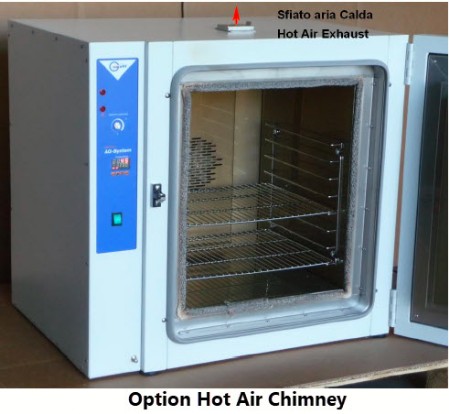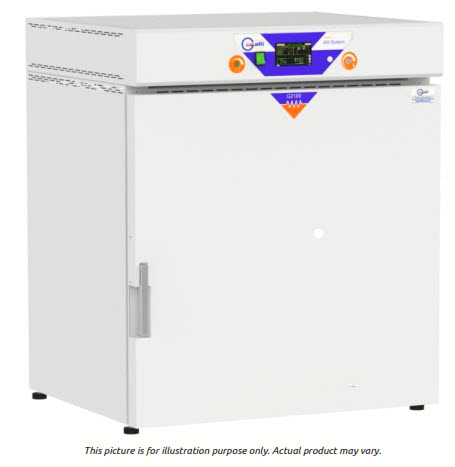 The High-Performance Thermostatic Ovens model 2100 with Forced Air System are ideal for all those applications where an accurate, reliable, and high-performance device is needed, and are used in research and biological, chemical, and pharmaceutical laboratories.
2100 Thermostatic Ovens are essential in a wide range of tests and drying process, in stability tests, accelerated ageing tests and
sterilization treatments.
Control System AGS NOVA
Touch Screen Color Display.




AUTOMATIC Function with continuous temperature monitoring.



PROGRAM Function with 20 Programs, 12 Steps with Ramps and Soaks.

RECORDING Function with Graphic Temperature Recording.
Set Point and Inner Temperature Visualization.




Optimized Control Algorithm with PID Actions.




Autotuning Function.




Platinum PT100 Probe, Class A.



"Zero Crossing" Solid State Relays. USB Port.

Temperature Range from Ambient Temperature +5°C to +300°C
External Structure
powder-coated, solvent-free
Inner Chamber
Stainless Steel AISI 304 with rounded corners
Efficient Insulation
eco-friendly, multi-layered
Insulated Door with pressure closure
and silicone gaskets, high temperature resistant
Vent Regulation Device
useful for calibration probe insertion
Height Adjustable feet
Safety Devices:
Fuses for complete system protection




Green Main Switch




Integrated Alarms Management System




Adjustable Set Point Threshold System



Safety Thermostat, Class 3.1

Standard Equipment:
1 Instruction Manual




1 CE Certificate




1 FGW Warranty Certificate




1 Calibration Certificate at +200°C




2 Adjustable and Extractable Shelves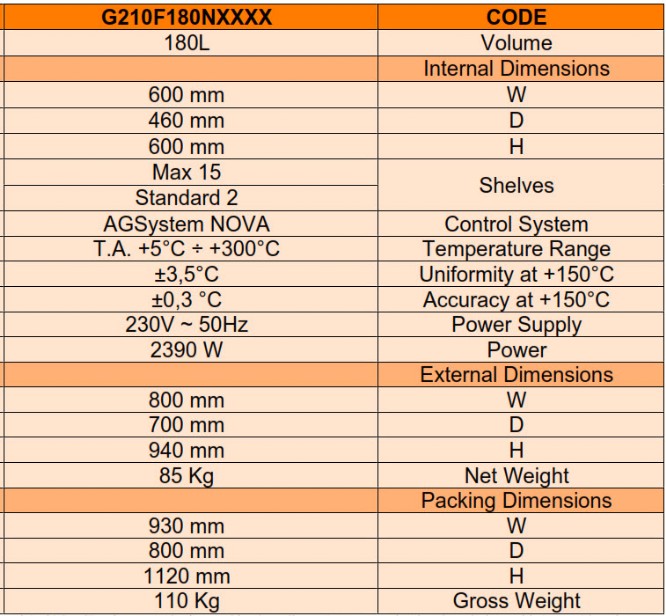 How do you know the curing temperature of your sample?



Paper thermometers make it easy!
Find out instantly the maximum temperature reached by your samples.