Kern DBS 60-3
Laboratory Product > Moisture Analyser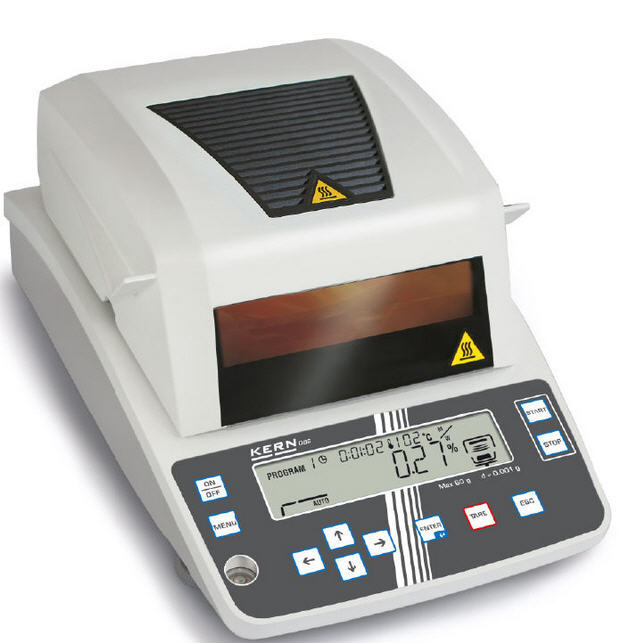 KERN DBS 60-3
DBS 60-3 Moisture analyser with graphics display and 10 memories for drying programs

The moisture of a sample is not only the water content in the material.
"Material moisture" is understood to be all volatile substances which escape during heating and result in a weight loss of a sample.
•Where necessary, Decomposing substance (if heated too strongly)
Features
Backlit graphic display, digit height 15 mm



4 Unit for displaying the results

5 Current moisture content in %
Halogen quartz glass heater 400 W




Observation window above the sample,useful during initial setting




Internal memory for automatic sequence of 10 complete drying processes and 100 drying processes carried out




The last value measured remains on the display until it is replaced by a new measurement




Sample description for up to 99 samples, 2 digits, freely programmable, and is printed in the measuring protocol




Date and time display as standard·10 sample plates included




Protective working cover included with delivery




Application handbook: On the internet, you will find a practical application handbook containing many examples, field reports, settings and tips for each KERN moisture analyser



Technical data DataDBS 60-3
Radiator Halogen (1 x 400 W)
Temperat
ure range 50°C - 200°C1°C increments selectable
Minimum weight (min) 0.02 g
Weighing mode0.001g

Moisture analysis mode 0.01 %

Reproducibility"Weighing mode" 0.001 g
Reproducibility"Weighing mode" :
Initial weight 2 g: 0.15 %

Initial weight 5g: 0.05 %

Initial weight 10 g : 0.02 %
Standard drying (AUTO / TIME))




Step drying (STEP)




Rapid drying (RAPID)




Slow drying (SLOW)



Stabilization time (typical) 3 sec.
Recommended adjustment weight, not added (class) 50g (F1)
Environmental conditions :
5°C....+40°C ambient temperature




max 85% air humidity non-condensing
Pollution Degree 2
Overvoltage Category Category I
I
AUTO The drying is finished when the preset weight loss (∆M ) remains constant for 30 seconds.




TIME The drying is finished after the preset time, 1 minute – 4 hours (1 minute increments)or 12 hours can be selected




Manual (STOP button)



Sample dishes included Ø 95 mm
[M/W] [%] moisture




[D/W] [%] dry mass:




[M/D] ATRO* dry mass




[W/D] ATRO* moisture




[GRAM] Gram display



Method memory10 memory locations for drying programs,




Sample memory100 memory locations for measuring results



Dimensions (B x D x H) Housing 202 x 336 x 157 mm
Available drying room Ø 95 mm, 20 mm high
Electric Supply 220 –240 V AC 50/60 Hz
Power consumption Rating 430 VA
Voltage fluctuations Within ±10 %
Power line fuse 3.15 A, 250V
Interrupting rating of fuse 35 A
Installation Site device may only be used indoors
Accessories :
Protective working cover, scope of delivery: 5 items, KERN DBS-A03S05

Sample plates aluminium, ∅ 90 mm, unit of 80 pieces, KERN MLB-A01A

Round fiberglass filter high mechanical stability, with organic binder, box of 100 pieces, KERN RH-A02


7

Temperature calibration set consists of measuring sensor and display device, KERN DBS - A01.

USB interface kit for bi-directional data exchange between balance/moisture analyser and computer. Scope of delivery: USB cable, driver, Software Balance Connection, KERN DBS-A02

8 Display of the drying process in conjunction with BalanceConnection, KERN SCD-4.0

Thermal printer, KERN YKB-01N

Matrix needle printer, to print the weights on normal paper, ideal for long-term archiving, KERN 911-013


Label printer, KERN YKE-01tance (if heated too strongly)