Portable Bench Scale
Scales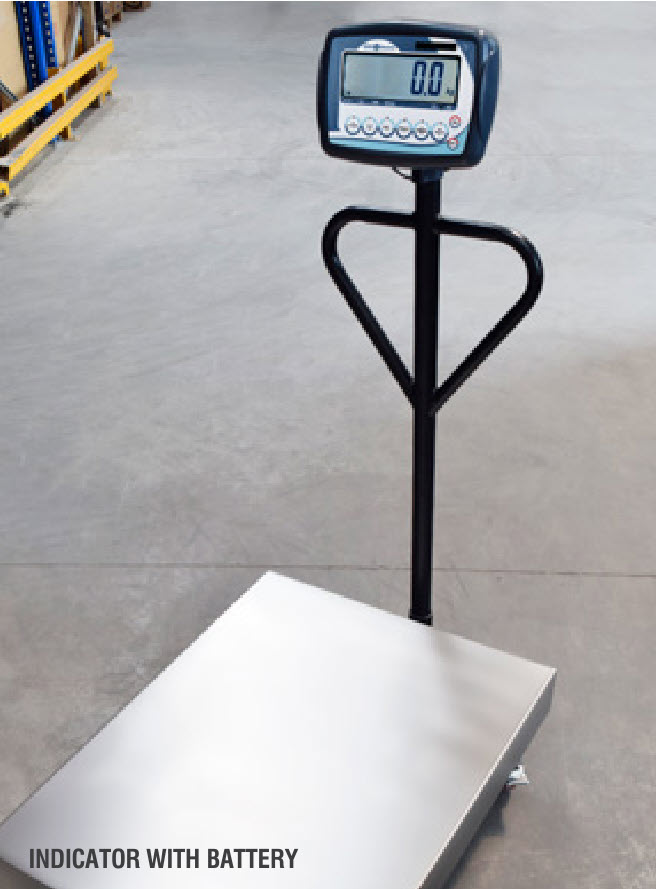 Bench scale with wheels and
handles to facilitate mobility.
Includes pivoting wheels with brake
to evoid movement during the
weighing process.
Available with legal methrology.
FEATURES
• 4 wheels of 70 mm in diameter.
Two fixed wheels on front and two
rotatable wheels on rear with brakes.
• Tubular structure in powder-coating
finish steel.
• Legal methrology available.
• Handles for an easy transport.
INDICATOR BR16:
• Weight-tare ndicator.
• ABS housing. IP54 protection.
• Waterproof keyboard with 6 keys of functions
and switch on and switch off keys.
• Backlight LCD display with 6 digits of 40 mm.
• Backlight of the display with 3 types: automatic,
activated and deactivated.
• ABS support for column.
• holes for wall anchor included.
• Blister included.
• Up to 4 load cells of 350 Ω each one or 8 load
cells of 700 Ω.
• Operating temperature range: –10ºC +40ºC.
• Power supply with adaptor AC/DC 240 Vac 50
Hz.
• Rechargeable Internal battery 6V / 4Ah.
• Battery life with activated back-lightning and
RS-232 ON: 80 hours approx.
• Battery life with back-lightning disabled and
RS-232 OFF: 320 hours approx.
• Units: kg o t o g (to choose at time of purchase
order).
• Optional RS-232 output with PC and printer
format.
• Unique range/Multi range (to choose at time of
purchase order).
• Auto switch off (programmable from 1 to 99
minutes).
• Approval type at 3000 divisions OIML class III.
• EC approval.
FUNCTIONS:
• Accumulation
• Totalization
• Piece counting
• Zero
• Four modes of hold: deaactivate, animal in
motion, peack value, stable weight and stable
weight with auto cancel in zero
• Control of weight and pieces (limits function)
with visual signal and alarm
• Three speeds of the converter AD (high, medium
and low)
• Gross/net
• Tare
INDICATOR KEYBOARD FUNCTIONS:
• Selecting weight units. Gross/net.
•
Accumulation
and manual data transmission to PC or printer;
zero or tare.
•
Separate keys for switch on and
switch off.