Gyroscopic Mixer
Coatings & Industry > Physical properties > Mixer & Dissolver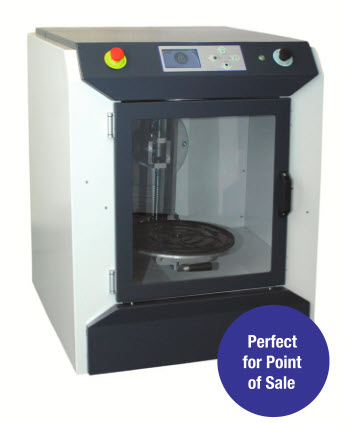 iMix: The Gyroscopic Mixer
The mixer designed for the machine user
Select the optimal mixing speed (rpm), mixing time and clamping pressure

Self corrects when vibration is detected

Faster clamping, bigger door, easier loading
The mixer designed for the machine manager
Predict Maintenance - mixer auto sends turnover data and maintenance needs

Reduce service calls - Repair your mixer remontely
Mixing action : Gyroscopic / Biaxial with automatic speed control

Typical applications : Paints, Plasters, and inks in metal & plactic containers up to 40 kg (49 cm x diam 36 cm)

Motor power : 1,1 kW with frequency inverter

Dimensions : 102 cm H, 80 cm W, 86 cm D
iMix: The Competitive Gyroscopic Mixer
Just Press Start

Reduced Mixing Times
Compact - Perfect for Point of Sale
Modern Styling and Small Footprint

Reduced Service Costs
Mix round, oval, metal and plastic cans

Mix 4 cans at the same time
iMix - The
Intelligent
Gyroscopic Mixer
iMix will recognise your paint can and automatically adjust and select the :
Fastest Mixing Speed (rpm)




Optimal Mixing Time (minutes)




Best Clamping Pressure



- Automatic - pressure changes based on can size.
The
Compact
Gyroscopic Mixer
Compact but Robust Mixer

Easy to Service and Repair

Large Door and Pull Out Tray with Automatic Clamping and Unclamping

Clear Controls and large LCD display



iMix - The Versatile Gyroscopic Mixe
r
Large range of multi can size clamp plate / adaptors.
Mixes cans from 8.6-42 cms - Metal, Plastic including oval.
Available in customised colours.
Product Name :
iMix gyroscopic mixer
Special features :
Mixer selects mixing speed and pressure automatically
Market Applications :
All Paint Shops mixing large volumes of heavy paint cans including 20 litre cans and including high viscosity paints. New modern styling.
Unique features :
• Change parameters via frequency inverter
• Very low power consumption
Mixing action :
Gyroscopic - with speed selection
Mixing Speeds :
3 Automatically selected speeds based on can size
Motor Power :
1,1 kw with frequency inverter
Mixing range - container dimensions height :
8.6 - 42 cms
Mixing range - container dimensions diameter :
38 cms
Mixing range - container types :
Metal, Plastic including oval
Clamping system :
Automatic - pressure changes based on can size
Display / Controls :
LCD with panel
Timer - Minute timer :
electronic 1-9, 15, 20, 25, 30 minute
– Mixing speed and mixing times :
3 zones
– Clamping pressure :
3 zones
– Mixing Direction - bi directional :
No
– Softstart and speed (gear) change :
Yes
Door :
Large Perspex hanging door
Dimensions H x W x D (cm) :
101 x 73 x 84