Explorer
Process > Hardness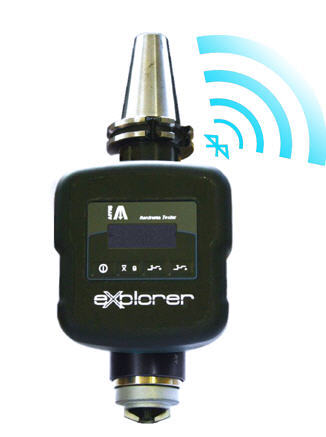 AFFRI EXPLORER

Rockwell, Superficial Rockwell, Micro Rockwell, Brinell

FOR CNC WORKING CENTERS

Explorer is a reliable and precise hardness tester, with a new design and user friendliness. It allows to make quick and precise measurements. The instrument is applied to the working centres and handled just like a standard tool. Different types of coupling are available ISO, DIN 30,40,50 and more on demand.

Explorer transfers the data concerning the test just carried out thanks to a Wireless connection via standard Bluetooth. Data transfer is guaranteed up to 30 metres (even if without net noises it is possible to transfer beyond 100 metres). This allows to place the support PC even far from the instrument for better ergonomics of the working place.


Movable cell for automatic Rockwell or Brinell test


Suitable for on-line control thanks to the automation of test cycle


Wireless data transmission and setting by Bluetooth


Automated and accurate test cycle even on irregular surfaces


It is possible to insert it in CNC work station


Absolute and accurate measurements on all operating conditions, even on oiled surface

Innovative measurement technology with vertical measure system:


AFFRI® System Hardness tester achieves the highest level of measurement of depth accuracy and resolution available for a Rockwell test


EXPLORER is equipped with a unique closed loop electronic force measuring system and accurate "in-line" depth measuring technology for fast, precise, and reliable test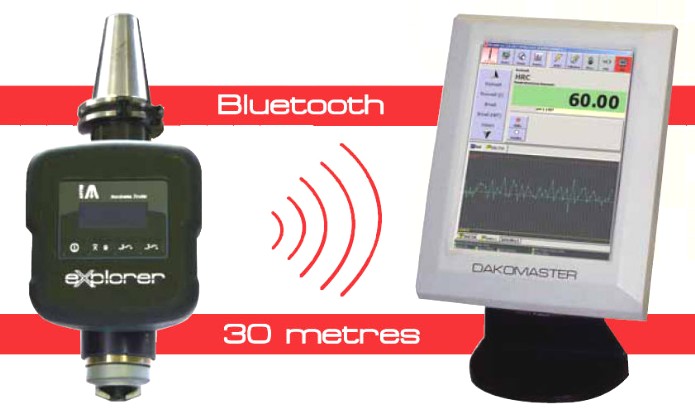 THE INSTRUMENT

ISO 40 Cone
The instrument was designed for being assembled on any machine-tool thanks to the use of the standard coupling cone (ISO e DIN). On demand, it is also available with ISO 30 and ISO 50 cones.

Resistant Body
Electronic components and mechanical parts are all protected by a thick body in light alloy IP67 leak proof.

Informational LED
LED information system for information on the testing condition and on the residual energy.
All information can be selected via 4 front buttons.

Batteries
Internal rechargeable batteries with entry for the supplied battery charger.

SOFTWARE

The software supplied with the support PC is a powerful data analysis instrument.
All data are transferred to the wireless PC via standard Bluetooth.
Beyond the quick setting of all testing parameters, a complete set is supplied for analysing the data received from the instrument.
Possibility of graphic analyses, quick choice of testing scales, quick conversions and the chance to save real time statistic sessions allow a quick and functional analysis of the tests carried out.
Furthermore, the software foresees other functions such as language change, software locking, the possibility to create separate user accounts and to print the acquired data via a USB printer

SUPPORT PC
Support PC integrates a powerful VIA processor and a preinstalled software for analysing data. The unit has one 80 GB Hard Disk for saving testing data and statistics.