Wet Film Combs
Coatings & Industry > Physical properties > Thickness Wet Film
Wet Combs Film Thickness Gauge
Purpose
For quick and easy thickness measurement of freshly applied wet paint.
Test procedure
Select scale range.
Place gauge on wet film at 90° angle and press it into film.
Withdraw and note the deepest tooth or notch having paint on it and next higher tooth that is not coated.
The wet film thickness lies between these two readings.
Coating Thickness Measurement (Manuel)
333/I
Wet Film Thickness Gauge acc. to Rossmann, Modell 333/I
Measuring range: 0 - 120 µm (graduation 5 µm)
Order number: 101-00910131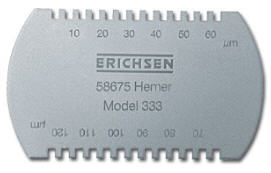 Coating Thickness Measurement (Manuel)
333/II
Wet Film Thickness Gauge acc. to Rossmann, Modell 333/II
Measuring range:
0 - 600 µm (graduation 25 µm)
Order number: 101-
00910231
Coating Thickness Measurement (Manuel)
333/III
Wet Film Thickness Gauge acc. to Rossmann, Modell 333/III
Measuring range:
0 - 1200 µm (graduation 50 µm)
Order number: 101-
00910331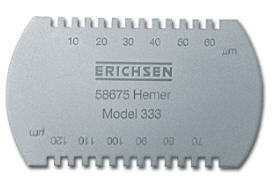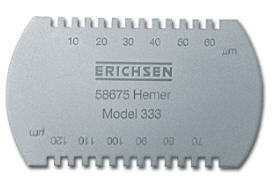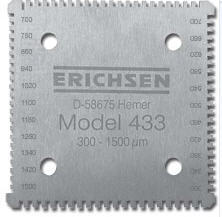 Coating Thickness Measurement (Manuel)
333/III
Wet Film Thickness Gauge acc. to Rossmann, Modell 433I
4 measuring scales: 5 - 100 µm (graduation 5 µm)
100 - 300 µm (graduation 10 µm)
300 - 700 µm (graduation 20 µm)
700 - 1500 µm (graduation 40 µm)
Order number: 101-
01690131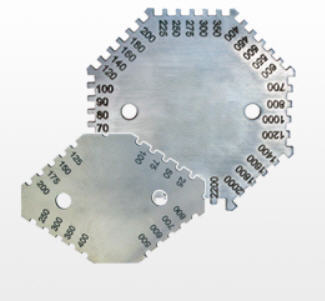 Ref.
Range µm







In the range, µm

10

20







60-220










NH2







25-800







50

100




200-400

400-800




NH3













50

100

200




200-600

600-2200










100

200

300

500

1000




2500-3000

3000-4000



Minimum order quantities : 5 units