MEK TEST
Coatings & Industry > Physical properties > Curing effect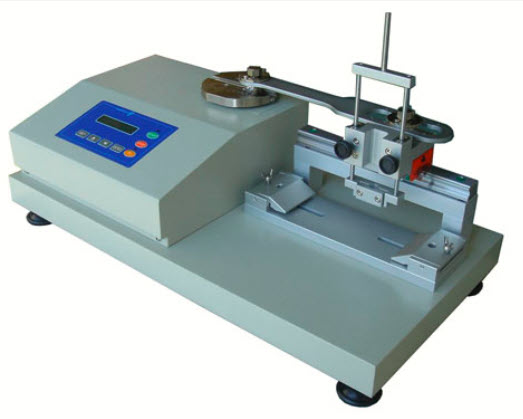 Surface Hardness Abrasion Tester & Crock Meter

319-QC-621H of main purpose is for measure surface treatment such as painting, plating, coating, dyeing and finishing the design of the machine.
It can use cotton, sand paper, steel wool and eraser to test specimen of wear condition.
This tester can cater various different standard of requirement to set condition for testing such speed, stroke, specimen appearance, abrasion head and load.
"Solvent rubbing resistance" is another
way of determining the curing effect.
The solvent rub technique is use for assessing the MEK resistance of ethyl silicate .
The MEK resistance of some two-component ethyl silicate zinc-rich primers has been shown to correlate well with the cure of the primer as determined by diffuse reflectance infrared spectroscopy.
Industry: Plastic, Electronic, Textile, Print, Coatings

Warning :
The astm D 4752 prescribes to place the properly protected index finger into the center
of the pad, with the index finger at a 45° angle to the test surface, with this instrument the index is at
90 °.
Mek Tester 39-QC-621H
Weight set 25g x1、
50g x1、
100g x1、
200g x1、
300g x1、
500g x1、
1000g x1
(basic weight is 200 g)
Abrasion distance 10 ~ 100 mmadjustable (Adjustment by hand)
Max test load Test stroke is under 50 mm, the max. load is 8kg.
Abrasion head
a.Φ6.35 mm sand paper abrasion head

b.Φ16 mm cotton abrasion head

c.Φ16 mm steel wool abrasion head (optional)

d. If any abrasion head specified, customized type is available
Sample Size Width 20 ~ 200 mm,thickness max. 50 mm
Control Panel 1 ~ 120 CPM Can be precisely set speed 1 ~ 99,999,999 times can be set. Auto-stop after the test is completed.
Power 100V ~ 240V,50/60 Hz
Dimension 70 × 35 × 40 cm
Weight 46 kg