Aids & Accessories
Laboratory Product > Hydrometers
Aids for the work with hydrometers:
The uniformity of the liquid meniscus as a requirement of
exact density détermination, dépends on the purity of the
liquid surface and on that of the stem. Exact readings
are only achieved by a regularly rising liquid meniscus
that does not visibly change, if the hydrometer is moved
up and down.
For this reason it is impératif that the carefully cleaned
instrument is held above the scale and that it is dipped
slowly into the medium to about 5 mm above the
intended reading point, otherwise it will be getting
heavier than water and will falsify the measurement.
During the procedure of reading it is also impératif that
the hydrometer body does not touch the side of the jar.
At once after the density détermination the température
of the test liquid is to be taken. If it is different from the
reference température indicated on the hydrometer scale
a correction will be necessary.
With regard to this correction and others compare
DIN 12 791 sheet 1.
Besides, the détermination of the
density of minerai oils and related materials is
described in detail in DIN 51 757.
The hydrometers "suitable for government testing"
are exellent quality
.
All the other instruments are offered as
more favourable, less-demanding type and may show
higher tolérances than the thermometers "suitable
for government testing" .
Colour code hydrometers
offer more reliable results in measuring because the
surface tension and the kind of reading can be jugded at
first glance. The following colour codes are the most
used ones for DIN hydrometers: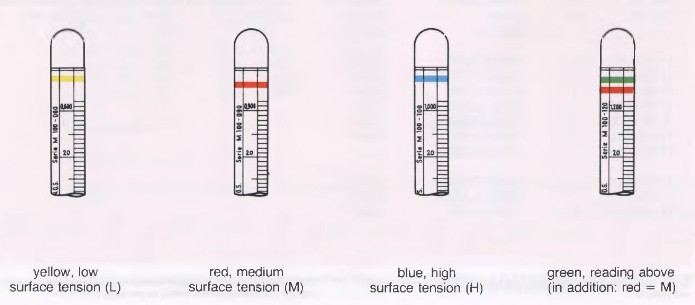 Hydrometer Jars
on foot with spout
several sizes 50ml upto 2000ml capacity.

Cardanic Suspension Device
complete with glass cylinder c.450mm long,
inner-diam 40mm upto 54mm
spare glass cylinder.
Cardanic suspension device
for work with hydrometers
complete, with glass cylinder
interior diam c. 54 mm