DigiNip-2
Graphic & Printing Industry > Roller alignment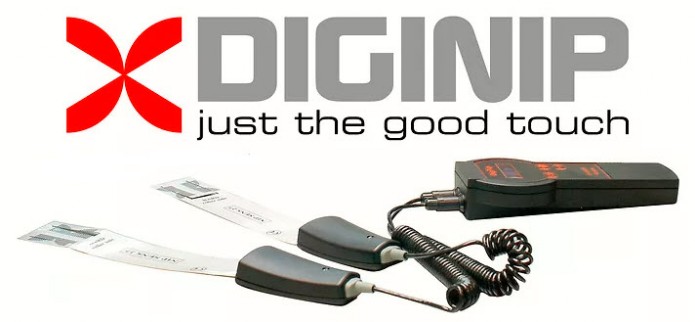 DigiNip measures the nip (contact) width between two rollers.
This measure is modern, indisputable and repetitive, regardless of the user.

The stroke measurement is very simple, and saves at least 50% of time.

This measurement is carried out without inking. The touch of the damper rollers is therefore achieved very quickly!

All you have to do is put the two DigiNip tabs between the rollers to be adjusted, then read the measurement on the DigiNip screen.

This measurement gives the touch, as well as the parallelism of the rollers.

If an adjustment is necessary, it is done while leaving the tabs between the rollers; the value of the key is entered in real time on the DigiNip screen.

The DigiNip is also used for all other roller settings: laminator, shaping, folding machine, plate developer, etc.

More than 3000 devices are in operation at our customers.
PSO 12647-2 printers use this device

.
Use on all machines: designed for all Heidelberg, KBA, Komori, Manroland presses, etc.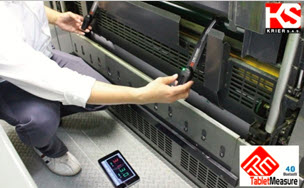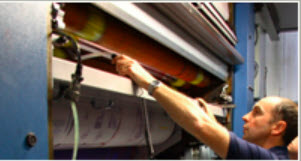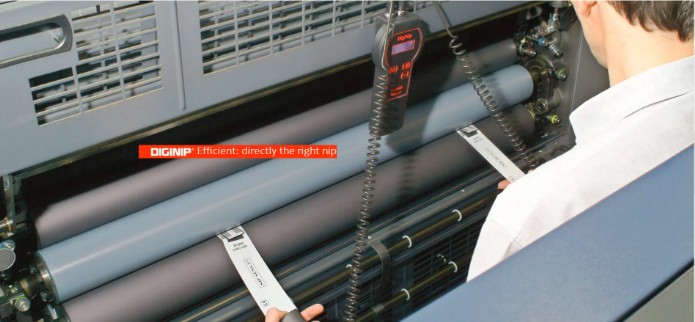 TECHNOLOGICAL APPROACH
To find new ways of improving productivity, printers must find and focus their investments on peripheral printing press equipment, such as production management or shop floor management software, quality control systems or high added-value on-line or off-line finishing solutions.
Today, all rotary or sheet-fed offset presses reach very high productivity levels through increased speed, the automation of certain functions like plate clamping, ejection of waste sheets, non-stop production, cylinder washing and circuit cleaning etc., resulting in considerable time savings.
But what of the real reduction in plate changing time and the machine down-time?
It was while examining this problem and its causes that Antoine Krier, engineer and head of Krier SA, developed DIGINIP and registered a worldwide patent that revolutionises nip measurement : in effect DIGINIP simplifies the approach to managing the multiple requirements of accurate, random and parallel measurement of NIP.
DIGINIP: finally, a measurement tool able to measure, gauge and define the correct nip width in record time
can display values in mm or in inches.
When the nip width and pressure are the same… or when specific pressure in the contact zone (NIP) needed to transfer the fluids is obtained by means of a complex equation that includes dynamic compressibility, compression value regulation and the differences in roller thickness over time.
DIGINIP
is composed of three elements: a digital unit that displays the measurements taken and two hand-held assemblies with flexible sensor strips.
Sensor
Polyester measuring sensor

bite measurement from 1 to 30 mm,

precision 0.1 mm,

tolerance ± 10%.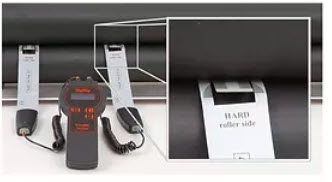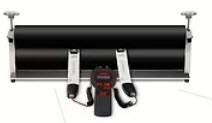 PRODUCTIVITY
Immediately verifying the correct nip width on a press enables you to rationalise and standardise a great number of randomly-performed tasks. Acquiring a measurement tool forces habits to change and affords the opportunity to implement enterprise-specific methods.
DIGINIP
assists the press supervisor with a visual display of parallel measurements (to 1/10th mm, expressed in mm or in inches). The ideal pressure or pinch can at last be memorised. A table of reference values can be drawn up, providing a history by group and by machine.This memorisation of nip width facilitates changeover times between shifts (visible references and time markers).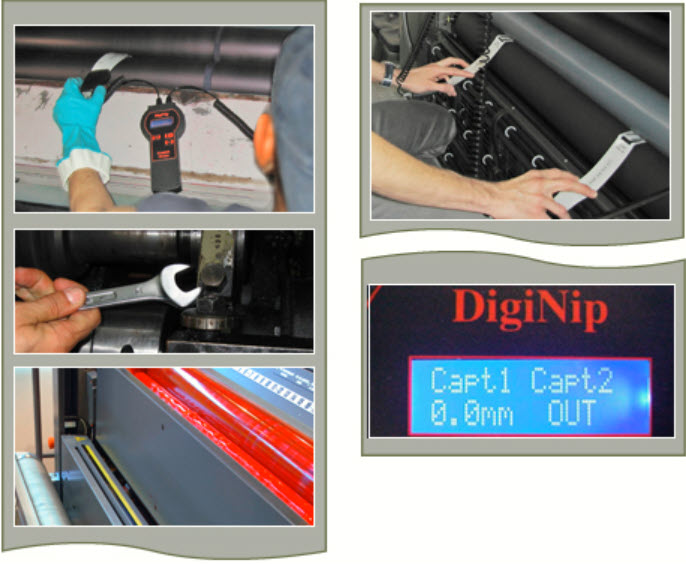 Printability
Deformations caused by inappropriate nip width between inking rollers, dampening rollers, impression cylinders and blanket rollers are multiple. In parallel, over-heating due to excessive roller pressure contributes to increasing the problem by denaturing the water/ink emulsion.
DIGINIP
can establish a prior, precise diagnosis and eliminate a large number of later interventions (which would otherwise only take place after the effects were observed on the printed paper).
DIGINIP
, the reliable, precise measurement tool for your print shop, enlarges its role and changes internal habits to identify the causes of problems.
DIGINIP, AN EFFICIENT TOOL FOR ANALYSING AND SOLVING PRINTABILITY PROBLEMS:
Gfilling-in, incorrect alignment, flecking, pilling, increased thickness, peeling, blurring, flutter, etc.