Rotational Viscosimeter 2

RM 100 Touch
Universal viscometer
Our expertise ensures your results are reliable
You can programme your measurement methods directly using RM 100 TOUCH's touch screen, and back up your data so you can analyse or export them
OPTIONAL MEASURING GEOMETRIES
• Spindles L 1 - 4
• Spindles R 2 - 7
• Spindles MK DIN 1 - 3
• Spindles BV 1 - 1000
• Spindles MK-R2 to R5
• Spindles MK Krebs KU 1-10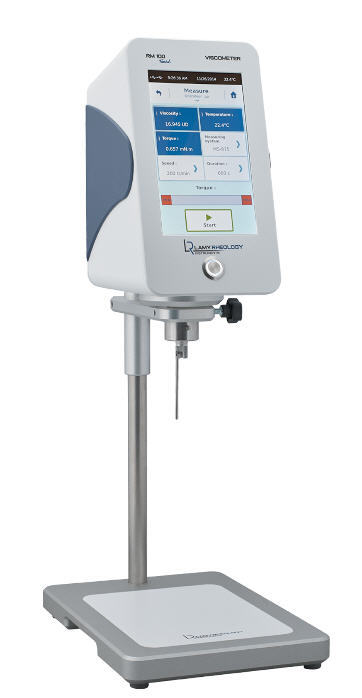 Type of instrument:
Rotating viscometer
Speed range : Unlimited number of speeds between 0.3 and 1500 rpm
Torque Range :
From 0.05 to 30 mNm
From 0.005 to 0.8 mNm (LR VERSION)
Temperature :
The RM 100 TOUCH has a PT100 sensor which indicates temperature
between -50 °C to + 300 °C.
Accuracy :
+/- 1 % of the full scale
Viscosity Range :
1 - 540,000,000 mPa·s depending on the measuring geometry used
Display :
7" Touch screen
Display Settings :
Viscosity | Speed | Torque | Temperature | Time | Measuring geometry
Choice of viscosity units:

cP/Poises or mPa.s / Pa.s – Shear rate
Security and Confidentiality :
An "operator" function allows you to enter a username for you instrument.
This user must then be identified using a 4-digit code. There is also a protected mode that locks your measurement conditions.
Supply Voltage: 90-240 VAC 50/60 Hz
Analog Output : 4 – 20 mA
Torque range to be defined by user
PC Connections : RS232 Port and USB
Printer Connection : USB Host Port
Benefits for you :
Connect your RM 100 TOUCH to our temperature control systems (i.e.: EVA DIN, EVA MS-R, EVA LR-BV, RT1, CP1)
Memorise your measurement protocols directly on your viscometer.

The RM 100 TOUCH lets you set measuring times for thixotropic products.

You can connect a USB printer. External control thanks to the optional VISCO RM software.

Carry Case : Optional
Dimensions and weight : Head: L180 x W135 x H250 mm
Hardened steel stand: L280 x W200 x H30 mm
Stainless steel rod: Length 500 mm
Weight: 6.7 kg

RM100Touch-portable

Universal PORTABLE viscometer with carry case
Save your data of measurements on site
Carry out measurements directly while being produced and save your results on a USB stick thanks to the Portable RM 100 Touch.
OPTIONAL
MEASURING
GEOMETRIES
• Spindles L 1 to 4
• Spindles R 1 to 7
• Measuring system MS DIN 1 to 3
• Measuring system MS BV 1 to 1000
• Measuring systems MS-R 1 to 5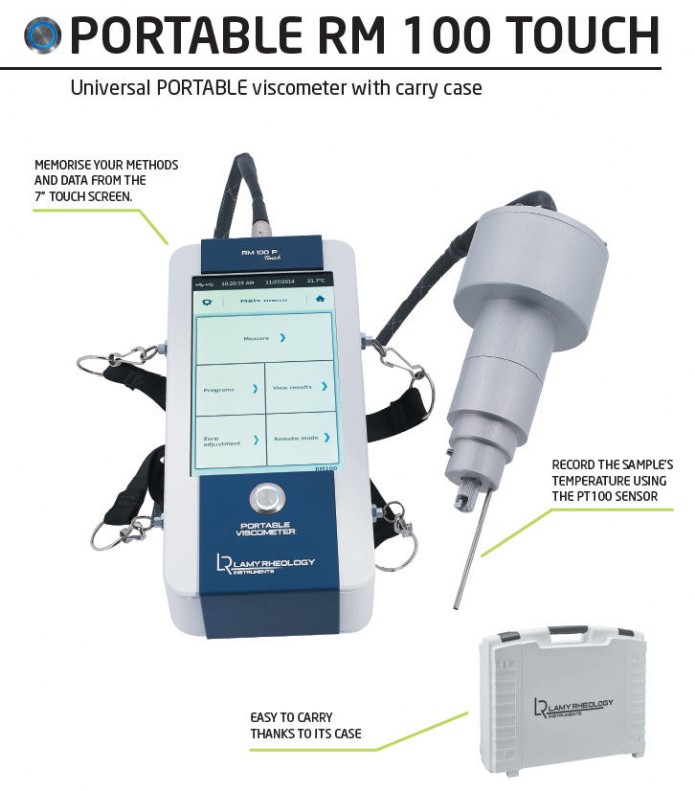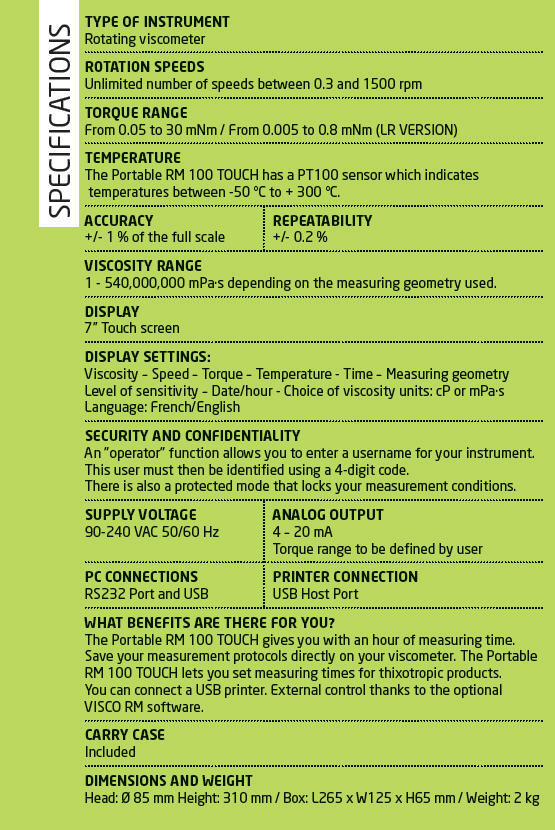 RM100 touch Geltimer

Viscometer – Gel timer
Determine the gel times of your resins and scalable products
The RM 100 TOUCH GEL TIMER is ideal for monitoring viscosity changes in your products up to a solid state.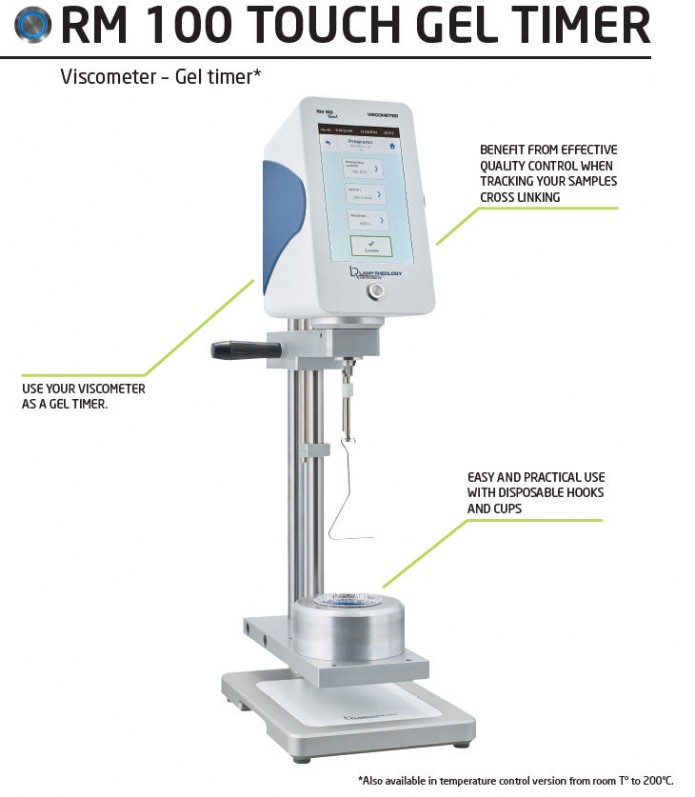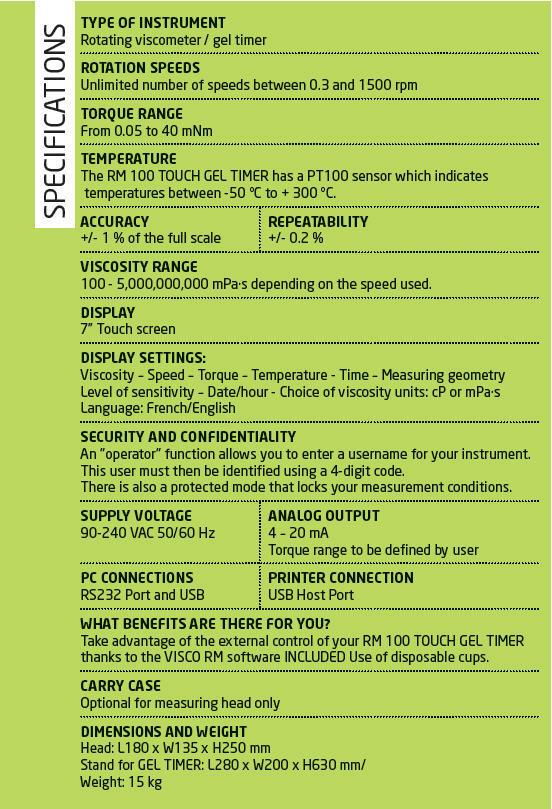 OPTIONAL ACCESSORIES AVAILABLE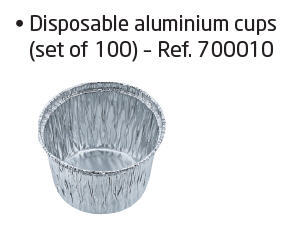 RM 100 Touch CP 2000
Cone-Plate Viscometer with cone included
Cone plate viscosimeter that adapts to your products constraints
If you find your products difficult to clean or you have small quantities of samples, choose the RM 100 TOUCH + CP 2000