Machu-Test-Bath
Coatings & Industry > CORROSION > Humidity chamber
Machu-Test-Bath, Model 530

Test instrument for the execution of short-term corrosion tests (immersion test) on test panels, using to obtain the QUALICOAT labels (quality community for industrial coating).
The container with lid is made of polypropylen, with an integrated small container with grooved base for setting up samples, equipped with a thermostat and a circulating pump.
The Machu-Test-Bath, Model 530, is developed for short-term immersion corrosion tests. The test is made in a warm and acidic test solution at a temperature of 37 °C for a duration of 48 h.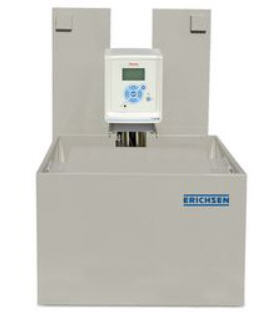 The Machu test is an accelerated salt spray test.
It's an excellent screening tool for quick evaluation of coating products, specially developped for research and developpment, and customer service.
24 hours test duration is equivalent to 500 hours salt spray.
48 hours test duration is equivalent to 1.000 hours salt spray.
The Machu test gives you the opportunity to evaluate the weathering performance of powder coating system. Pigments fading, film haziness, loss of gloss and film softening after 48-96 hurs test duration.
A simply wat to point out outdoor durability problems.
The test solution consists of natrium chloride, acetic acid and hydrogen peroxide. After a test period of 24 h the test solution has to be renewed and the pH value corrected by using hydrogen peroxide.
The Machu test is used to obtain the QUALICOAT label and works according to the requirements of QIB (Quality Community for Industrial Coating).
The Machu-Test-Bath container with top cover is made of Polypropylen, and is equipped with a thermometer and circulation pump.
Because of the aggressive test solution a smaller container is integrated to place the test panels inside. The bottom of the test container is equipped with slots to place the test panels with an angle of 15° or 20°.
Qualicoat recommends :
"Before immersion, a cross-cut incision with a width of 1 mm shall be made on the significant surface with a special tool to cut the coating down to the metal. If the dimensions of the sample are smaller than 70 x 70 mm, one scratch will be made lengthwise."
"Accelerated corrosion test, on extruded sections of AA 6060 or AA 6063 only"
The test panels need to be scratched crosswise with a 1 mm cutting tool through the coating to the metal by a scratching tool. We recommend our Scratching Tool according to Sikkens, Model 463.
Technical Data
Dimensions:
Bath-Container approx. 540 x 400 x 260 mm
Test-Container approx.. 350 x 300 x 240 mm
Weight (net): approx. 18 kg
Temperature: 37 °C +/- 1 °C
Test duration: 48 h +/- 0,5 h
Power supply: 230 VAC
REF : 101-530.01.51 Machu-Test-Bath, Model 530
Accessory
Cutting tools :
REF : 101-
0100.01.31
Scratch Stylus acc. to Sikkens, Erichsen Model 463 for the application of cross-cuts
Samples :
REF : 206-6060 63-1 Aluminium test panels AA6060/6063 (150x70x0,8 mm) 100 pces
REF : 206-6060 63-1/S Aluminium test panels AA6060/6063 (70x70x0,8 mm) 100 pces
Also available per 200, 300 and 400 units
Machu Tests Stainless Steel Thank
Baths model SPL and Gbath1800 particularly indicated for Machu Tests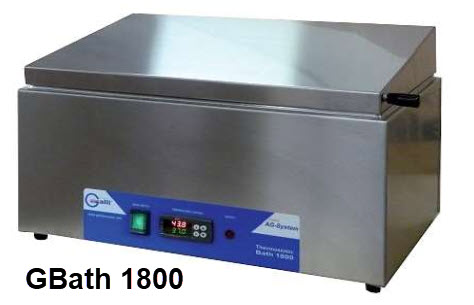 GBath 1800 Laboratory Thermostatic Bath AGS SMART +95,0°C
* Stainless Steel Tank, AISI 304 with rounded corners

* Eco-friendly Insulation, high energy saving

* Stainless Steel External Structure, AISI 304

* Predisposed for the addition of Gable Cover with Hinges (OPTION)
Control System Advanced GalliSystem SMART
* Microprocessor with Digital Double Display

* Set Point and Inner Temperature Visualization

* Optimized Control Algorithm with PID Actions

* Platinum PT100 Temperature Probe, Class A

* "Zero Crossing" Solid State Relays

* Temperature Calibration Function

* Independent Safety Thermostat with low level protection
GBath 1800 Laboratory Thermostatic Bath AGS SMART +95,0°C
Code & Description
GBATH1800X06S
GBath 1800 Thermostatic Bath 300x150x150mm 6L from T.A. +5,0°C to +95,0°C AGSystem SMART Double Display + Safety System NO Drain Tap
GBATH1800X20S
GBath 1800 Thermostatic Bath 330x300x200mm 20L from T.A. +5,0°C to +95,0°C AGSystem SMART Double Display + Safety System WITH Drain Tap
GBATH1800X30S
GBath 1800 Thermostatic Bath 500x300x200mm 30L from T.A. +5,0°C to +95,0°C AGSystem SMART Double Display + Safety System WITH Drain Tap
Options
GBath 1800 Option Lids and Bottoms

GBath 1800 Option Darin Tap and Level Control


GBath 1800 Option Tubeholders and Containers




GBath 1800 Option

Constant Water Level System

GBath1800 Option Connections on request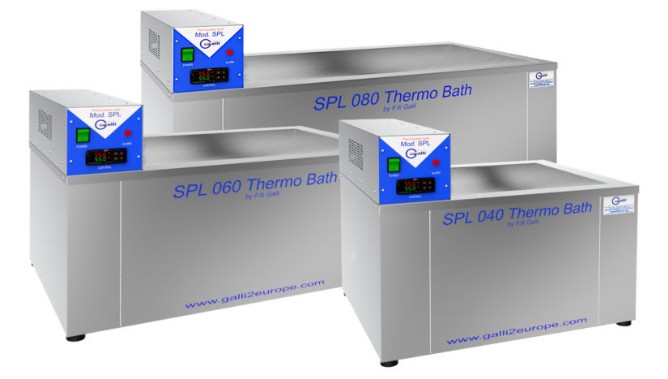 SPL Thermo baths
SPL Large Capacity Thermostatic Bath +100,0°C
Stainless Steel Tank, AISI 304, TIG-welded

Stainless Steel AISI 304 External Structure

Bipolar Main Green Switch

Motorized Stirrer with Deflectors and False Bottom

Armored heating resistors

Drain Tap

Independent Safety Thermostat

Control System AGS SMART or PRO
PID Microprocessor with Double Digital Display

Set Point and Internal Temperature visualization

Autotuning Function

Calibration and Offset Function

Platinum PT100 Temperature Probe, Class A

"Zero Crossing" Solid State Relays

Timer 99h 59min.

Display resolution: ± 0,1°C

Profiles Selection (PRO version only)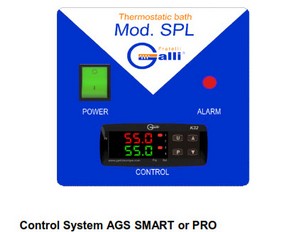 SPL Large Capacity Thermostatic Bath AGS SMART +100,0°C
Code & Description
BSPL0040DSXXX
SPL Large Capacity Thermostatic Bath, Digital, with Drain Tap 400x400x250mm 40L AGSystem SMART +100,0°C
SPL Large Capacity Thermostatic Bath, Digital, with Drain Tap 600x400x250mm 60L AGSystem SMART +100,0°C
SPL Large Capacity Thermostatic Bath, Digital, with Drain Tap 800x400x250mm 80L AGSystem SMART +100,0°C
SPL Large Capacity Thermostatic Bath AGS PRO +100,0°C
Code & Description
BSPL0040PSXXX

SPL Large Capacity Thermostatic Bath, Digital, with Drain Tap 400x400x250mm 40L AGSystem PRO +100,0°C
BSPL0060PSXXX
SPL Large Capacity Thermostatic Bath, Digital, with Drain Tap 600x400x250mm 60L AGSystem PRO +100,0°C
BSPL0080PSXXX
SPL Large Capacity Thermostatic Bath, Digital, with Drain Tap 800x400x250mm 80L AGSystem PRO +100,0°C
Mod. SPL Options
SPL Option For Water Baths All Volumes Constant Water Level System

SPL Option All Volumes Cooling Coil


SPL Option All Volumes Drain Tap



SPL Option All Volumes Circulating Pump

SPL Option All Volumes Connection for External Recycling Pump


SPL Option All Models Silicone Tube with Thermal Isolation, 1mt.



SPL Option All Models Viton Tube with Thermal Isolation, 1mt.

SPL Option All Models Tube Ties, 2pcs.


SPL Option All Volumes Polypropylene Hollow Balls (1000pcs.)



SPL Option Stainless Steel Flat Cover with Handle for 40L volume

SPL Option Stainless Steel Flat Cover with Handle for 60L volume


SPL Option Stainless Steel Flat Cover with Handle for 80L volume



SPL Option Stainless Steel False Bottom Height-Adjustable for 40L volume

SPL Option Stainless Steel False Bottom Height-Adjustable for 60L volume


SPL Option Stainless Steel False Bottom Height-Adjustable for 80L volume



SPL Option Stainless Steel Adjustable Flat Cover for False Bottom with Handle for 40L volume

SPL Option Stainless Steel Adjustable Flat Cover for False Bottom with Handle for 60L volume


SPL Option Stainless Steel Adjustable Flat Cover for False Bottom with Handle for 80L volume



SPL Option Anti-Drip Stainless Steel Gable Cover with Handle and Hinges for 40L volume

SPL Option Anti-Drip Stainless Steel Gable Cover with Handle and Hinges for 60L volume


SPL Option Anti-Drip Stainless Steel Gable Cover with Handle and Hinges for 80L volume



SPL Option RS485 Interface with ModBus Protocol