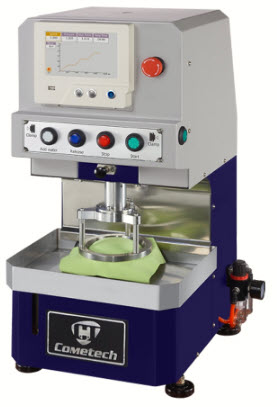 QC-317F
Hydrostatic Head Tester - Digital Type is used for determining the water penetration resistance of high-waterproof clothingor coated fabrics by conducting the hydrostatic pressure test.
The size of specimen is unrestricted.
It is equipped with a 7 inch-touch screen.
The value is displayed in high precision.
At the same time, it also has the curve diagram of pressure and display of the temperature.
It is very easy for operation to obtain precise pressurization rates and pressure values.

Because of the design of special power-saving and pressurize control, the pressure speed is stable. It is neither affected b soft nor hard test specimen. With the automatic decompression system, it can reduce the water- sputtering when the test specimen is cracked.

Hydrostatic Pressure Tester is equipped with waterproof buttons and has enormous space views and observation and fitted with luminance. With the use of low-consumable gadgets, the tester itself reduces the necessity for maintenance.



Conform to Standards
AATCC 127

JIS L1092

ISO 811

ISO 1420

DIN 53886

EN 20811
If you are looking for a equipment that conforms to AATCC-127, ISO 811, etc., our high-end model QC-317F could be a good solution.
This tester allows a steady increase of water pressure at a rate of 0,05kgf/cm2 /min (50 cmH2O/min).
It has programmable pressure-time control capability and the testing pattern becomes variable and flexible.
All test data are displayed on the touch screen in real-time graph and can be saved through USB slot.
Two testing methods:
A-hydrostatic pressure method




B-Certain pressure method.



Specifications
Test Range :
0.05 ~ 4.5kgf/c㎡ (500 ~ 45000mmH2O)
Pressurize Speed :
0.05 ~ 4.5kgf/c㎡/min (adjustable, stepless)
Pressurization Display :
bar、Mpa、kpa、kgf/c㎡、mbar、psi、mmH2O、cmH2O (8 types can be used depend on the demand).
Pressure Display Accuracy :
0.001 bar
Able to customize the rate of pressure and duration of pressurization.




Test condition set manually up to 3 steps.



The longest sustaining during is 50mins.

Pressurize Method :
Pressure control with high precise valve
Gripping Diameter :
Ø11.28 cm(100c㎡)
can be customized
Adopt pneumatic type clamp for adjusting the clamp force with different thickness of specimen




Max. clamp force is 1500kg



Temperature :
Display the real time water teperature during test for reference
Data Save :
Maximum for up to 50 data storage and can be transmitted by USB.
Language :
Chinese, English, Japanese.
Air Compressor Need :
Above 5 kgf/cm²
Dimension :
44 x 45 x 75cm
1. Display real time water temperature and pressure curve

2. Able to set pressurize speed, pressure, and sustaining duration with 3 stages

3. Able to test the whole cloth with bigger test space

4. Safety stop system to decrease the pressure when specimen burst