Metal Testing > Sheet Metal Testing > Model 126 Plus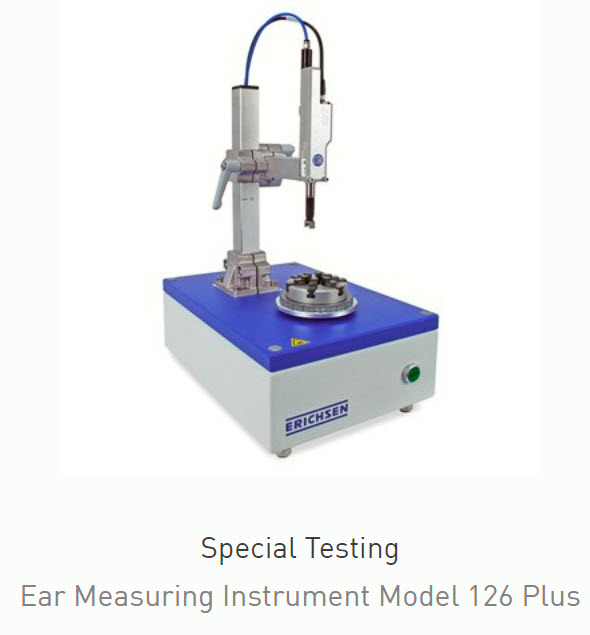 Sheet Metal Testing : Ear Measuring Instrument Model 126 Plus
Ear measuring instrument, Measuring of Deep-Drawn Cups, for cups of 15 – 50 mm diameter, max. 100 mm cup height
The Model 126 Plus ear measuring instrument consists of a turntable and a vertical gauge head with a roller.
By a jaw chuck, the cup is centered and fixed.
The gauge head can be positioned to different cups heights and diameters. While revolving around its own axis, the gauge head is measuring the shape of the cup's edge.
This waveform of the cup's edge is called earring.
Purpose and Application:
The Ear Measuring Instrument, Model 126 Plus, is designed for the axial measurement of deep-drawn cups and raw cans.
Typical standards are DIN EN 1669 and ISO 11531.
All measurement results are displayed on a screen.
Results can be archived as files.
Sheet metal anisotropy and deep drawing parameters will result in different earring values.
The detailed determination of parameters discloses tool wear and the quality of the deep-drawing material used.
Test principle:
The operator starts the measurement process by PC or directly at the device.
Pneumatically activated, the gauge head will move towards the cup.
The turntable will rotate by 360°.
After completion, the measurement head will move to idle position.
This facilitates a rapid cup exchange.
Due to its flexible concept this instrument is also applicable for all similar tasks.
Operation software is included. A PC is to be supplied by the customer.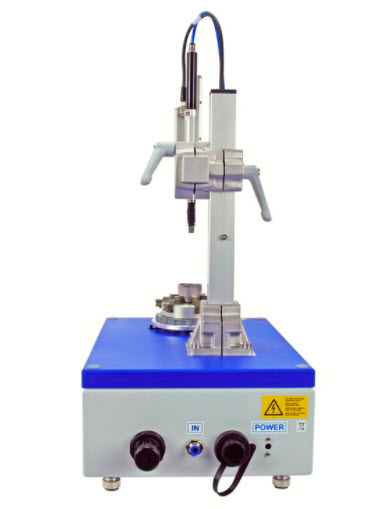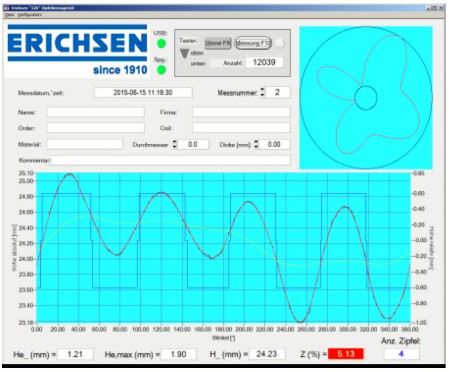 Technical data:
Cup diameter: 15-50 mm (other diameters on request)
Centering and fixing:
Jaw chuck
Measurement values per revolution:
>5000
Sensing device:
M2,5 roller
Measurement force:
approx. 2,5 N
Measurement stroke:
50 mm
Sensor resolution:
0,00005 mm
Sensor accuracy:
±0,0001 mm
Display accuracy:
0,02 mm
Indicated digits:
0,01 mm
Time per measurement process: approx. 15 s
Test start: PC or from device
Results display: PC screen
Power supply: 110-240 AC 50 Hz
Compressed air: Plug 6x1 mm 2-6 bar dry, degreased
Housing:
Steel, powder coated
Working temperature: 10 - 40 ºC
Dimension: 350 x 250 mm, Height max. 550 mm
Required: PC, min. WIN XP SP3
Compressor or compressed air connection