Back to the Quali Steel Coat testing procedures
Back to the Qualicoat
testing procedures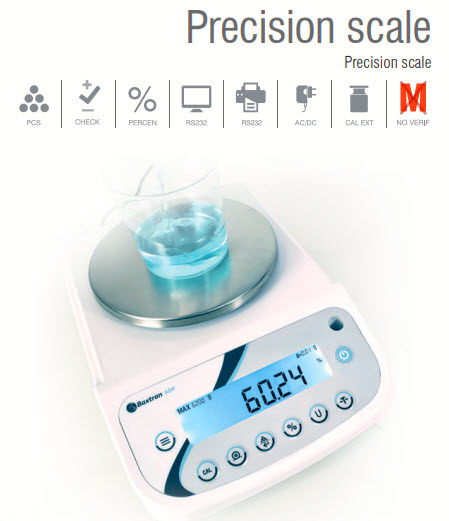 ADP Precision Balance

FEATURES:
• LCD backlight display, digits of 15 mm.

• External calibration.

• Stainless steel pan.

• Weighing pan dimensions: Ø160 mm

• Scale with acoustic notification (buzzer).

• Operating temperature: +10ºC +30ºC.

• Power supply: AC/DC 100-240VAC 50/60Hz.

• Multiple units of measure: gram, ounce, carat, pennyweight.

• RS232 output.

• Weighing system with load cell.
FUNCTIONS:
• Zero

• Tare

• Piece counting

• Determination of percentage

• Checkweigher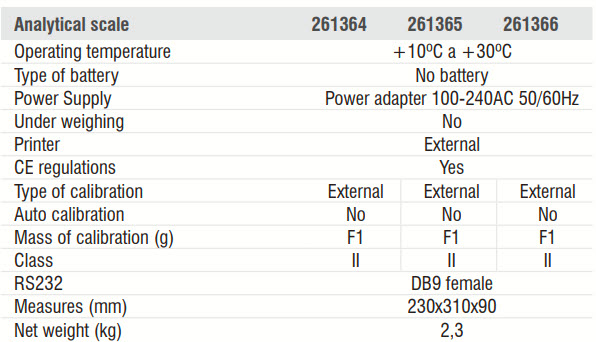 Code # Capacity Readout Pan dimensions Packing dimensions Packing weight
261364 2200 0,01 Ø160 430x320x180 4
261365 4200 0,01 Ø160 430x320x180 4
261366 6200 0,01 Ø160 430x320x180 4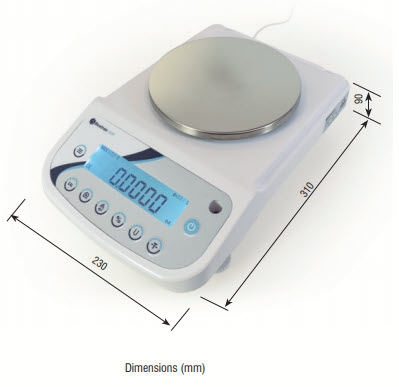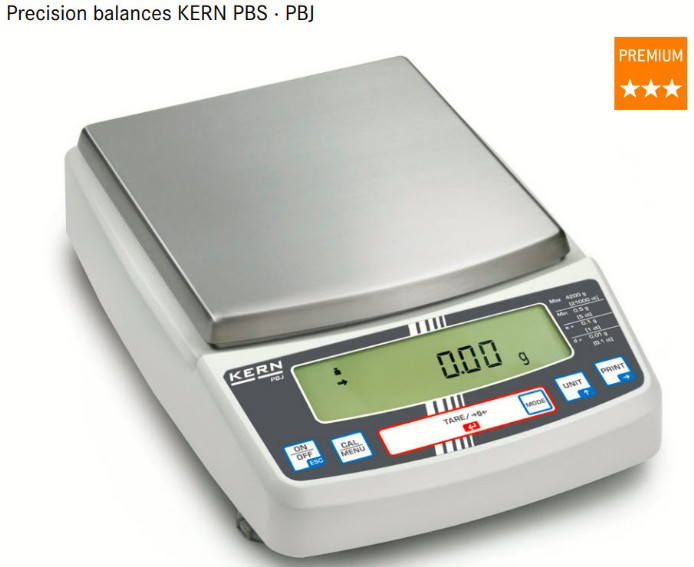 Precision balances KERN PBS · PBJ

Multifunctional laboratory balance with single-cell weighing system and EC type approval [M]
Features
· KERN PBJ: Internal adjustment in the case of a change in temperature and time-controlled at defined intervals, guarantees high degree of accuracy and makes the balance independent of its location of use
· KERN PBS: Adjusting program CAL for quick setting of the balance accuracy using an external test weight
· Metal housing: robust and sturdy
· Dosage aid
· Weighing with tolerance range (checkweighing): a visual signal helps with portioning, dispensing or grading
· Totalising of weights · Identification number: 4 digits, printed on calibration protocol freely programmable
· Automatic data output to the PC/printer each time the balance is steady
· 1 Draught shield standard for models with [d] = 0,001 g, weighing space W×D×H 180×193×87 mm
· Protective working cover included with delivery
Technical data
· Large backlit LCD display, digit height 14 mm
· Dimensions weighing surface, Stainless Steel
A W×D 108×105 mm
B W×D 170×180 mm
· Overall dimensions W×D×H 209×322×78 mm (without draught shield)
· Net weight approx. 3,2 kg
· Permissible ambient temperature 10 °C/30 °C
Large backlit LCD display, digit height 14 mm

Dimensions weighing surface, Stainless Steel A W×D 108×105 mm B W×D 170×180 mm, see larger picture

Overall dimensions W×D×H 209×322×78 mm (without draught shield)

Net weight approx. 3,2 kg · Permissible ambient temperature 10 °C/30 °C



Accessories
Protective working cover, scope of delivery: 5 items, for models with weighing plate size



2 Set for density determination of liquids and solids with density ≥ 1, for models with weighing plate size
RS-232/Ethernet adapter for connection to an IP-based Ethernet network, KERN YKI-01




Further details, plenty of further accessories and suitable printers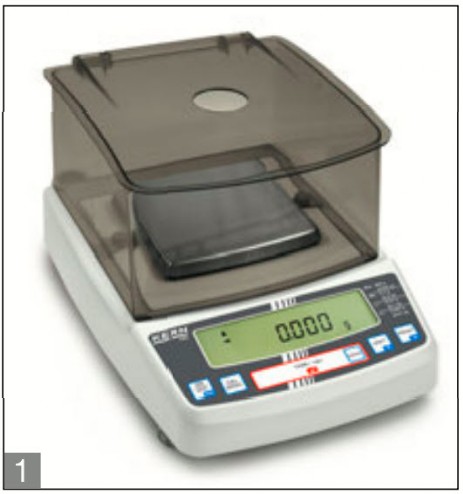 3 Single-cell advanced technology:
Fully automatic manufactured weighing cell from one piece of material

Stable temperature behaviour

Short stabilisation time: steady weight values within approx. 3 s under laboratory conditions

Shock proof construction

High corner load performance