ISO 3664:2009
Graphic & Printing Industry > Visual Color Control Devices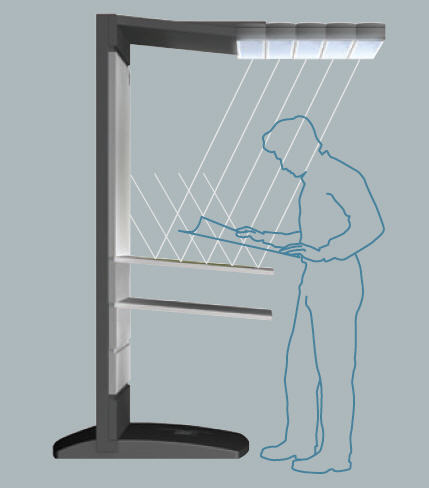 The international standard ISO
3664:2000
has redefined the viewing
conditions for the Graphic Arts and
Photography Industry.
These strict
requirements cannot be met by using
generic fluorescent tubes or fixtures.
JUST Normlicht
has not only met the ISO 3664:2000
specification but has exceeded the
standard.
JUSTNormlich Daylight 5000 proGraphic fluorescent tubes however comply with all criteria of the standard:
Color coordinates, defined as x = 0.3478 and y = 0.3595,tolerance allowed only 0.005°.




Color temperature 5000 Kelvin(D50), mandatory for allprepress and press activities.




Color rendering value Ra > 90. - CRI - JUSTNormlich Daylight 5000 proGraphic fluorescent tubes CRI = 95,6




a luminance level of 2000 Lux (+ / - 250 Lux) on the viewing surface




an even distribution of the light and a glare and shadow free viewing environment.



According to ISO 3664:2000, the color rendering value (CRI) is derived from 8 test colors. This being a relatively small sample JUST daylight 5000 proGraphic tubes are further tested from 215 colors. Even here JUST daylight 5000 tubes meet a value of CRI215 = 95.6, which is above any of the values set by common industry standards.
To determine the maximum metameric error, the ISO 3664 : 2000 specifies the metamerism index of a viewing booth for the visible spectrum with a value MI(vis) < 1,0 and for UV the MI(uv) < 4. The next version of the ISO 3664 the value for the MI(uv) is decreased to < 1,5. Just Normlicht products are already achieving this future requirement.


Control Station CtP Pro


The Control Station CtP Pro makes spot checks of CtP- and conventional Offset Plates more efficiently and safely.
Today, quality control becomes much more important during all digital prepress steps, especially with the process of computer to plate. The printing plate is the last and sometimes the only visible hardcopy that can be checked before starting the printing press.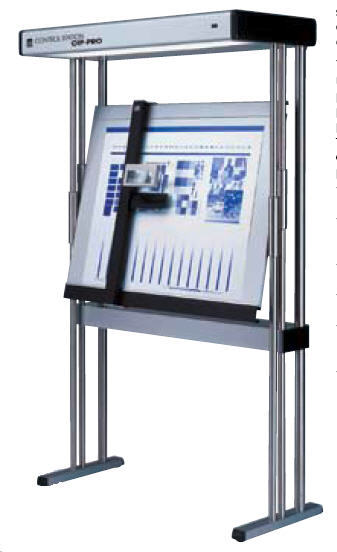 - Comes with an asymmetrical proof light for even illumination of the plate
- Vertical control panel allows comfortable and easy positioning of plates
- Magnifying glass with comfortable hand rest support
- Magnifying glass moves smoothly in vertical and horizontal directions
- Manual height adjustable plate board for comfortable working in upright position
- Adjustable slanted plate board can be used for color matching of press sheets under standardized lighting conditions.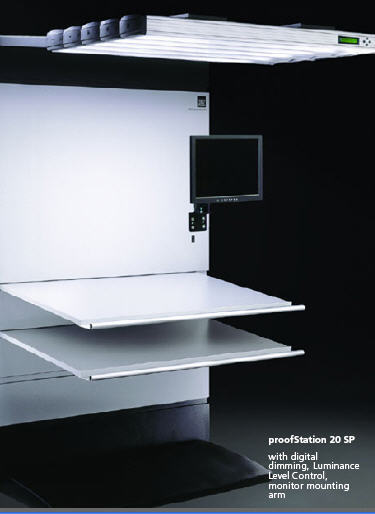 proofStation

JUST Normlicht proofStation is setting new standards in design, functionality and innovative lighting technology

with improved values for light distribution and luminance levels


with a perfect combination of form and function by offering an ergonomically and aesthetically designed industrial product


with a user friendly design, ranging from integrated magnetic surfaces to automatic monitored LED indicators for relamping


with modular single lamping units allowing the construction and set up of custom sized proof lights

JUST Normlicht visual color viewing systems for sheet size 70 x 100 cm (28 x 40") are providing superior standardized lighting conditions for the digital work flow.
Asymmetrical light reflectors with state of the art prismatic, optical diffusion screen.
TLSI Technology: automatic warning for relamping after 2500 hours of light bulb use.


Standardized lighting ISO 3664:2000


even illumination (+/- 250 Lux)


special fluorescent tubes JUST daylight 5000 proGraphic


asymmetrical light reflectors


state of the art prismatic, optical diffusion screen


glare- and shadow free


color rendering quality CRI 8 = 98 / CRI 215 = 95,6


LED-hour counter with TLSI Technology


different models available with shelves and storage drawers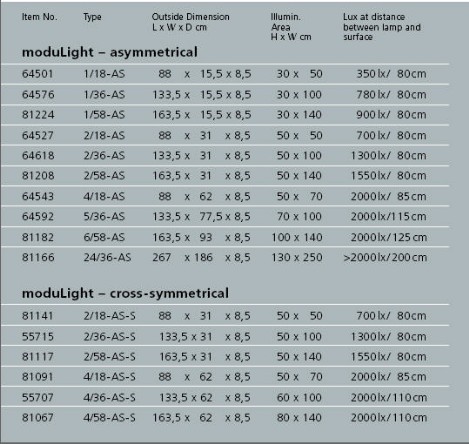 Standardized light for flexibl
e a

pplication:
JUST moduLight
If you have a small meeting
room or a complete print shop the
moduLight is flexible enough
to fit into every room situation
and creates standard lighting
conditions where ever they are
needed.