Floor Scales
VFS Series Stainless Steel
Multifunctional Stainless Steel Floor Scale for Standard Washdown Industrial Applications
The OHAUS VF Series of floor and pit mount scales is a solid lineup of stainless steel scales that do not compromise on quality.
Powered by four stainless steel IP68 hermetically sealed load cells that will withstand years of daily usage in industrial environments, these scales offer a unique combination of affordability, versatility and quality.

Four IP68 electro-polished stainless steel load cells that are laser-weld hermetically sealed and OIML approved are standard on all models.

The combination of floor-pit mount design and bead blasted stainless steel fixed decks provide versatility for placement in an above or below ground installation.

OHAUS VF Series has a T51XW indicator that has software for parts counting, dynamic weighing, percent weighing, checkweighing, display hold and can meet traceability requirements.

Applications
Weighing, Parts Counting, Percent Weighing, Checkweighing, Dynamic/Animal Weighing, Display Hold
Display
Backlit liquid crystal display (LCD), 3 color checkweighing LEDs
Operation
Power cord (included) or rechargeable battery (accessory sold separately)
Communication
Easy access communication port including RS232 (included) and 2nd RS232 or RS422/RS485 (accessories sold separately). GLP/GMP data output with real-time clock.
Construction
IP66 stainless steel indicator with hinged front cover, bead-blasted stainless steel platform, IP67 stainless steel junction box with top access, IP68 OIML R60 electro-polished stainless steel load cells, pit frames, ramps and foot plates (accessories sold separately)
Design
Standard Features Include:
• Four popular capacities: 300kg, 600kg, 1,500kg and 3,000kg, in 5 sizes: from 800 x 800 mm to 1,500 x
2,000 mm
• Painted mild steel or bead blasted stainless steel fixed deck models, with structural channel bracing that
ensures a rigid and durable construction
• Combination floor-pit mount design provides versatility for portable or stationary placement, above or below
ground installation
• Four IP68 electro-polished stainless steel load cells, laser-weld hermetically sealed (OIML) – standardized on
all models
• Four load cell mounted, swivel-design, self-adjusting stainless steel feet with removable rubber caps
• Top access IP67 dust and water immersion protected stainless steel junction box with heavy duty 5m long cable
• Available 2nd stage verified scale models 1:3000e with OHAUS T51 Series indicators
• OHAUS indicators featuring backlit LCD displays with high-visibility 25mm high digits, 3-color
checkweigh LED and configurable beeper, 7 weighing units (kg, g, lb, oz, lb:oz, t, custom),
universal switching power supply, RS232 and external input with optional 2nd RS232,
RS422/485, AC and CD relay kits
• Available pit frames, mounting plates, and ramps
with bottom support
channels that resist bending during heavy loads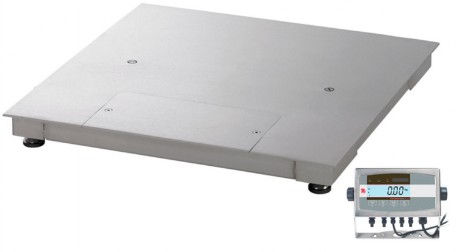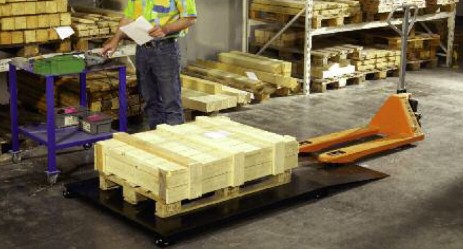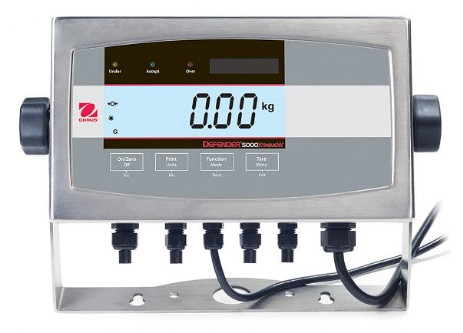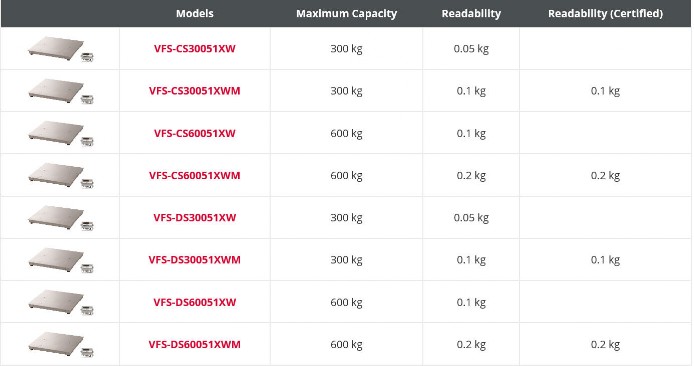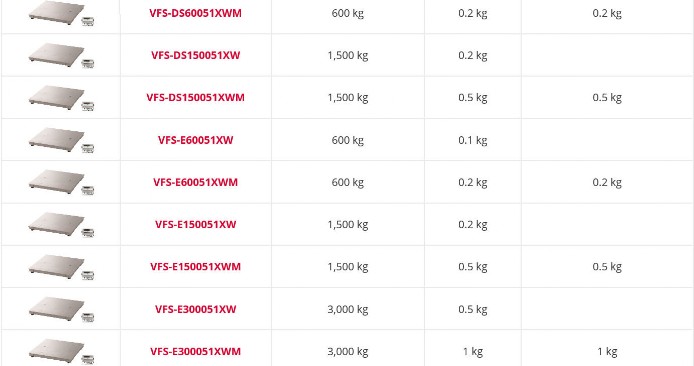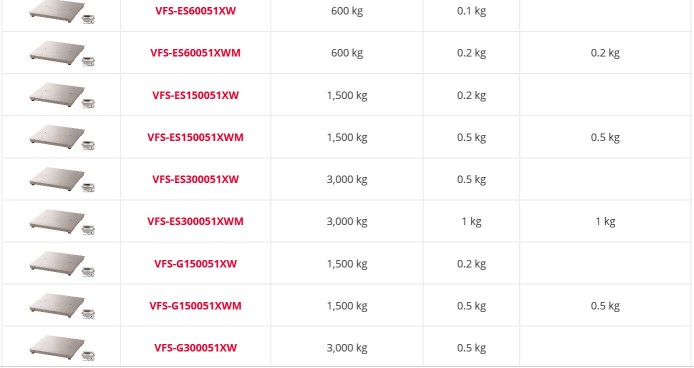 Included Components and Features
Eye Bolts (2) and Mounting Dowels (4):
• Threaded eye bolts are included for ease of lifting
and installation
• Eye bolts are made of galvanized mild steel
• Floor mounting dowels are made of mild steel or
stainless steel
Load Cell Mounted Stainless Steel Feet (4):
• Pendulum design ensures even footing to the ground
• Includes removable rubber cap to minimize slippage
• Feet are height adjustable and can be locked into position to
ensure consistent leveling
Junction Box:
• Easy access from the top of the platform
• Stainless steel (AISI304) IP67 dust and water immersion
protection for the potentiometers and summing board
housed in the enclosure
• Enclosure Size: 193L x 75W x 45H mm, Cable Length: 5m
Multi-Purpose Cleaner:
• Included with stainless steel models
• Multi-purpose rust protectant / cleaning oil safe for food industry