ASB P
Scales > For Retail
ASBP SERIES PRICE COMPUTING "RETAIL" SCALE
Dual range price computing scales with column, for commercial use.
Connectable to the printer, for amount totalisation function.
10 PLU memory.


TECHNICAL FEATURES
3 backlit LCD displays on keypad on operator side and 3 backlit LCD displays on revolving column on customer side, with digits 20 mm high, for simultaneous indication of weight, price and amount.
Membrane waterproof numeric and functional keypad with 20 keys and acoustic feedback.
Stainless steel plate, 230 x 300mm size.
Level and adjustable feet.
Built-in rechargeable battery (about 70 h battery life) and 230 Vac power adapter.
RS232/C port for connection to printer.
Overall height from ground with indicator and column: 530mm.
Packaging: 550 x 380 x 235mm size - approximate weight of 6kg.
Master Pack: 2 x (550 x 380 x 235) mm size - 2 x approximate weight of 6 kg.
Upon request:
- ACCREDIA calibration with issuing of relative certificate;
- 3000e + 3000e dual range CE-M approval.
FUNCTIONS
Price computing:




- change of unit price: €/kg - €/100g;




- entry of unit price;




- amount totalisation (with optional printer);




- calculation of the change;




- 10 PLU memories;

zeroing;

Zero tracking;

Semi-automatic tare;

Digital calibration;

Auto switch-off;

Backlight command;

Low battery warning.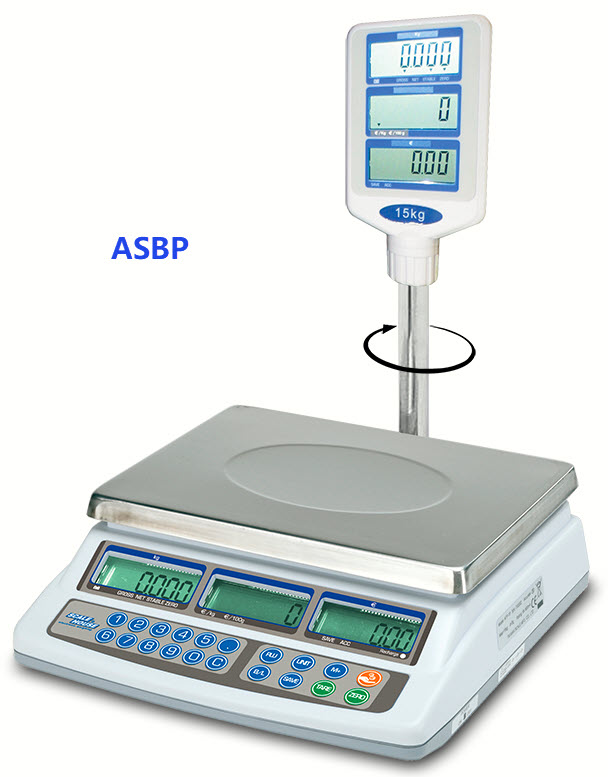 Available versions
Code Max d

(kg) (g) 2R (g)*
345-
ASBP30
15/30
5/10
5/10
(*) CE-M divisions are obtainable only with the relative options.
NOTE: ACCREDIA calibration certificate available upon request.
Options only available at time of scale's order
ECEM2 CE-M single platform legal for trade multi range approval.
BTPRSHABS thermal printer for Scale House products (to be combined with specific cable for each scale).
58 mm paper width; 50 mm roll diameter;
power supply through built-in 110-240 Vac power adapter.335.00