NEW MiniTest 2500/4500
Coatings & Industry > Physical properties > Thickness Dry Film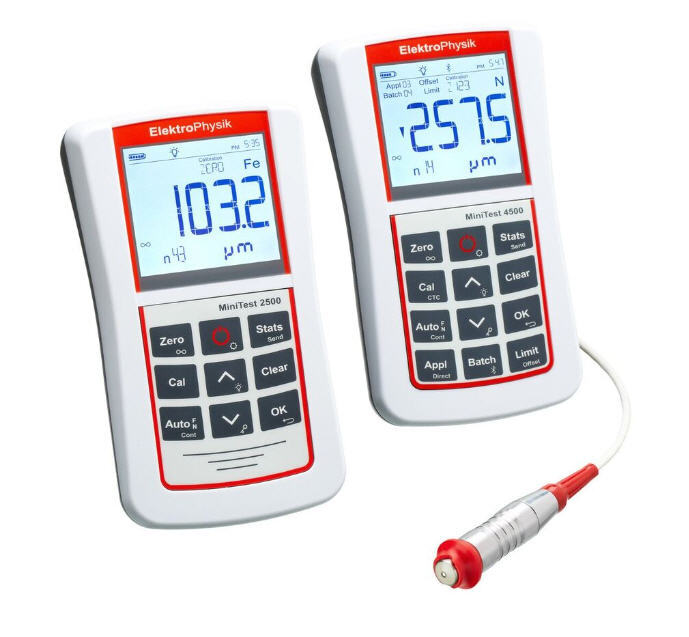 Coating thickness measurement MiniTest 2500/4500

Classic Design
All functions directly accessible

Large selection of interchangeable sensors
High-contrast display and illuminated keypad
Memory and Statistics

Bluetooth and USB Output

IP 65 Rated Rugged housing

Connect the MiniTest 2500 or 4500 directly to your computer (like a USB key) and you will read the data into the files.
So, a software is no longer necessary.

In addition, the MiniTest 4500 also offers bluetooth so with the MiniTest 4500 you can also use the MiniView App (to download on GooglePlay for free) for a transfer data on your computer, on your tablet or smartphone.
Precision gauges »Made in Germany« since 1947
The portable coating thickness gauges
MiniTest 2500 and MiniTest 4500 measure
non-destructively using either magnetic
induction or the eddy
current principle.
The
gauges are useful for a wide
range
of applications
where high precision
coating
thickness measurement is
required
including :
industrial corrosion,
protection,
decorative
coatings
in design
sector,
or daily use by:
Manufacturers and end-users of all

types of coated products



Auditors and inspectors

Electroplating and paint shops

Chemical industry

Automotive production, ship building,

aviation, plant and mechanical engineering



MiniTest coating thickness gauges are
not only useful in the laboratory but are
equally qualified for use in industrial applications
thanks
to
their rugged
housing
with
a IP 65 rating.
Both models feature
USB
output for connection to notebooks
and
PCs.
The
MiniTest
4500 additionally
offers a Bluetooth output for wireless data
transfer to mobile devices like Smartphones
and printers directly on site.
All
gauge
functions can be triggered directly
pressing
a single key of the illuminated
keypad.
The
large display with background
illumination
adds to a high level
of
user comfort and ergonomics.
A
broad
selection
of measuring sensors is available
for the MiniTest
2500/4500 line of
coating
thickness gauges allowing
it to
handle
standard applications
as well
more
complex measuring tasks.
The
scope
of application
is determined by the
sensor
connected to the gauge:
F-type sensors work according to the

magnetic induction principle and can

measure non-magnetic coatings such as

paint, enamel, rubber, aluminum,

chrome, copper, zinc etc applied on iron

and steel (including steel alloys and

hardened magnetic steels).




N-type sensors work according to the

eddy current principle and measure insulating

coatings

such as paint,

anodizing,

ceramics etc. applied on all non-ferrous

metals (for example aluminum, copper,

zinc die cast, brass etc.) including austenitic

steels.




FN-type sensors combine both principles

and identify the substrate underneath the

coating thus automatically switching to

the correct measuring principle to measure

on base material

steel or non-ferrous

metal.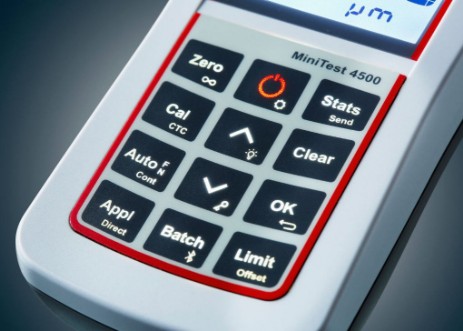 Technical data

Data memory







- Total number of storable readings

- number of application memories for batches

with individual calibration

- number of batches per application memory

for batches with identical calibration

Statistical functions (per batch)

kvar, n, max., min., CP, CPK

Calibration

Factory settings, zero and up to four calibration points




Calibration through coating if the base material

is not accessible (CTC)

Offset function

for addition or subtraction of a constant value

Limit settings (user definable) with monitoring function

Optical

and

acoustical

alert

when

a limit

is

exceeded

Measuring units

Interface

Upgradeable interfaces

alarm output, trigger for footswitch,

RS 232 interface

Power supply

3 x AA (LR06) batteries, USB

Operating time per battery set approx.

150 hours (illumination deactivated)

Norms and standards

DIN EN ISO 1461, 2064, 2178, 2360, 2808, 3882; ISO 19840; ASTM B 244,

B 499, D 7091, E376

Display

Operating / Storage temperature

–10 °C … 60 °C / –20 °C … 70 °C

Dimensions / Weight

153 mm x 89 mm x 36 mm / 320 g

(gauge incl. batteries),

90 g rubber protection case

Protection class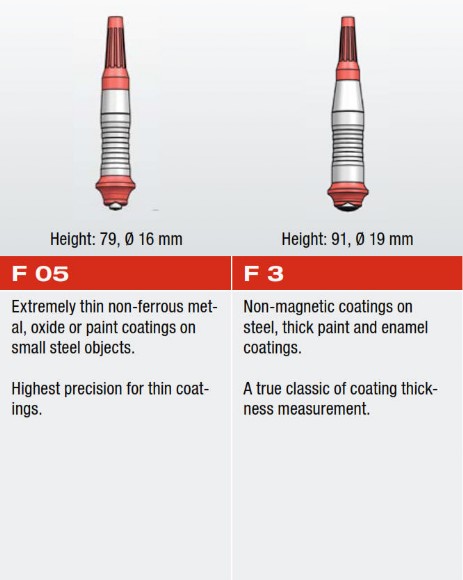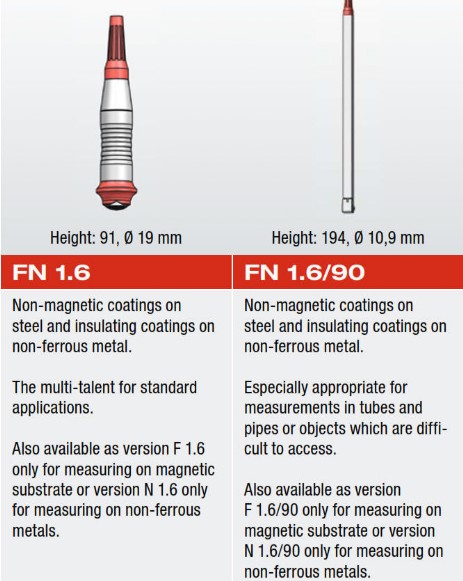 Probe Model

Measuring range:

Low range resolution:

Guaranteed tolerance

(of reading):


Minimum substrate

thickness:

FN 1.6

0…1600 µm

0.1 µm

± (1%+1 µm)*

F 0.5 mm/N 50 µm

FN 1.6/90

F 05

0…500 µm

0.1 mm

F 3

0…3000 µm

0.5 mm

F 10

0…10000 µm

5 µm/

1 mm

F 20

0…20000 µm

10 µm

2 mm

F 50

0…50000 µm

10 µm

± (3%+50 µm) *

2 mm

F 2 HT

0…2000 µm

0.2 µm

± (1 %+1 µm) *

0.5 mm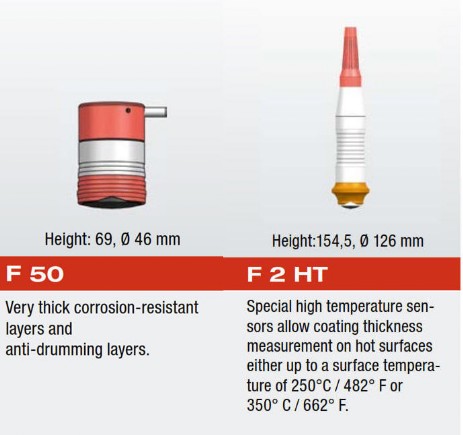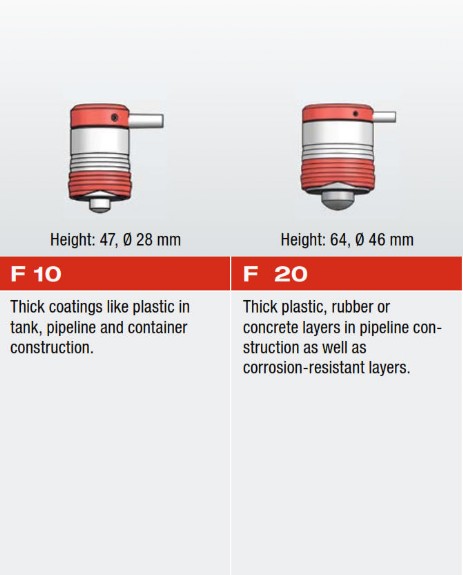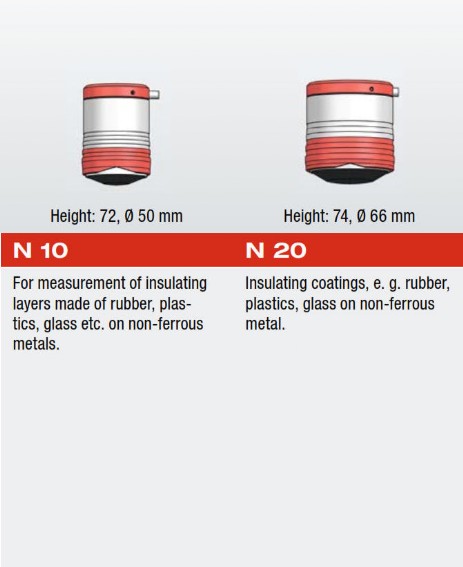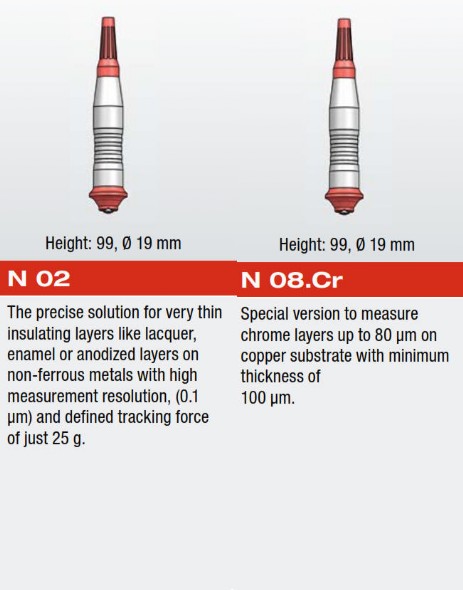 Probe Model

Measuring range:

Low range resolution:

Guaranteed tolerance

(of reading):


Minimum substrate

thickness:

± (1%+0.5 µm) *

50 µm

N 08.Cr

0…80 µm

0.1 µm

100 µm

N 10

0…10000 µm

± (1%+25 µm) *

50 µm

N 20

0…20000 µm

± (1%+50 µm) *

N 100

0…100000 µm

± (1%+0.3 µm) *