Dry Ice Monitoring
Temperature > Cold Chain Monitoring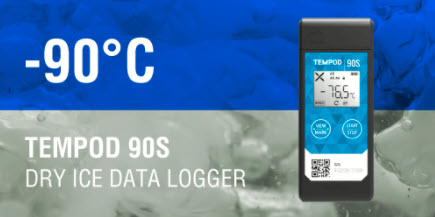 Tempod 90S
Probeless dry ice data logger designed to be completely placed in dry ice shipper
Measurement :

-90°C...70°C

Sensor :

Internal RTD Probe

Battery life : 30 days

Display will
Freeze at -90, but readable at 0°C
One-time logger ;

single use : after 30 days monitoring stop logging, Battery cannot be change by user
Monitor for up to 30 days a
t -90 Celsius
Complies with
IATA PI970 II and RTCA/DO-160G Environmental Conditions and
Test Procedures for Airborne Equipment
, qualified for air shipment in active status.
SPECIFICATIONS
Sensors : Temperature: Internal RTD sensor
Memory Capacity : 28800 readings
Measurement Range : -90°C...70°C
±0.7°C (-90°C…-30°C)

±0.5°C (-30°C …30°)

±0.7°C (30°C …70°C)

Start Mode : Manual / Auto start
Logging Interval : 1 minute...2 hours
Logging Mode : Start & Stop
Alarm Ranges : High and low alarm / 5 alarm ranges
Battery : 3.6V lithium battery
Battery Life : 30 days (logging interval >= 5mins)
•OK(✓), Alarm(x), alarm zones

•Temperature statistics (max, min, avg)
Button(s) : Start / Stop / View / Mark
Automatic Data File : Encrypted PDF report with embedded raw data
Software : TempCentre Data Management Software
Compatible OS : Windows 7 / 8 / 10
Calibration : Factory NIST traceable 3-point calibration
Certifications : CE, RTCA-DO160G, IATA PI970 II
Dimensions : 100mm L x 40mm W x 12mm H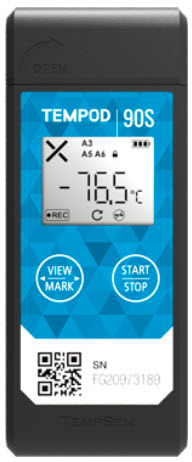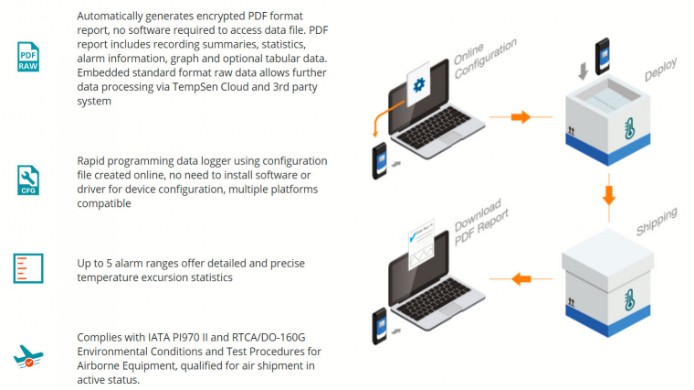 With the TempSen GO App you wil control the temperature monitoring, read the alarm, download the report, and make a pdf to deal the report with supplier, customer or colleague.
Report automatically available when Tempod is connected to a usb port.