Percussion
Metal Testing > Hardness Testers > Portable > Mechanical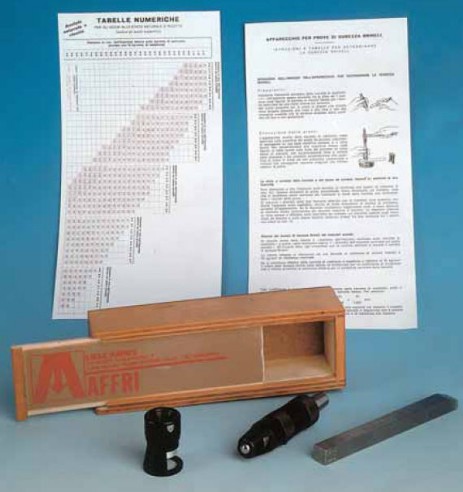 Technical characteristics (code 5001)

BASIC CONFIGURATION:
- Probe with ball indenter 10 mm
- Calibrated test block
- Eyepiece with micrometric scale
- Table for immediate Brinell values on cast iron, carbon steel


Applicable accessories
- Microscope 1216 for more accurate readout of indentations,
- SET of 10 test blocks



HOW TO OPERATE :

- Introduce the test block on the probe hole
- Place the probe on polished test surface
- Strike the top of the probe with the hammer
- Read the indentation on test piece and test block and convert indentations to Brinell values using the tables

Take a look at our Easy Brinell, electonic microscope : the perfect complement to the Percussion

AFFRI PERCUSSION

BRINELL


The indentation is created following a single hammer blow on the probe.
• A great tool for very simple and easy Brinell tests
• Large forged and cast iron parts can be checked in 5 seconds
• Very economic


Simple and easy to use.

The economic solution for technician who needs to control by customer or by supplier.