Medical and Pharma
Temperature > T° Monitoring

MadgeTech's cold chain and storage data loggers monitor and record the temperature of items in storage or during
transit. They efficiently collect data to aid in maintaining product quality and compliance.
TransiTempII
-40 °C to +80 °C Applications
The TransiTempII is a low cost, splash-proof temperature data logger featuring a highly precise
semiconductor temperature sensor and an ABS plastic enclosure. This affordable device is ideal
for monitoring and recording the temperature of all types of perishable products, including
food items and medical/pharmaceutical goods, both in storage and in transit.
-20 °C to +70 °C Applications
The TransiTemp-EC temperature data logger is designed for high volume, low cost in-transit
recording. It has a custom molded case with a handle for convenient attachment and comes
in single and multi use versions. This compact, portable, easy to use device will measure and
record up to 8,191 readings. The storage medium is non-volatile solid state memory, providing
maximum data security even if the battery becomes discharged or when the device stops
taking data.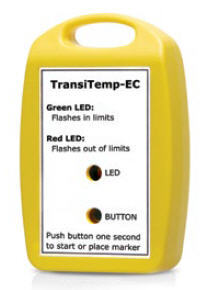 MadgeTech's Vaccine Temperature Monitoring System (VTMS) is ideal for the continuous measurement and data
logging of temperature sensitive vaccines or pharmaceuticals in refrigerators, freezers, coolers and incubators.

Overview
VTMS
Vaccine Temperature Monitoring System
With the ability to view and reset statistics manually, the VTMS data logging system provides the tools needed to comply with specific
storage and handling instructions for medical observations and control mandated by the CDC.
The system includes an RFTCTemp2000A data logger with thermocouple probe, glycol bottle and calibration certificate. Additionally,
the RFTCTemp2000A data logger in the VTMS system has a convenient LCD to display the current reading, minimum, maximum and
average statistics. The RFTCTemp2000A is wall mountable and capable of transmitting data wirelessly in real-time to a central PC.
MadgeTechs Vaccine Temperature Monitoring System (VTMS) is ideal for the continuous measurement and data logging of temperature sensitive vaccines or pharmaceuticals in refrigerators, freezers, and coolers.

• Laboratories and Hospitals

• Vaccine Temperature Monitoring

• Medical & Pharmaceutical Monitoring

• Process Verification and Validation
Features
Specifications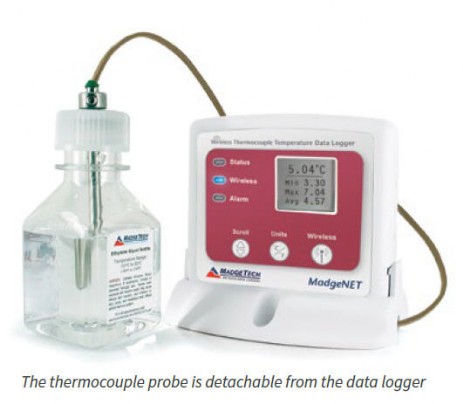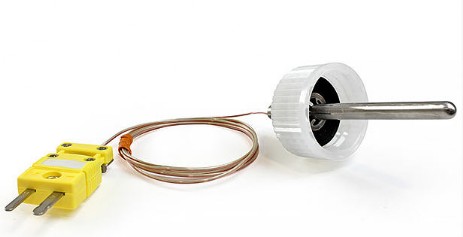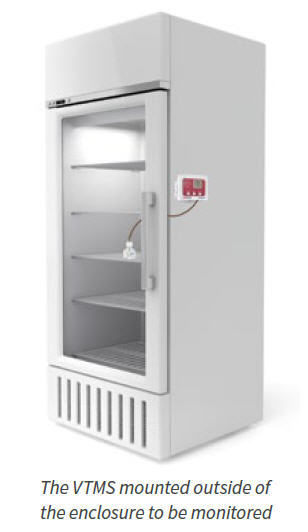 ORDERING INFORMATION
MODEL DESCRIPTION
VTMS Vaccine Temperature Monitoring System. Includes data logger with calibration certificate, thermocouple probe, glycol bottle
and 9 volt AC wall mounted adapter.
RFC1000 Wireless RF receiver/repeater. USB to mini USB adapter & power supply included.
RFC1000-CE Wireless RF transceiver/repeater, CE approved for Europe. USB to mini USB adapter & power supply included.
RFC1000-IP69K Wireless RF transceiver/repeater, splash proof with an IP69K rating. USB to mini USB adapt included.
U9VL-J Replacement battery for RFTCTemp2000A.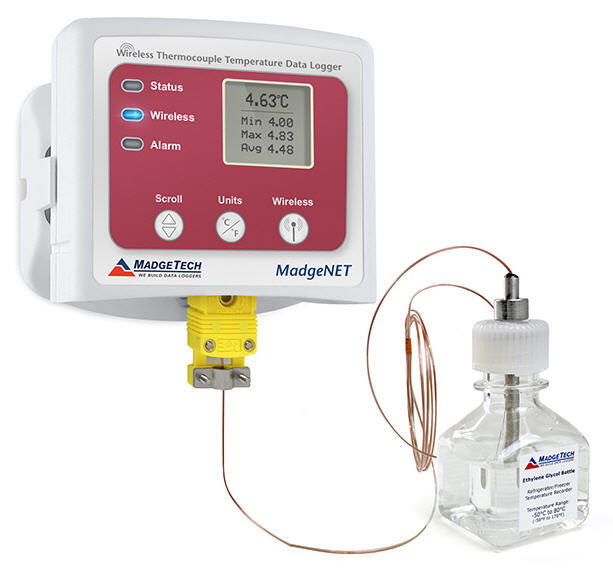 The LyoTemp is designed to be a rugged, reliable, cost-effective solution for temperature monitoring inside
lyophilizers. The ease of use and simple setup provide a significant time and cost savings over traditional
thermocouple based systems.
Overview
LyoTemp
Lyophilization Data Logger
The LyoTemp data logger is designed for use in ultra-low operating temperatures for processes such as lyophilization.
The LyoTemp
has an operating range of -60 °C to +75 °C, enabling the entire device to be placed inside the lyophilizer chamber.
It
features a hermetically sealed thermistor, offered in a 121,92 mm length, to allow for temperature monitoring inside vials and ampoules.
The LyoTemp data logger offers a smart, affordable solution for a wide range of applications including the preparation of biological pharmaceuticals, monitoring plasma and red cell freezers.
Specifications 1
Specifications 2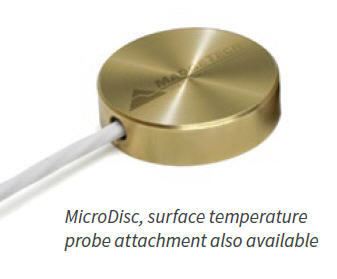 The MicroDisc accessory can be fitted to the end of the thermistor, providing a solution for surface temperature monitoring for
chamber mapping.
The compact size and simple operation make the LyoTemp user friendly and reliable. The LyoTemp has three LED indicators to alert or
inform the user of the logging status and manual start and stop options available at the device. Other features of the LyoTemp include
delayed start configuration, user configurable alarms and password protection.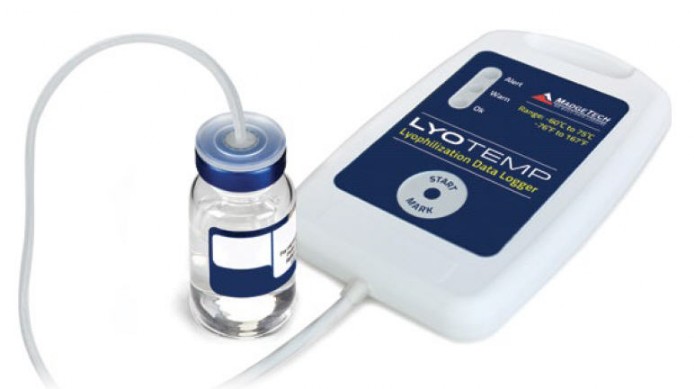 MadgeTech's cryogenic data loggers monitor and record the temperature of items in storage or during transit
providing the necessary quality control to maintain effective standards of service.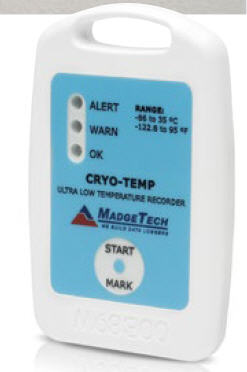 -86 °C Cryogenic Storage & Transport
The Cryo-Temp is a stand alone, ultra low temperature logger that can measure as low as -86 °C
without the need for external robes. The enclosure is designed with a handle for easy attachment
and is IP64 (splash-proof). It is equipped with three LED's to signify logging, indicate when user-set
warning limits have been breached and when temperature alarm limits have been exceeded. The
features of this device make it ideal for monitoring pharmaceutical shipments, blood-bank storage,
stem-cell samples and any other substance that requires dry-ice shipments or storage.

Overview
LNDS
-196 °C Liquid Nitrogen-based Applications
MadgeTech's LNDS, Liquid Nitrogen Data Logging System, is an ultra-low temperature measurement system created specifically for the
monitoring of temperature sensitive substances that need to be preserved at cryogenic temperatures.
The LNDS can be mounted to the top or outside of
a cryo-shipping container or freezer, and the probe
sheath can be inserted into the tank. The user can
then directly view the internal temperature through
the LCD on the logger, in addition to minimum,
maximum, and average statistics.
Applications
• Liquid Nitrogen Monitoring
Features
System includes
TCTemp2000
TCTemp2000 Data Logger
Thermocouple Temperature Data Logger with LCD (Wall mounted power adapter included).
The TCTemp2000 is a thermocouple temperature data logger perfect for applications requiring instant remote readings of temperature. The 8-button keypad and large LCD provide convenient access to current data and data logger setup.
This data logger has an internal temperature sensor and one external input for J, K, T, E, R, S, B and N type thermocouples. Additionally, memory and battery levels, external power status, sampling and recording status are shown on the LCD.

Available on-screen data includes: statistics (min, max, average) for both channels; recording status (start, stop and recording rate); display options (channels shown, units, text size); and calibration information (date calibrated, date for recalibration). Statistics can be cleared at any time during logging.

The TCTemp2000 comes with a wall mounted universal power adapter.

Thermocouple probe sold separately.
Specifications
Accessories

Medical and Pharmaceutical
Data Logging Solutions

For real-time continuous monitoring, MadgeTech's wireless (RF) series is a time-saving and cost effective solution
for validating temperature, humidity, pressure levels and more. A selection of models are available for use in a
multitude of applications.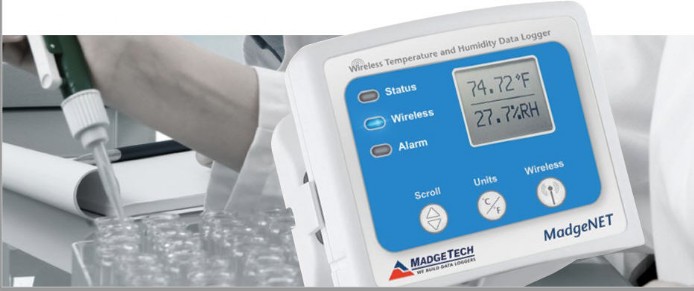 2000A Series
MadgeTech's 2000A two-way wireless series of data loggers is designed for users who want an automated, reliable monitoring solution.
Ideal for monitoring environments such as laboratories, warehouses, refrigerators, and freezers, a selection of models are available to
meet the needs of a variety of applications. The device takes readings at user-specified intervals, with data being transmitted back to a
central PC for a real-time update of temperature and/or humidity readings. A local LCD display also provides an instant readout of min,
max, average, and current readings.
The 2000A series also includes audible and visual alarms for users close by. If the temperature, humidity, pressure or CO2 levels exceed
the user defined safe range, the alarm will sound enabling the user to take immediate action. Email and text message alarms can be
programmed in addition to the audible alarm, ensuring real-time notifications regardless of location.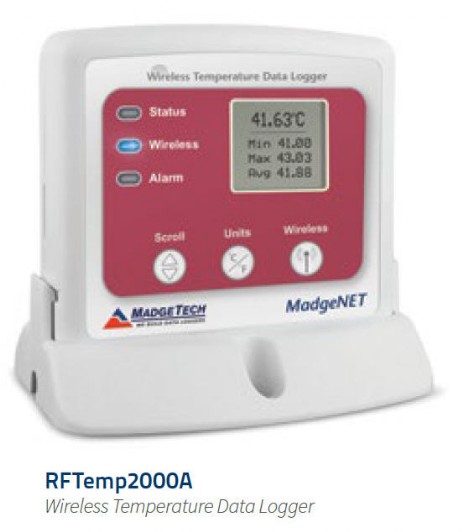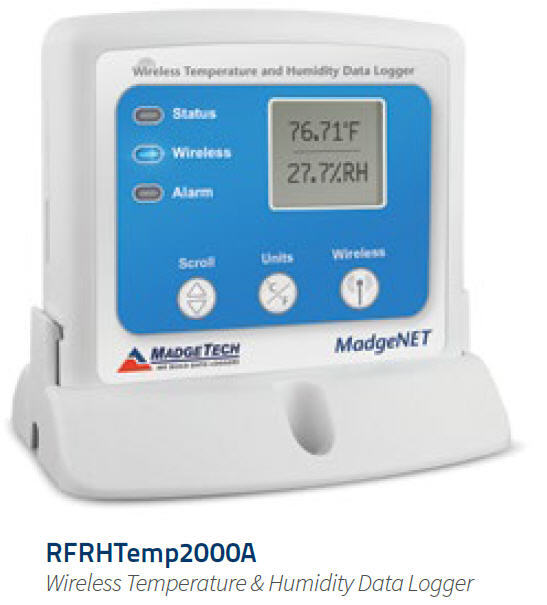 Applications
RFTemp2000A & RFRHTemp2000A
Environmental & Process Monitoring
• Refrigerators and Freezers




• Temperature




ALSO AVAILABLE :
RF Temp 2000A
RFRHTemp2000A

For applications that require extended exposure to high heat, MadgeTech has developed a line of thermal enclosures
for use with the HiTemp140 series data loggers. These thermal shields and barriers expand the capabilities of the
HiTemp140 series, making an ideal solution for monitoring the extreme temperatures and exposure time required
for effective Depyrogenation or Dry Heat Sterilization.
Overview
DHS Data Logging System
Dry Heat Sterilization Data Logging System
The DHS Data Logging System for Dry Heat Sterilization is an all in one solution that comes equipped with:
• HiTemp140-M12, High Temperature Data Logger

•

91.44 mm

Glass Braided RTD depyrogenation probe with M12 connector and flat probe tip

• ThermoVault Max, Extreme Temperature Thermal Barrier
This system is capable of withstanding and measuring temperatures up to 400 °C for 60
minutes, allowing it to record throughout the entire depyrogenation or dry heat sterilization
process. The HiTemp140-M12 data logger features the popular rugged steel body design of
the HiTemp140 data logger series with the flexibility to utilize dozens of RTD probe options
with M12 connection compatibility.
Compatibility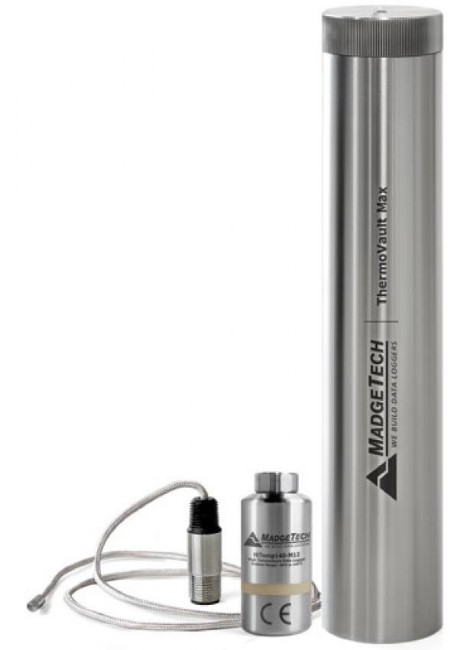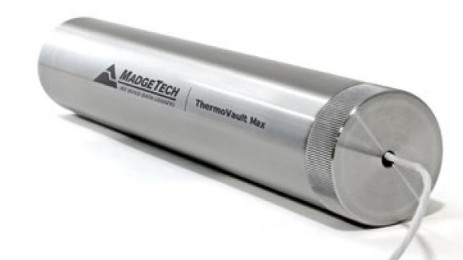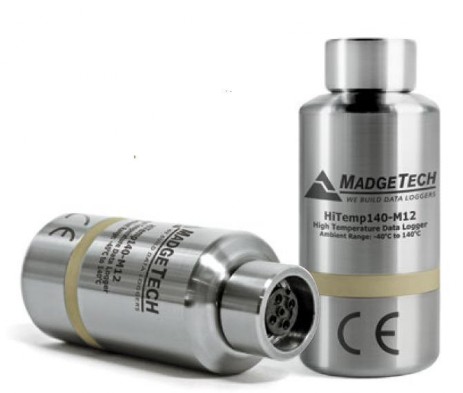 Overview
HiTemp140-M12
High Temperature Data Logger with an M12 Probe Connector
The HiTemp140-M12 features the same rugged stainless steel body as the other HiTemp140
data loggers in the series, but offers interchangeable probe options using an M12 type
connector.
The M12 connectivity makes this versatile data logger compatible with the large
variety of M12 RTD probes available today.
The HiTemp140-M12 is capable of measuring and
recording temperatures from -200 °C to +850 °C (probe dependent).

All of MadgeTech's HiTemp140 data loggers have a water tight body enclosure made of food grade stainless steel and can be placed in environments with temperatures as high as 140 °C. The operating range of the data logger body can be extended to higher temperatures when used with MadgeTech's thermal barrier options and suitable probe.

The HiTemp140-M12 records and stores up to 43,690 time stamped readings and is equipped with non-volatile solid state memory which retains data even if the battery becomes discharged.

A wide selection of compatible M12 probes are available on the market to choose from, making the HiTemp140-M12 the most dynamic data logger of its kind. With the ability to change probes as needed, this device satisfies a multitude of application needs with one powerful data logger versus the need for multiple loggers.
Note: Calibration Certificate standard calibration is two points at 50 Ω and 150 Ω and is verified at 100 Ω.
Specifications 1
Specifications 2
Probes
Accessories
Software
Flexible Probe
M12 PROBES :
M 12 Flexible Probe
High Temperature, Flexible Probe with M12 connector.
Probe Type : Flexible RTD Probe
Temperature Range : -60 °C to 260 °C
Material : Stainless Steel, PFA, Polyamide 6-6 GF
Probe Length : 76.2 mm
Probe Diameter : 2.18 mm
Weight : 26 g
IP Rating : IP67
Depyrogenation
RTD-6-1/8-1/2NPT
Rigid Probe
CIP Thermowell
Surface Temperature
Thermal Shield
For Extended High Temperature Monitoring
For applications above 140 °C, a thermal shield is available for most models
of the HiTemp140 and HiTemp140-PT series data loggers. The thermal
shield extends the operating temperature of the data logger, allowing it to
be exposed to higher temperatures for a longer amount of time.
Flush and
vented models are available to help provide probe protection.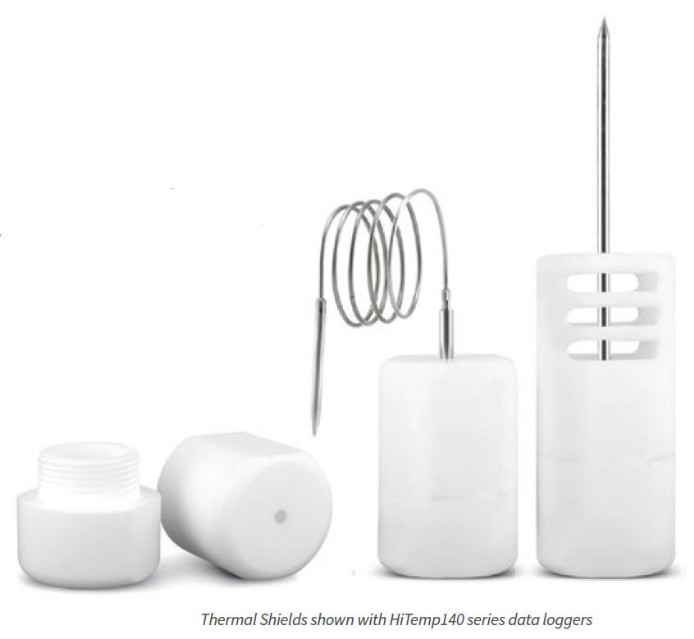 In accordance with ANSI/AAMI/ISO 11135, it is required for temperature and humidity levels be monitored during
an EtO/EO sterilization process. MadgeTech data loggers can be used to validate these parameters to ensure an
environment in which sufficient sterility levels are achieved.
The Temp1000IS data logger measures temperature and the RHTemp1000IS measures both temperature and humidity. Both devices
are designed to withstand harsh environments and record data at user selected time intervals, providing a complete temperature and
humidity profile of each EtO cycle. The stand alone operation and compact size of these data loggers allows them to fit easily into the
sterilization chamber with the product load.
The Temp1000IS and RHTemp1000IS are designed to be placed directly inside the sterilization chamber and meet the required regulation
equipment standards. These devices have been certified by FM Approvals as intrinsically safe for Class I, Division 1, groups A, B, C, D, and
non-incendive for Class I, Division 2, groups A, B, C, D, hazardous environments.
RHTemp1000IS
Intrinsically Safe Humidity & Temperature Data Logger
The
RHTemp1000IS
is MadgeTech's most robust temperature and humidity data logging solution and
features a cutting-edge thermoset-polymer capacitive sensor, that provides the longest operating
life in an ethylene oxide-based (EtO) sterilization process. With the ability to maintain resistance
against various chemical liquids and vapors like isopropyl, benzene, toluene, formaldehydes, oils and
common cleaning agents, this sensor is ideal for EtO processes, as well as continuous, long term use.
The RHTemp1000IS enclosure is made of 316 Stainless Steel. Its small size and sleek design allows it to
be placed precisely in critical locations for temperature and humidity mapping.
Overview
Temp1000IS
Intrinsically Safe Temperature Data Logger
The Temp1000IS provides an Intrinsically Safe solution for temperature monitoring in hazardous locations and features a highly accurate precision 100 Ω platinum RTD sensing element.
The external 1 inch RTD probe provides a faster response time in comparison to most standard internal sensors.
The Temp1000IS comes housed in a 316 Stainless Steel enclosure.
An optional key ring attachment is available for additional installation configurations.
The Temp1000IS has been Factory Mutual certified as intrinsically safe for Class I, Division 1, groups A, B, C and D and non-incendive for Class I, Division 2 groups A, B, C and D hazardous environments. This certification makes the device ideal for uses such as EtO sterilization, environmental studies and numerous other hostile environment applications.
Specifications 1
Specifications 2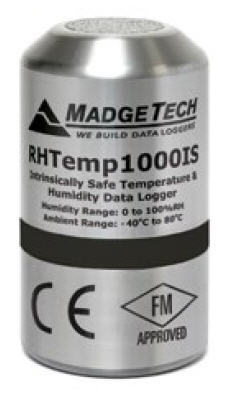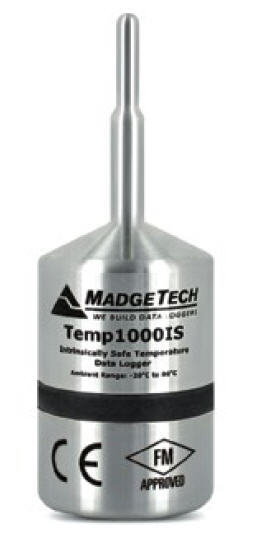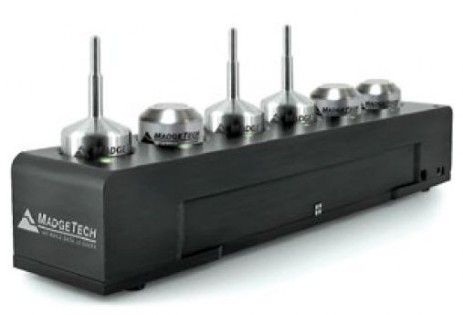 IFC406
Multiplexer Data Logger Interface
The IFC406 Multiplexer Data Logger Interface allows for multiple data
loggers to be connected and download data simultaneously. Each IFC406
accomodates up to 6 data loggers, up to 3 IFC406 units may be daisy-chained
together to communicate with a total of 18 devices through 1 USB port.
To connect multiple IFC406 Interfaces together, simply join the units side by side,
making sure the spring pin contacts are connected and magnetically joined.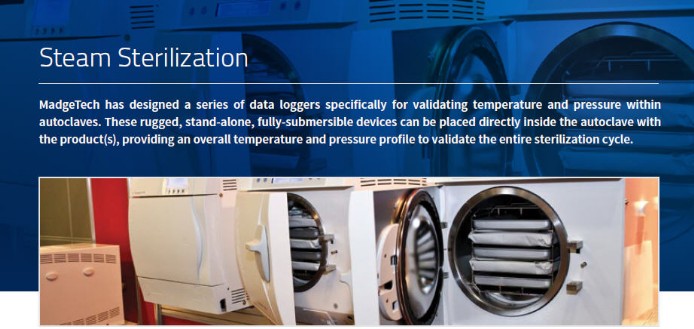 MadgeTech has designed a series of data loggers specifically for validating temperature and pressure within
autoclaves. These rugged, stand-alone, fully-submersible devices can be placed directly inside the autoclave with
the product(s), providing an overall temperature and pressure profile to validate the entire sterilization cycle.

Overview
HiTemp140
Data Logger for High Temperatures
The
HiTemp140 and HiTemp140-PT
series data loggers are MadgeTech's solution for precise high temperature monitoring. These data
loggers can indefinitely withstand temperatures of up to 140 °C. The HiTemp140 features a rigid external RTD probe capable of
measuring extended temperatures, up to 260 °C . Varied probe lengths are available up to 7 inches.
The HiTemp140-PT features
a 24 inch flexible steel RTD probe capable of measuring extended temperatures, up to 350 °C.
The
HiTemp140X2
series of dual probe high temperature data loggers offer extreme flexibility for high temperature monitoring
applications. This product is ideal for applications such as autoclave validation, sterilization processes and much more.
The
HiTemp140-FR
is a high temperature data logger with an ultra-fast response time, to record temperature during rapidly changing
thermal processes. This high temperature data logger is capable of recording as fast as 4 Hz.
The
HiTemp140-FP
probe design is narrow and lightweight making it ideal for placement within small vials, test tubes and other small
diameter or delicate applications. The flexible lightweight probe minimizes the risks of breakage (both vial and probe) and makes
placement of the probe easy to manipulate.
The
HiTemp140-M12
is a high temperature data logger designed with a built in M12 probe connecter. This logger is compatible with
dozens of M12 RTD probes and capable of measuring up to 850 °C (probe dependent).
Applications

The MadgeTech Cloud Hosted data logging platform provides
continuous logging and monitoring of temperature, pressure and
humidity data while giving users instant access from any location.
Access Data Instantly and Securely from Anywhere in the World
Scalable Solution with Limitless Applications:
MadgeTech Cloud Services is perfect for applications requiring anywhere from a single
data logger, to networks of hundreds of loggers in multiple locations.
Monitoring and Logging Continuously:
The MadgeTech Cloud allows for instant access to real-time data in the palm of your hand and
recorded data is buffered and saved to the device's internal memory. This provides uninterrupted continuous monitoring even in the
event of a power loss or network failure.
Email & Text Message Alarm Notifications:
The MadgeTech Cloud platform allows users to configure alarms to custom fit their needs.
Notifications can be sent via email or text message the moment a threshold is exceeded. Notifications are also available on screen as
well as audible and visual alerts directly on the device.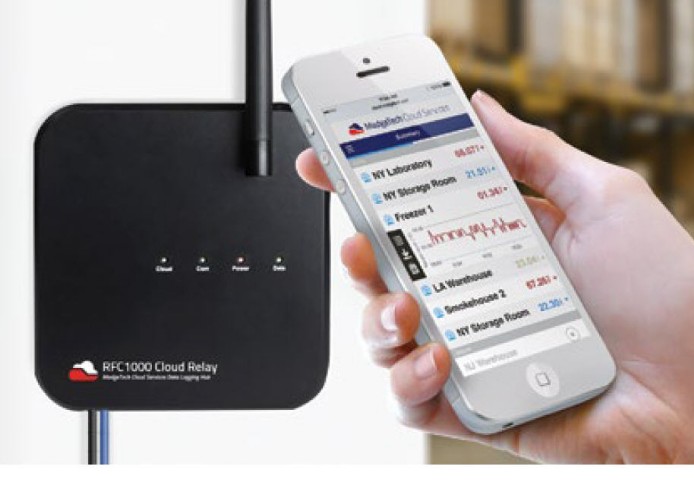 Real-Time Data can be Transmitted in Two Ways:
• Wirelessly to the PC and recorded in the MadgeTech Software.
From there, data is sent to the MadgeTech Cloud where it can be
viewed on any internet or data enabled device such as a computer, tablet or cell phone.
• With the RFC1000 Cloud Relay data logging hub that communicates via Ethernet, live data is transmitted directly to the MadgeTech Cloud Services platform
.
This allows users to remotely monitor and manage groups of data loggers, throughout a large
facility or multiple locations without the need of a central PC.
RFC1000 Cloud Relay
Data Logging Hub
The RFC1000 Cloud Relay is a data logging
hub that communicates via Ethernet to
transmit live data directly to the MadgeTech
Cloud Services platform. This allows users
to remotely monitor and manage groups
of data loggers, throughout a large facility
without the need of a central PC.
Set user access permissions, configure text or email alerts all from a smartphone, tablet or PC. Live data is sent to the MadgeTech Cloud
for instant access and all recorded data is available to download as a CSV file for your records or further analysis.