Infrared
Temperature > T° Metering
IR SERIES PORTABLE INFRARED THERMOMETER RANGE


The IR Series are robust thermometers for fast temperature measurement of most surfaces.
Two models are available as follows.


MODEL IR151
Has a fixed emissivity and provides simple, fast readings via a lens in the top end cap.


MODEL IR152
As Model IR151, but with a hand held sensor/lens to access difficult to reach objects.


All models feature
• Attractively styled, very strong, extruded aluminium case.
• Hygienically smooth, splashproof surfaces.
• Backlit display.
• Fast response.
• Auto switch off and Low battery indicator.
• Auto ranging display.
• Compact Size: 137 x 69 x 27 mm.
• 9v MN1604 (PP3 battery) Battery life > 350 hours.
• 2 year warranty.
• Ambient operating temp. 0 - 50 °C


Accessories:

System calibration certificates traceable to UKAS;


THCC executive style carrying case;


THCCS carrying pouch with belt clip;


Probe wipes.

Applications
• Food Industry/HACCP
• Laboratory
• Engineering
• Chemical/Pharmaceutical
• Education
• Environmental
• Rubber/Plastics
• HVAC
• General Industry


On request a calibration certicate is available. (see sample here under)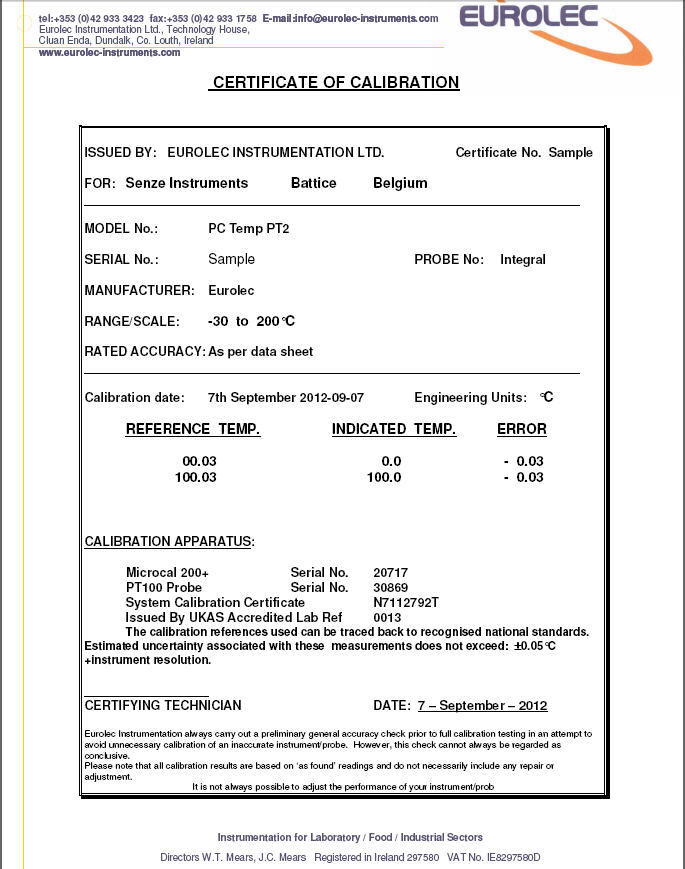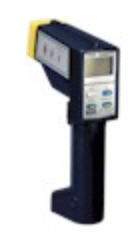 Contactless measurings with the infrared-thermometer;
the optimal solution for a fast temperature measuring at very difficult approachable or movable places.
Delivered completely with robust case.
Display Lights connectible
Max/Min Alarm for Limit Value
Infrared-Sensor with connectible laser-bearing, emission factor adjusting.
Response Time T90= 0,5 sec.
Spectral Response 7 - 18 pm
Rate of Distance : meas. object 8 / target 1
Accuracy* :
±2°C or 2% of range
Battery
single-block battery : 9V 6F22
Casing
c. :137 x 41 x 196 mm
Operation Temp. :
0...+50°C
*
the bigger value applies each time
568 Ex Intrinsically Safe Mini Infrared Thermometer
Intrinsically safe infrared and contact thermometer

Meets intrinsically safe certifications in Class I Div. 1 and Div. 2 or Zone 1 and 2 hazardous environments

Measures temperatures from -40°C to 800°C (-40°F to 1472°F)

Comes with a conductive case to safely carry the IR thermometer into hazardous areas

Offers a distance-to-spot ratio of 50:1
Use the Fluke 568 Ex for intrinsically safe temperature measurements anywhere in the world
The Fluke 568 Ex Intrinsically Safe Infrared Thermometer is certified by major rating bodies for use in Class I Div. 1 and Div. 2 or Zone 1 and 2 hazardous environments anywhere in the world.
Whether you work in petroleum, chemical, oil and gas, or pharmaceutical environments, the 568 Ex allows you to carry the most trusted name in test tools into most Ex-rated areas around the globe.
The simple, three-button on-screen menu interface is quick to use and makes even complex measurements easy.
It takes just a few pushes of a button to adjust emissivity, record data, or turn on and off alarms.
The 50:1 distance-to-spot ratio allows you to measure smaller objects from further away. And it also is compatible with K-type probes for contact measurements.
Either way, you can count on the rugged, ergonomic design to stand up to tough conditions.
Other useful features:
Instantly alerts you to measurements outside of set limits with audible and visual alarms

Provides with 1% measurement accuracy

Comes with thermocouple K bead probe and two-year warranty -30-

Features a rugged, easy-to-use, ergonomic design that stands up to tough industrial, electrical, and mechanical environments

Works with mini-connector K-type thermocouples

Allows easy access to advanced features with soft-key buttons and graphical display

Captures up to 99 points of data for quick downloading to a PC through the USB connection

Powered by two AA batteries

Allows you to confidently measure a wide variety of surfaces with adjustable emissivity and built-in materials table

Easily adapts to lighting conditions with a two-level backlight
Specifications
Infrared temperature range
-40°C to 800°C
Infrared accuracy < 0°C : ±1.0°C + 0.1°/1°C ;
> 0°C : ±1% or ±1.0°C, whichever is greater
Display resolution 0.1°C
Infrared spectral response 8 µm to 14 µm
Infrared response time < 500 ms
Thermocouple type-k input temperature range -270°C to 1372°C
Thermocouple type-k input accuracy < -40°C: ±(1°C + 0.2°/1°C)
≥ -40°C: ±1% or 1°C, whichever is greater
D:S (distance to measurement spot size) 50:1
Laser sighting Single-point laser
Minimum spot size 19 mm
Emissivity adjustment By built-in table of common materials or digitally adjustable from 0.10 to 1.00 by 0.01
Data storage 99 points
Hi/Low alarms Audible and two-color visual
Min/Max/Avg/Dif Yes
Display Dot matrix with function menus
Backlight Two levels, normal and extra bright for darker environments
Trigger lock Yes
Switchable celsius and fahrenheit Yes
Power 2 AAA/LR03 type-approved batteries (For a list of type-approved batteries, refer to Product Safety Instructions.)
Battery life 4 hours with laser and backlight on; 100 hours with laser and backlight off, at 100% duty cycle
Operating temperature 0°C to 50°C
Storage temperature -20°C to 60°C
Bead thermocouple type-k range -40°C to 260°C
Bead thermocouple type-k accuracy ±1.1°C (2.0°F) from 0°C to 260°C, typically within 1.1°C from -40°C to 0°C
EMISSIVITY VALUES


Typical Emissiv

i

ty Values-Metal




SURFACE EMISSIVITY

Cast iron (turned at 100°C)

Cast iron (turned at 1000°C)

Stainless steel (polished)

Stainless steel (Various)

Aluminum - Polished aluminum

Aluminum (heavily oxidized)

Brass (roughened surface)

Copper- Copper (polished)

Nickel & its alloys-Nickel (pure)

Nichrome-

Nichrome (oxide)










'Emissivity varies with purity










0.2

0.45

0.6 to 0.7

0.6

0.3 to 0.5

0.9

0.7 to 0.85

0.95

0.9

0.3

0.3 to 0.4

0.1

0.2 to 0.6

0.1*

0.25

0.6

0.3

0.1 to 0.25

0.1*

0.2

0.6

0.05*

0.8

0.15

0.1*

0.3

0.6

0.1*

0.4 to 0.5

0.7

0.95

0.1*

0.3

0.1*

0.1*

0.1*

0.1*








































Emissivity Values-Non-Metals

Refractory & Building Materials




Red brick (rough)

Fire clay

Asbestos

Concrete

Marble

Carborundum

Plaster

Alumina (fine grain)

Alumina (coarse grain)

Silica (fine grain)

Silica (coarse grain)

Zirconium silicate up to 500°C

Zirconium silicate at 850°C

Quartz(rough)

Carbon (graphite)

Carbon (soot)

Timber (various)

Miscellaneous

Enamel (any color)

Oil paint (any color)

Lacquer

Matte black paint

Aluminum lacquer

Water

Rubber (smooth)

Rubber (rough)

Plastics(varous,solid)

Plastics films(.05 mm thick)

Polythene film(.03 mm thick)

Rubber (smooth)

Rubber (rough)

Plastics(varous,solid)

Plastics films(.05 mm thick)

Polythene film(.03 mm thick)

Paper and cardboard

Silicone polish































0.75

0.95

0.7

0.9

0.85

0.9

0.25

0.45

0.4

0.55

0.85

0.6

0.9

0.75

0.95

0.8 to 0.9







0.95

0.9

0.95 to 0.98

0.5

0.98

0.9

0.98

0.8 to 0.95

0.5 to 0.95

0.2 to 0.3

0.9

0.98

0.8 to 0.95

0.5 to 0.95

0.2 to 0.3

0.9

0.7