Analytical Balances
Scales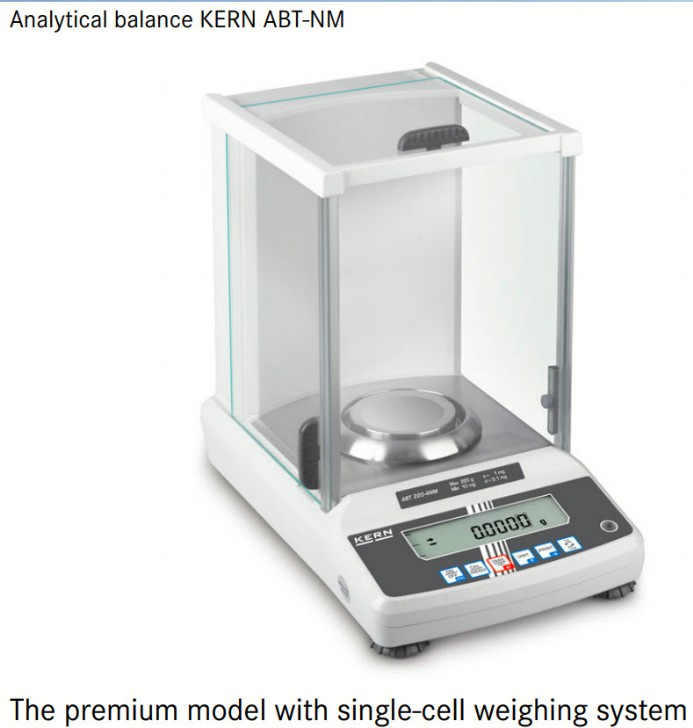 Analytical balance ABT
The premium model with single-cell weighing system
Features
· Automatic internal adjustment in the case of a change in temperature ≥ 0,5 °C or timecontrolled every 4 h, guarantees high degree of accuracy and makes the balance independent of its location of use

· Dosage aid: High-stability mode and other filter settings can be selected

· Simple recipe weighing and documenting with a combined tare/print function. In addition, the ingredients for the recipe are numbered automatically and printed out with their corresponding number and nominal weight

· Identification number: 4 digits, printed on calibration protocol freely programmable

· Automatic data output to the PC/printer each time the balance is steady

· Large glass draught shield with 3 sliding doors for easy access to the items being weighed.

· Protective working cover included with delivery
Technical data
· Large LCD display, digit height 14 mm

· Dimensions weighing surface, stainless steel, ∅ 80 mm

· Overall dimensions (incl. draught shield) W×D×H 217×356×338 mm

· Weighing space W×D×H 168×172×223 mm

· Net weight approx. 7 kg

· Permissible ambient temperature 10 °C/30 °C
Accessories
Protective working cover, scope of delivery: 5 items, KERN ABT-A02S05

1

Set for density determination of liquids and solids with density ≤/≥ 1, the density is indicated directly on the display, KERN YDB-03




2

Ioniser to neutralise electrostatic charge, KERN YBI-01A



3

Weighing table to absorb vibrations and oscillations, which would otherwise distort the weighing result, KERN YPS-03



Minimum weight of sample, smallest weight to be weighed, depending on the required process accuracy, only in combination with a DAkkS calibration certificate, KERN 969-103

Further details, plenty of further accessories and suitable printers

4 Single-cell advanced technology:

Fully automatic manufactured weighing cell from one piece of material
Stable temperature behaviour
Short stabilisation time: steady weight values within approx. 4 s under laboratory conditions
Shock proof construction
High corner load performance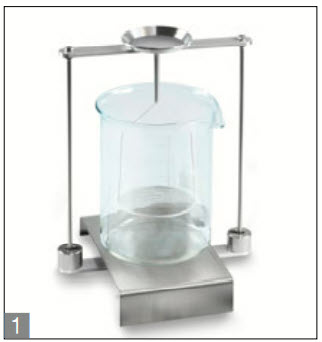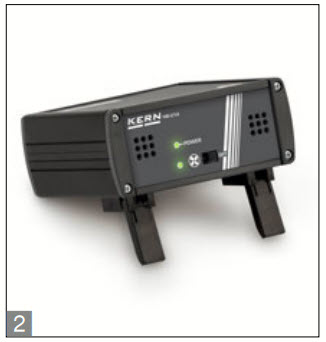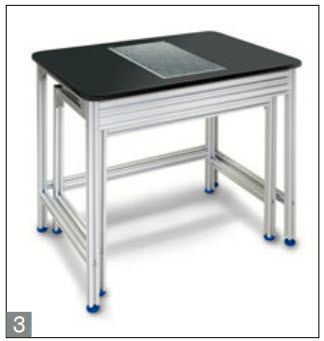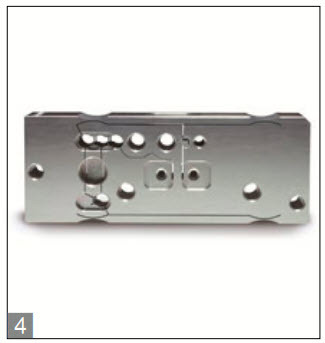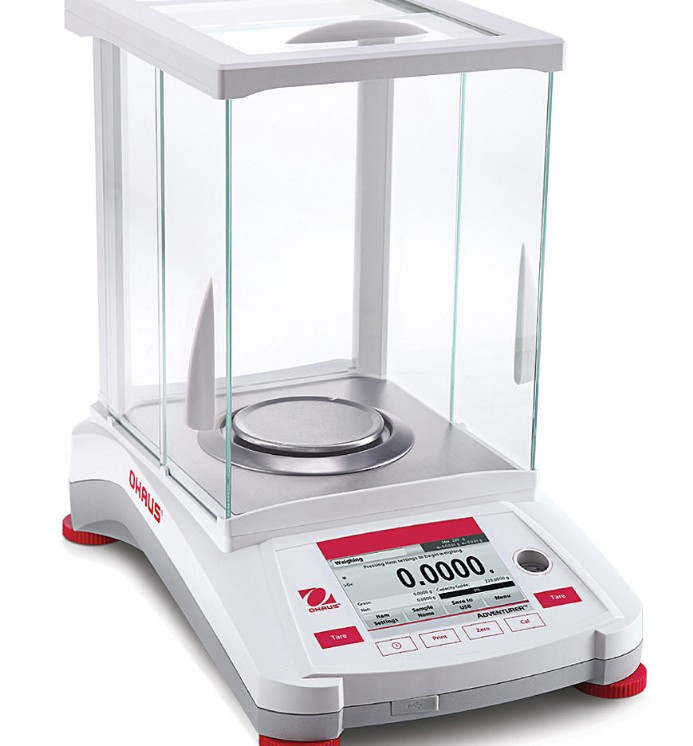 Analytical Balances Adventurer® Analytical
Ready For Your Lab, Wherever That May Be.
Striking the ideal balance between inventive features and functional, uncomplicated weighing capabilities, the OHAUS Adventurer incorporates all of the applications necessary for routine weighing and measurement activities.
With a color touchscreen, GLP/GMP compliance capabilities, two USB ports, and much more, Adventurer is the most complete balance in its class.
Weighing, Parts Counting, Percent Weighing, Check Weighing, Animal/Dynamic Weighing, Totalization/Statistics, Formulation, Density Determination, Display Hold
Display
4.3" (109 mm) Full-color VGA graphic touchscreen with user-controlled brightness
Operation
Communication

RS232, USB Host, USB Device (included). GLP/GMP data output with real-time clock.
Construction
Metal base, ABS top housing, stainless steel pan, glass draftshield with two piece top mounted side doors and sliding top door, illuminated up-front level indicator, integral weigh below hook, security bracket, calibration lock, full housing in-use cover
Selectable environmental filters, auto tare, user selectable span calibration points, software lockout and reset menu, user selectable communication settings and data print options, user definable project and user IDs, up to 9 operating languages
Fast stabilization and reliable operation are enhanced by the AutoCal™ option to ensure solid weighing performance and accurate, repeatable results for standard laboratory applications.
The wide viewing angle color touchscreen provides access to all of Adventurer's applications, while dual USB ports with GLP/GMP tracking capabilities assist in the monitoring and reporting of data.
The two-piece, top-mounted draftshield doors reduce the footprint of the doors in the rear of the balance when open, and open wide on both sides in order to provide ample room to place samples.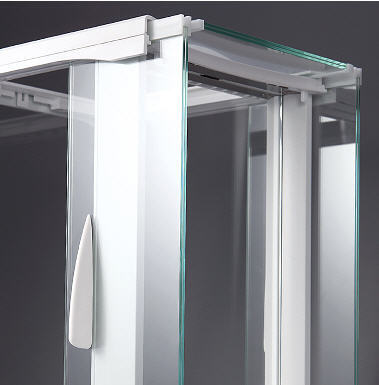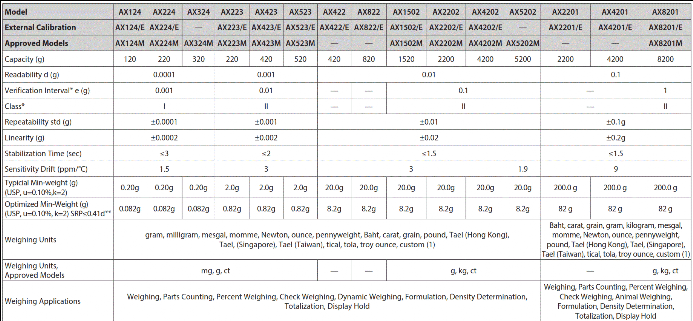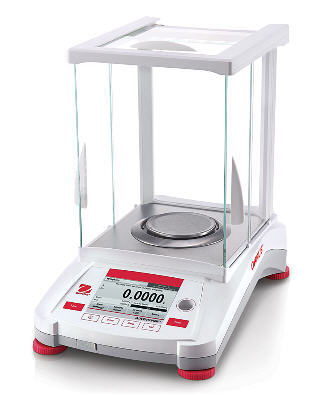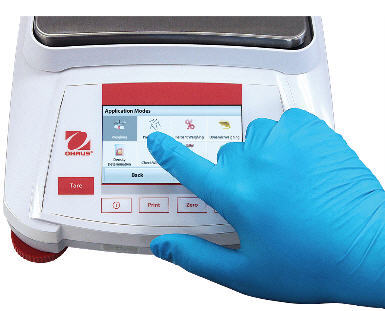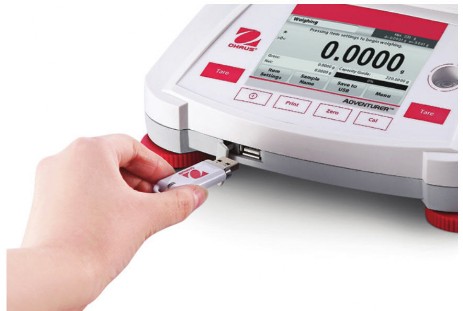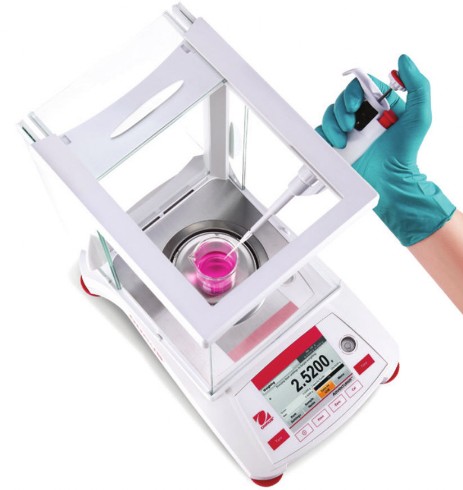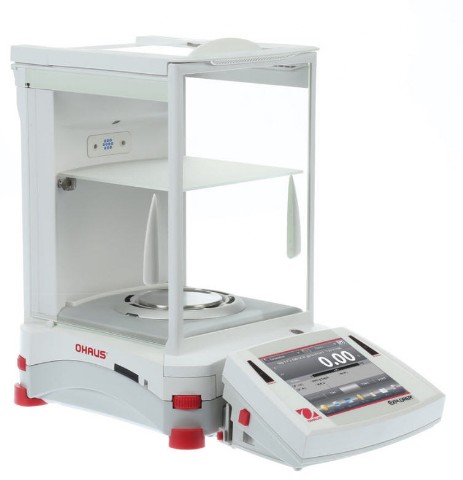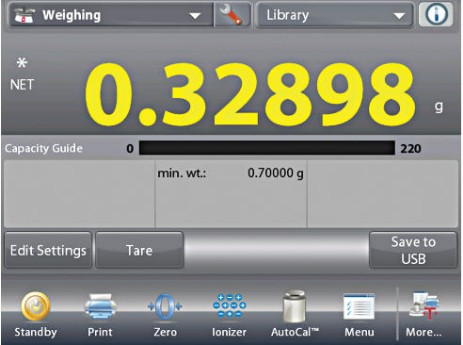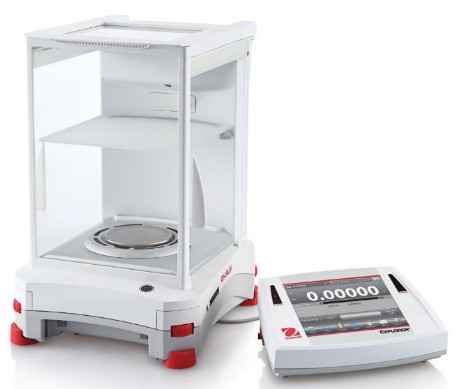 Explorer® Semi-Micro
Built for Sophisticated, Professional Weighing
•Geared for high-performance with up to 0.01mg readability and capacities up to 220g.
The AutoCal™ Internal Calibration system ensures accuracy of results in applications that require high precision.
•Equipped with a color touchscreen display that enhances the user-experience.
In addition, touchless sensors, automatic draftshield doors (on select models) and ionizer ensure the integrity of results.
•SmarText™ 2.0 software, intuitive icon-based navigation, 99 item library, 6 user profiles and below minimum sample weight indication – all combine to provide an easy yet efficient weighing experience.
When laboratory work and research requires accuracy to the hundred-thousandth, there is simply no room for error.
The Explorer series of semi-micro balances has been designed with the technology to ensure that your very specific weighing results are accurate.
Sophisticated laboratories requiring accuracy and looking for innovative technology to obtain measurement results can find both in Explorer semi-micro balances.

Approvals
• Metrology: OIML R76, EN 45501 (Class I, nmax 220000)
• Product Safety: EN 61010-1, IEC 61010-1
• Electromagnetic Compatibility: IEC 61326-1, EN61326-1 (Class B emissions, Industrial immunity)
Applications
Weighing, Percent Weighing, Parts Counting, Check Weighing, Dynamic/Animal Weighing, Filling, Totalization, Formulation, Differential Weighing, Density Determination, Peak Hold, Pipette Adjustment, SQC
Display
Full-color VGA graphic display (5.7 in. diagonal), 4-wire resistive touch screen. QWERTY keyboard and numeric keypad to quickly input GLP and GMP data and other application data
Operation
Communication
Easy access communication ports including 2 units of USB port and RS232 and an optional fourth port of either RS232 or Ethernet. GLP/GMP Data Ouput with Real Time Clock. Data Transfer Function.
Construction
Metal base, ABS top housing, stainless steel pan,anti-static glass draftshield with flip-top door, replaceable in-use cover, automatic door as option models
Design
AutoCal™ fully-automatic internal calibration system, fast stabilization time, four touchless sensors, built-in ionizer with automatic door models, up to 14 operating languages, OIML models available, SAVE to USB function, menu lock switch, security bracket, integral weigh below hook for below balance weighing applications, removable stainless steel weighing platform, stability indicator, overload and underload indicators, auto standby.
Accessories
ION-100A - Ionizer. . 30095929
Density Determination Kit. . 80253384
Sinker glass for Density Determination kit. . 83034024
Full-featured Impact Printer SF40A. . 30064202
SF40A Paper roll (57,5mm 2pcs). . 12120799
SF40A Ink ribbon cassette. . . 12120798
RS232 cable, PC 9 Pin. . 00410024
USB cable (type A to B). . 83021085
Second RS232 interface. . 83021081
Ethernet interface. . 83021082
Terminal extension cable (3m). . 83021083
Secondary display PAD7. . 80251396
Security device (Cable & lock). . 80850000
Security device (Laptop lock). . 80850043
Terminal in-use cover. . 83033633
Dust cover. . 30093334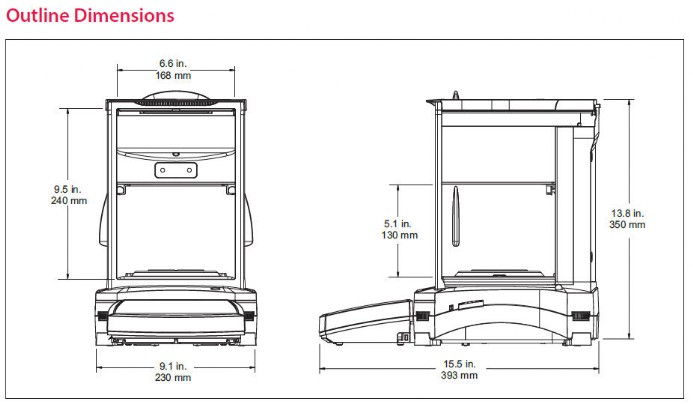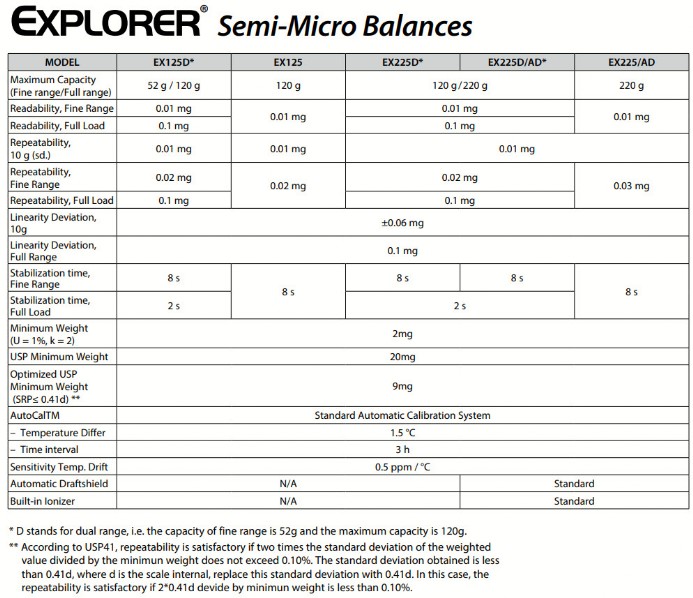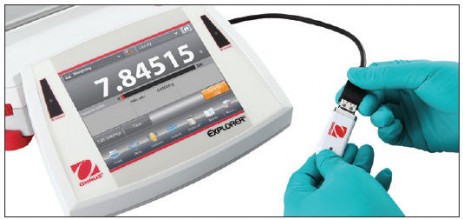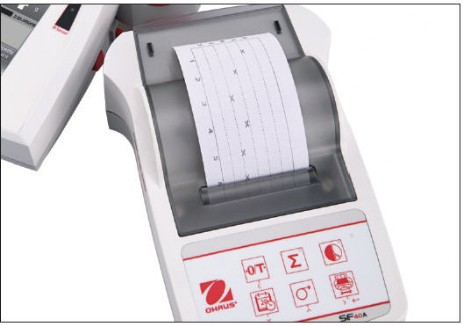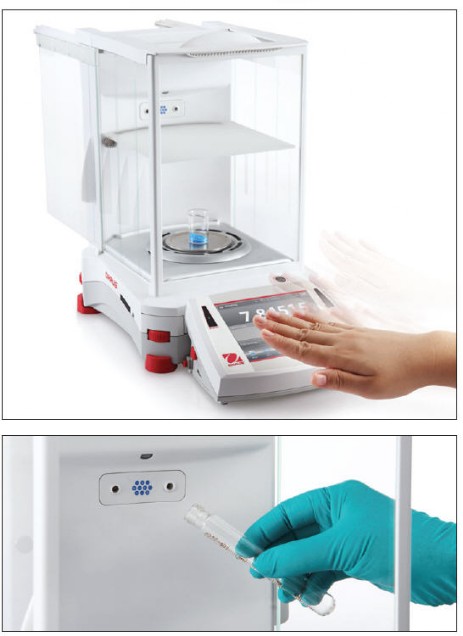 Ingenious Construction
Designed to Enhance Usability
The sleek Explorer semi-micro balance has been designed and constructed
to provide a modern weighing experience as well as to bolster accuracy.
Operator Experience
Among the features that enhance the operator experience are:
• Color touchscreen display
• Four programmable touchless sensors allow the operator to perform common functions and commands with a swipe of the hand
• Modular design in which the base and display can be separated to allow the balance to fit ideally on the lab bench.
Auto-Doors
The automatic door feature, available on certain models, allows access to the weighing chamber without the need to touch the draftshield door.
Placement of samples is achieved in one swift motion, eliminating the repetition of picking up and putting down samples due to a lack of free hands.
The automatic doors are also more than a user-friendly feature; they minimize vibrations caused by manual operation that can affect weighing results.
Ionizer
The built-in ionizer, included in Explorer automatic door models, generates
bipolar ions continuously from positive and negative discharge electrodes
and directs the ionized air onto the charged body to eliminate static electricity.
These charges can build up in the weighing chamber and alter weighing results by as much as several milligrams.