Brightness
Coatings & Industry > Brightness GLoss & Chalking
Brightness Measuring Instrument TINT TESTER 527
The TINT TESTER 527 has been specially developed for measuring the brightness of dark pasty test coatings (e.g. applications of pigment pastes for determining the tinting strength according to ASTM D 3265 and ASTM D 2745).
This model also enables standard brightness values to be measured on solid samples (lacquer layers, paper, plastic surfaces, etc.).
The TINT TESTER consists of the stationary mains-powered supply unit with 4½-digit LED display and the portable brightness measuring head TINT SENSOR Y.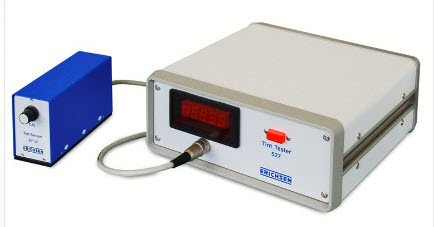 Design and function
The TINT TESTER 527 consists of a stationary, mains
driven power supply and display unit (with digital
display for a range from 0-199.99) and the portable
TINT SENSOR Y degree of resolution.
TINT SENSOR Y:
The TINT Sensor incorporates the 45°/0° worldwide
standardized measuring geometry with light source C
illumination.
The spectral response of the light sensing
photocell is corrected with an especially selected Y filter
so that the measuring
values correspond with
the
brightness
sensitivity of the
CIE-2°-standard observer.
An adjusted and optimized lens system is part of the
light transmitting and sensing optics to guarantee
homogenous illumination of the specimen surface as
well as a defined reception of the remitted light.
Because of this, the results of measurement are highly
reproducible, free of drift and according to
specifications.
The opto-electronic system of the measuring head is
insensitive against external disturbances due to the
integrated pre-amplifier.
It is possible to set the
amplification within a wide range so that the measuring
range of the instrument can be adjusted to the actual
measuring problem to get optimum results.
Two transverse support ledges 8 mm wide and at a
pitch of 80 mm integrated with the undersides of the
measuring head, keep the measuring head away from
the specimen so that measurements on coatings in the
form of pastes are possible: the ledges prevent
damage to the specimen and contamination of the
measuring head.
The gap between the measuring
head and the specimen is 0.5 mm. It is thus possible
to measure tint strength of freshly applied coatings
with a wet film thickness of approx. 400 µm whilst
extraneous light is totally excluded.
Power Supply and Display Unit
Dimensions (L x W x H): 275 x 235 x 110 mm
Net weight: 3.7 kg
Power Supply: 230 V ~, 50 Hz
(other voltages upon request)
Display: 4½ digit LED display
(range 0 - 199.99 units)
TINT SENSOR Y
Dimensions (L x W x H): 175 x 55 x 95 mm
Net weight: 840 g
Measuring aperture: Ø 23 mm
Light Source: 6 V - halogen lamp with
special filter for light type C
Light Sensor: Si photocell with special filter for matching the spectral curve of brightness
sensitivity (Y value) of CIE-2°-standard observer
Scope of delivery includes:

Supply unit with LED display

TINT sensor Y measuring head with 45/0° geometry, Y filter and 1.5 m connecting cable to the display unit.

Black standard for zero setting


Spare light bulb, spare fuses, mains connecting cable, screw driver and operating instructions



Accessories
BCD output

RS232-C interface

Analogue output (0 - 10 V)


Analogue output (0 - 20 mA)




White standard