High T° Oven
Laboratory Product > Heating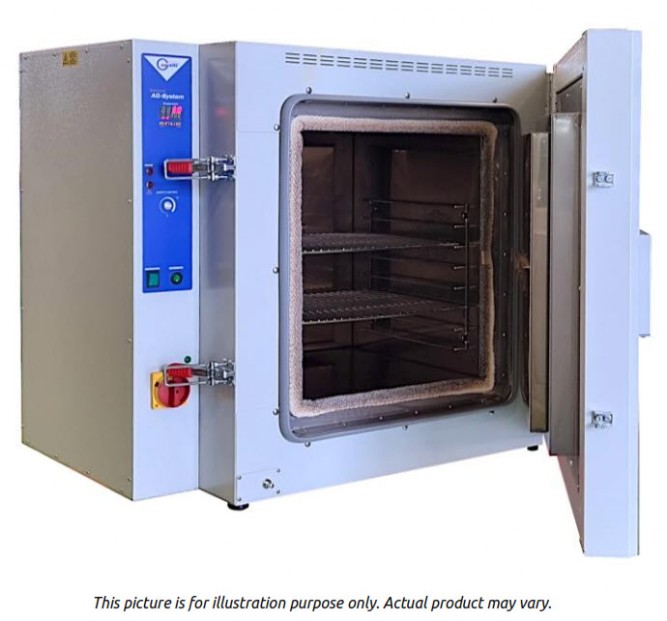 High Temperature Oven
Stainless Steel Interior
The High Temperature Ovens model 21HT are ideal for all those applications where an accurate, reliable, and high- performance device is needed, and are used in research and biological, chemical, and pharmaceutical laboratories.
21HT High Temperature Ovens are essential in a wide range of tests and processes, such as thermostating, polymerization, heating, and drying process, in stability tests, accelerated ageing tests and sterilization treatments.
Tem
p
er
a
t
ure
R
a
nge
fr
o
m
+5
0
°C
t
o
+
500
°C
Control System AGSystem PRO
Microprocessor with
Double Digital Display
.
Intuitive Visualization of all functioning parameters.
Optimized Control Algorithm with
PID Actions
.
High Temperature MgO
Armored Probe
.
"Zero Crossing" Solid State Relays.
Timer 99h 59m.
PROGRAM Function with Ramps, Soaks and Repetitions.
E
x
t
er
na
l
S
t
r
u
c
t
ure
varnished, solvent-free
I
nternal
C
h
a
m
b
er
in Stainless Steel AISI 304 with rounded corners
Multi-Layer Ceramic Insulation + Mineral Wool
asbestos-free
I
ns
ula
t
ed
d
oo
r
with High-Temperature Silicone Gaskets
Forced Air
S
ys
t
em
dynamic and uniform
Air Vent
Reg
ula
t
i
o
n
ideal for Probes Insertion
Safety Devices:
Fuses
for
complete
system
protection
Integrated
Alarms
Management
System
Adjustable
Set
Point
Threshold
System
Safety
Thermostat,
Class
3.1
-
DIN12880
Standard Equipment:
N°01
Instruction
Manual
N°01
CE
Certificate
N°01
FGW
Warranty
Certificate
N°01
Calibration
Certificate
at
+300°C
N°02
Adjustable
and
Extractable
Shelves
N°01
Vent
Hole
with
lid