Refrigerated Thermostatic Bath
Laboratory Product > Water Baths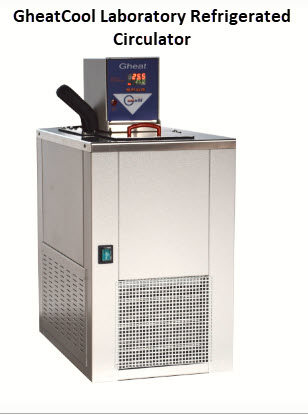 Refrigerated Thermostatic Baths
Refrigerated Thermostatic Baths GheatCool, Galli's Original Equipments, advanced technology, suitable for all applications where it is necessary to work with thermostatic temperature less than ambient.
The refrigerated baths allowing the circulation of fluids at controlled temperature.
They are available in stainless steel tanks.
Volumes of: 9, 20, 30 and 46 Litres.
Features
• Outer body in stainless steel with powder-free solvents painted
• Tank in stainless steel AISI 304 with rounded corners
• Cooler hermetic unit with air condenser
• Ecological Gas
• AG-System Control: PID Digital Microprocessor
• Range Temperature: from -15,0°C to +99,9°C or -30,0°C to +99,9°C ÷ +200°C
• Connections for external recirculation
PLUS
• Stainless steel AISI 304 with round corners

• Outer body in stainless steel with powder-free solvents painted

• High quality insulation = Energy saving

• Cooler hermetic unit with air condenser

• Thermostatic Group Smart/Gheat Pro

• AG-System control: PID Digital Microprocessor, carefull and sensitive

• Double display simultaneously visualize the set point temperature and the inner

• Platinum Probe PT100, Class A

• Range Temperature: From -15.0° C to +99.9° C or -30.0° C to +99.9° C ÷ +200° C

• Safety thermostat independent

• Circulation pump 5L/min. 2 m

• Connections for external recirculation
Standard Equipments
• 1 CE Conformity Certificate