HiTemp140-M12 Data Logger
Coatings & Industry > Oven C° Monitoring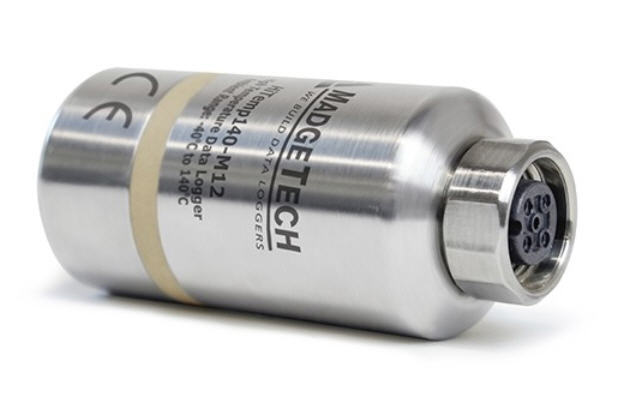 Overview
HiTemp140-M12
High Temperature Data Logger with an M12 Probe Connector
The HiTemp140-M12 features the same rugged stainless steel body as the other HiTemp140
data loggers in the series, but offers interchangeable probe options using an M12 type
connector.
The M12 connectivity makes this versatile data logger compatible with the large
variety of M12 RTD probes available today.
The HiTemp140-M12 is capable of measuring and
recording temperatures from -200 °C to +850 °C (probe dependent).

All of MadgeTech's HiTemp140 data loggers have a water tight body enclosure made of food grade stainless steel and can be placed in environments with temperatures as high as 140 °C. The operating range of the data logger body can be extended to higher temperatures when used with MadgeTech's thermal barrier options and suitable probe.

The HiTemp140-M12 records and stores up to 43,690 time stamped readings and is equipped with non-volatile solid state memory which retains data even if the battery becomes discharged.

A wide selection of compatible M12 probes are available on the market to choose from, making the HiTemp140-M12 the most dynamic data logger of its kind. With the ability to change probes as needed, this device satisfies a multitude of application needs with one powerful data logger versus the need for multiple loggers.
Note: Calibration Certificate standard calibration is two points at 50 Ω and 150 Ω and is verified at 100 Ω.
Specifications 1
Specifications 2
Probes
Accessories
Software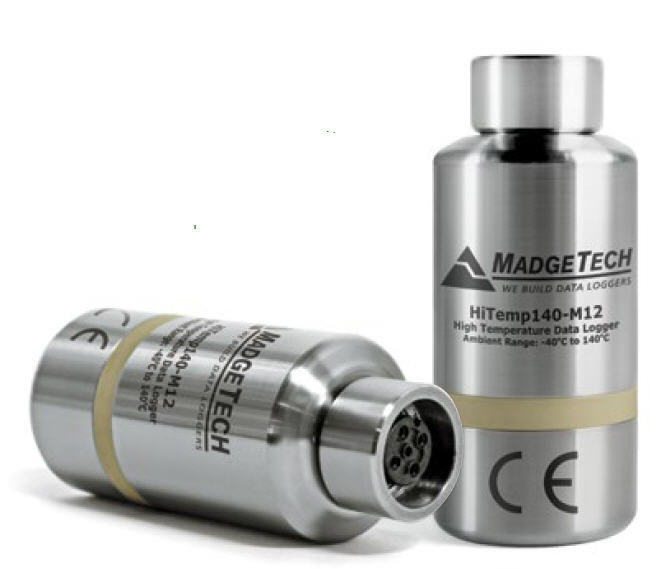 Flexible Probe
M12 PROBES :
M 12 Flexible Probe
High Temperature, Flexible Probe with M12 connector.
Probe Type : Flexible RTD Probe
Temperature Range : -60 °C to 260 °C
Material : Stainless Steel, PFA, Polyamide 6-6 GF
Probe Length : 76.2 mm
Probe Diameter : 2.18 mm
Weight : 26 g
IP Rating : IP67
Depyrogenation
RTD-6-1/8-1/2NPT
Rigid Probe
CIP Thermowell
Surface Temperature
Thermal Shield
For Extended High Temperature Monitoring
For applications above 140 °C, a thermal shield is available for most models
of the HiTemp140 and HiTemp140-PT series data loggers. The thermal
shield extends the operating temperature of the data logger, allowing it to
be exposed to higher temperatures for a longer amount of time.
Flush and
vented models are available to help provide probe protection.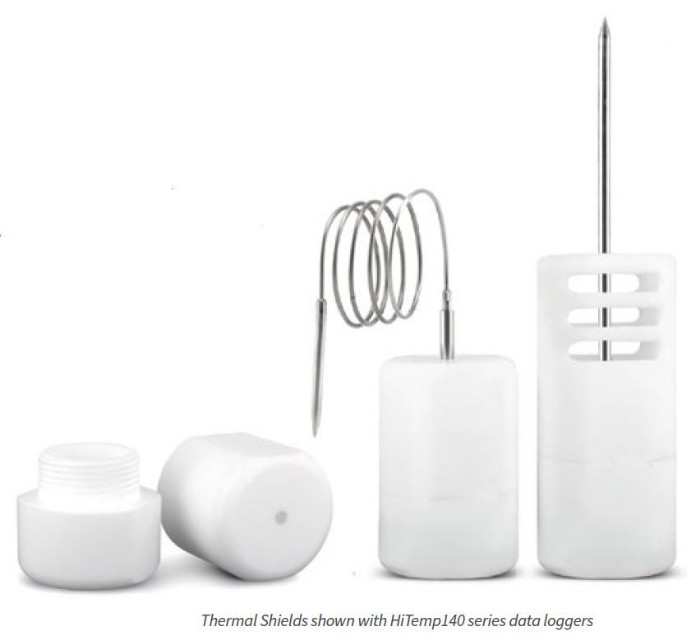 Overview
ThermoVault Max Extreme Temperature Thermal Barrier
Submersible, Stainless Steel, Extreme Temperature Thermal Barrier for HiTemp140 Data Loggers.
The ThermoVault Max is an extreme, high temperature thermal barrier designed for use with MadgeTech's HiTemp140-M12, HiTemp140-FP and HiTemp140-PT data logger models. This durable enclosure is made from stainless steel with PTFE insulation. The ThermoVault Max barrier can withstand temperatures up to +400 °C in dry heat applications and +250 °C for wet applications when used with the TMAX Wet Seal Kit (sold separately).

With unparalleled time versus temperature performance, the ThermoVault Max provides a best-in-class solution for the harshest of applications. Designed to endure extreme temperature monitoring environments such as furnace profiling, geothermal down-hole recording, dry heat sterilization and oven data logging.

MadgeTech also offers a turnkey Dry Heat Sterilization System including the ThermoVault Max barrier, HiTemp140-M12 Data Logger and M12 Depyrogenation probe.

The ThermoVault Max is built for use in harsh applications that require extreme temperature monitoring, such as depyrogenation, food processing, oven monitoring, geothermal down-hole recording, and furnace profiling.



Time vs. T° (1)
Time vs. T° (2)
SPECIFICATIONS
Accessories